---
Our systems are built to be safe and our people are focused on safety, trained and prepared to respond in the event of trouble. While we strive to prevent incidents before they occur, when they do we respond quickly, safely and effectively, to minimize the impact on people, communities and the environment, and to take steps to prevent similar incidents in the future.
---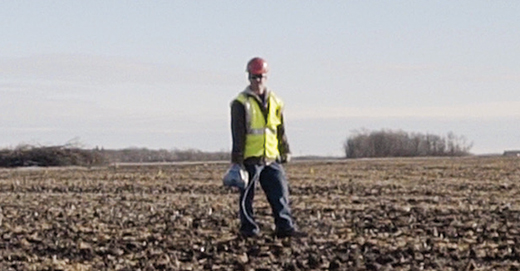 Going further
In an incident, we shut down our systems right away and quickly get crews on site to lead an effective and safe response and cleanup. But our response doesn't end there. We're focused on preventing other incidents in the future and that means looking at everything from building awareness with our neighbors to continually engineering more safety into our systems.
Case study
Turning two close calls into a call to action
"It could have been a catastrophe." With these words, landowner James Wood sums up the June 2015 incident on his property near Paradise, TX, where a contractor struck and punctured a gas gathering pipeline while clearing brush. The escaping natural gas sprayed debris and blew out the window of the bulldozer, but fortunately did not ignite and the contractor was able to get safely away and call Enbridge to shut down the line and respond.
Four months later and nearly 1,200 miles to the north, a similar incident occurred on Enbridge's crude oil pipeline system when John and Rick Proulx were clearing brush from land on their farm near St. Hilaire, MN.
They knew they were working near the Enbridge mainline – as many as seven parallel underground pipelines that carry different types of crude oil and petroleum products – but hadn't called for the lines to be located and marked.
It felt like I hit a rock," recalls John, who thought he knew the location of the pipeline. "It didn't sound quite right, so that's when I got off the backhoe and went down into the hole and found out it was the pipe."
Fortunately, while the Line 2 pipeline was damaged in three places, it was still intact. The father and son called Enbridge's emergency line, and the control center operators immediately shut down and isolated all the pipelines in the area, dispatching local crews who arrived on site within the hour.
These two incidents, in two different parts of our business, highlight one of the most persistent and widespread hazards we must manage to protect the health of our pipelines, gathering and distribution systems: unsafe digging and ground disturbance.
In both cases, we responded immediately and decisively, with the lines quickly shut down to minimize the risk and teams on site right away to begin repairs. In Texas, we replaced the line where it crossed a creek bed, using horizontal directional drilling to situate the new pipe 18 feet below ground, and in Minnesota pipeline crews repaired and reinforced the line with sleeves.
But Kesley Tweed, Enbridge's Houstonbased Manager of Strategic Partnerships & Public Awareness, notes that was just the beginning of Enbridge's response. Today, in a pair of powerful public service videos, Wood and the Proulx candidly discuss the incidents on their properties – and how they could have been avoided by calling 811 or visiting clickbeforeyoudig.com.
"We're always looking for ways to improve safety, for the public, our team and the environment," says Kesley, whose job involves programs and outreach to landowners, farmers and excavators to build awareness around our energy infrastructure. "Mr. Wood and the Proulx family knew what close calls they'd had. They truly felt remorse for what had happened and they realized how bad it could have been. They wanted to share their stories so it wouldn't happen to someone else."
These two incidents, in two different parts of our business, highlight one of the most persistent and widespread hazards we must manage to protect the health of our pipelines, gathering and distribution systems: unsafe digging and ground disturbance.
"It was very clear," adds Kesley, "that they just wanted to keep other people safe and prevent something bad from happening to their neighbors."
For Kesley, the videos will be a success if they prompt everyone who is planning digging or ground disturbance to call or click before they start their work.
"The foundation of our business is safety," she says. "It's our job. You're not bothering us when you call. Even if you've been digging in the area before, even if your family has owned the land for 60 years, put safety first and make the call."
About the landowners
John and Rick Proulx
The Proulx family has been farming land in Pennington County, MN, and the surrounding area for more than 50 years. Father and son team, John and Rick, specialize in wheat and soybeans and share the farm with John's brother. Both enjoy woodworking, travel and collecting John Deere memorabilia.
About the landowner
James Wood
James Wood is a car dealer in Decatur, TX. With a passion for wide open spaces, he farms about 3,500 acres in North Texas and buys, improves and sells land. A prominent businessman, Wood is active in his community, where he has spent most of his 78 years.

Innovation in action

Responding to ground movement
Most of us tend to think of the ground as pretty stable and not likely to go anywhere. After all, we build our houses, offices, hospitals, airports, highways and railways on it.
We also bury our pipelines under the ground. So at Enbridge we plan our routes and build our systems so we avoid areas with lots of ground movement, but in a few places our lines do cross slopes that can move – a little – perhaps a few inches per year.
Not much, you might think, but over time it can add up. Ground movement can potentially put stress on an affected pipeline, eventually causing it to deform or buckle.
So, in addition to careful route selection and ongoing monitoring and maintenance, how can we protect a pipeline from ground movement? By putting the latest research into action and wrapping it in two layers of low-friction geotextile fabric. With this technology in place, when the ground moves it grips the fabric which can slide along the pipe, and the pipe itself doesn't move as much.
Thinking safety. Working safely.
What you can do to dig safe
Line strikes are all too common, despite year-round outreach to inform the public and key groups about the hazards of unsafe digging as well as the convenience of the North America-wide Call or Click Before You Dig program. With a little planning ahead, the Call or Click Before You Dig program will send out a locator – for free – to mark the position of underground utilities in the area where you plan to dig, with just a few days advance notice depending on your location, before you begin your work.