---
Line 9B Reversal and Line 9 Capacity Expansion Project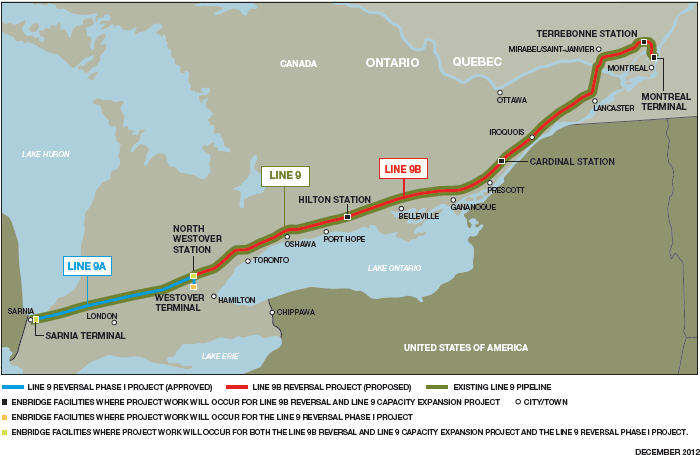 Download PDF (469 KB)
Enbridge has been operating Line 9 — a 762-mm (30-inch) diameter pipeline with the capacity to deliver approximately 300,000 barrels of oil per day—safely and reliably since 1976. The company's Eastern Canadian Refinery Access Initiative (Line 9B Reversal and Line 9 Capacity Expansion Project) has helped Canadian refineries become more competitive in the North American market, and continues to safeguard jobs in Quebec and Ontario and bolster the security of Canada's energy supply.
After an extensive and thorough review process by the National Energy Board (NEB), the Line 9B Reversal and Line 9 Capacity Expansion Project was approved in March of 2014 with 30 conditions that reflected the input of interveners and stakeholders throughout the consultation process. Enbridge continues to comply with all NEB conditions.
On December 1, 2015, Enbridge reversed a 639 km-long section of Line 9 from North Westover to Montreal (Line 9B) in an eastward direction to allow for discounted western Canadian crude, which can be sourced from a number of locations in Alberta, Saskatchewan, Manitoba, and the Bakken region to access Quebec refining markets.
The pipeline carries mainly light crude oil and is capable of transporting heavy crudes that meet Enbridge's quality standards.
As always, if you observe anything out of the ordinary near the pipeline, call our emergency response line at 1-877-420-8800.
---
Contacts:
If you have any questions or concerns regarding Line 9, or if you require further information, please call our toll-free phone line at 1-888-767-3098 and leave your contact information, or send an email to line9reversal@enbridge.com. Calls and emails will be responded to promptly.
Media: please call the Enbridge toll-free media line at: 1-888-992-0997
---
Project Information:
Pipeline Safety
Our Commitment to Safety
Safety will always be our number one priority. Ensuring the safety of communities and the environment is our most important duty—and everything we do is based on this foundation.
In 2016, Enbridge pipelines safely delivered more than 3.5 billion barrels of crude oil and natural gas liquids through our systems to customers across North America and we invested over $750 million in programs that help us to maintain system fitness and detect leaks across our operations in Canada and the US.