A treasure trove of tales underfoot

Published: October 21, 2015
Alberta archaeological center offers visitors a hands-on history lesson
Christie Grekul never gets tired of seeing what sort of history people will dig up.
"When they move their trowel across the soil and hear that little clink it makes when it hits a piece of stone, brush away the soil and see what it is – maybe a piece of bison bone or an arrowhead – they get very excited. They immediately want to know more," says Grekul, project director and senior archaeologist at the Bodo Archaeological Centre.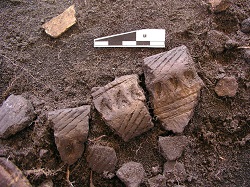 ---
DIGGIN' THE HISTORY: Based on tools and pottery shards discovered at the Bodo archaeological site, it's estimated that ancestors of the Cree, Blackfoot and Assiniboine people lived in the area.
Located in Bodo, a small community in east-central Alberta about three hours from Edmonton, this is one of the province's largest, best-preserved archaeological sites. Buried in the dry, sandy soil lie bison bones, stone hunting and butchering tools, and pottery fragments, all of which provide a glimpse into an Aboriginal culture of hunting and living off the land that took place for thousands of years.
"It would have been a great lookout spot to hide and watch the animals moving across the landscape and hunt them," says Grekul, who estimates that Bodo's archaeological site spreads across at least eight square kilometres.
Based on the kinds of tools and pottery found so far, Grekul estimates that ancestors of the Cree, Blackfoot and Assiniboine people frequented the site, possibly hunting together and sharing resources to ensure successful hunts.
It's a story Grekul is passionate about sharing with others.
A visitor's center, which she supervises, invites students and the public to explore the archaeological site themselves. Housed in a former community school, the site is open to the public from May to August, with multi-day dig programs as well as drop-in, guided and school tours. The center also operates a seven-week credit course for student archaeologists from Edmonton's MacEwan University.
"People are really fascinated, because they often have never seen an archaeological site before. We're one of a few sites in Canada that allow people a firsthand experience in archaeology," she says.
Enbridge is committed to enriching the lives of people in the communities near our pipelines and facilities, and we recently presented the Bodo Archaeological Centre with a grant of $5,000, sponsored by our nearby Line 3 Replacement Program.
The largest project in Enbridge history, the proposed $7.5-billion Line 3 Replacement Program will present economic opportunities in communities across the prairies as we replace one of our mainline right-of-way crude oil pipelines from Hardisty, AB, to Superior, WI. In Alberta, the L3R program is expected to generate more than $1.389 billion in gross domestic product (GDP) during its construction phase.
"The Bodo center is an excellent example of the education and history we want to support in communities along Enbridge's rights-of-way," says Lisa Seeley, community relations advisor for Enbridge's Western Region.
Grekul plans to apply this recent Enbridge funding to support the center's school outreach programs. "The donation from Enbridge will make a huge difference," she says.