A 'non-invasive' stress test

Published: October 28, 2015
Piping Up For Technology Series (Part 1)
Innovation never stands still – there's always a new advancement coming down the pipe. Enbridge is constantly testing commercially available technologies, and looking to enhance existing technologies, in the areas of design, prevention, monitoring and leak detection to keep our pipelines safe.
Our Piping Up For Technology Series, on the @enbridge blog, offers a glimpse of various research projects we're engaged in, and the efforts we're making to adapt and harness technology for safety's sake. These proactive investments in innovation are intended to add another layer of safety and security to our pipeline network – and, ultimately, to the energy transportation industry as a whole.
If a picture is worth a thousand words, these images may prove invaluable to pipeline diagnostics.
Since 2002, Russia-based Transkor has been detecting potential stress points in pipelines worldwide, using its proprietary magnetic tomography method (MTM). An MTM inspection uses the electromagnetic properties of steel to create a remote 3-D image of a pipe – identifying the location of potential stress concentrations and associated pipeline features, which may require further examination.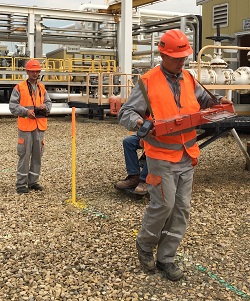 ---
MTM MASTERS: Transkor technicians inspect facility piping at Enbridge's Edmonton Terminal earlier this year, using the magnetic tomography method (MTM), as part of ongoing field trials.
To date, Transkor has inspected more than 10,500 miles (17,000 kilometers) of pipeline in 24 countries around the world – in North and South America, Europe, Africa, and Asia. As part of our commitment to adapting and harnessing innovation in the name of safety, Enbridge is examining Transkor's MTM technology for potential application at our facilities.
"Magnetic tomography is a unique method of pipeline diagnostics," says Dr. Svetlana Kamaeva, president and CEO of Transkor Group Inc. "The most appealing aspect of magnetic tomography is the fact that it's non-invasive – no special equipment, no site preparation, no change in pipeline operation."
Prevention is a critical component of pipeline safety, and we focus on prevention at Enbridge before issues arise. Our in-line inspection tools regularly examine pipelines along our system, using advanced imaging technology – much like an MRI or an ultrasound in the medical industry – to scan our pipelines inch by inch.
However, a large portion of the pipes within our facilities, such as pumping stations and terminals, can't be inspected using our in-line tools, because of tight turns, diameter changes, or other challenging characteristics. Our Facilities Integrity department began working with Transkor in 2013 to examine our on-site piping using MTM.
Transkor technicians continued with our field trials of their technology this past summer at Enbridge's Edmonton Terminal, the starting point of our cross-continent network.
"MTM technology could be a game changer for the way we inspect station piping," says Juan Mejia, the Edmonton-based supervisor of Enbridge's Facilities Integrity Technology group. "Traditionally, we've used targeted excavations and direct inspections of our facility pipes – which means we have inspection data for only a small portion of the piping.
"Transkor's technology has the potential to optimize safety, while maximizing inspection efficiencies."
Without being exposed or shut down, a pipe can be scanned from above ground, using MTM technology, by a technician walking directly above the pipeline's path. The technician carries a handheld MTM device which records magnetic field changes caused by pipe features. Field data is downloaded and analyzed, potentially identifying:
External or internal corrosion;
Cracks, buckles, or dents;
Metal loss;
Welding defects, or
Strain on pipe caused by ground instability.
This year, we'll be inspecting 95 sections of pipe within six of our stations in Canada – most of it underground, and measuring 13 kilometres in total. That's a small percentage of our facility piping, but this method of inspection could pay big safety dividends down the road.
"Developing an inspection tool to target our inspections better," says Mejia, "would greatly improve our station piping program."
Watch for upcoming posts from our Piping Up For Technology series on the @enbridge blog channel.
And click on the links below for previous @enbridge blog posts chronicling Enbridge's pursuit of technology: