---
Our first goal is always to prevent incidents before they happen, but we train and prepare so that if an incident does occur we are ready to respond quickly, safely and effectively, working with local first response agencies and regional and national authorities.
---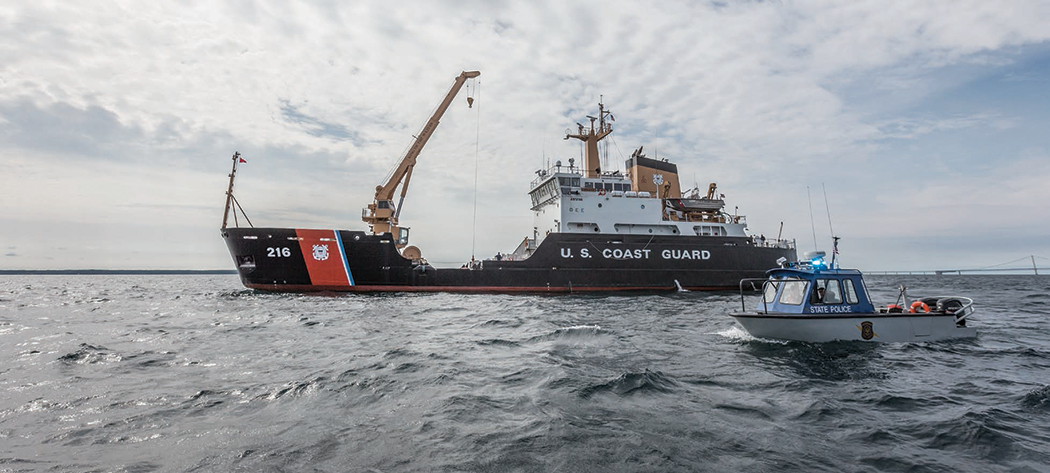 Emergency preparedness in 2015
Last year Enbridge held more than 360 exercises, drills and equipment deployments involving thousands of members of our team.
The objective? To stress-test our planning, practice critical emergency response activities and sharpen our preparedness so that we're always ready with the right skills, people, resources and plans if an incident occurs.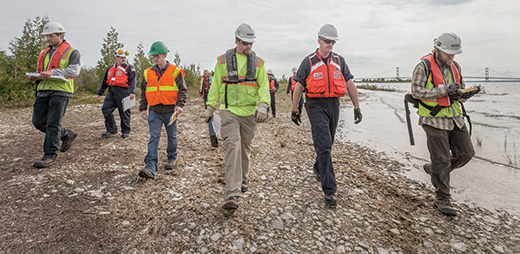 Case study
Practice in the Straits of Mackinac
"This is a drill: At 5:30 a.m., September 23, 2015, the Enbridge Control Center in Edmonton detected a pressure drop on Line 5 under the Straits of Mackinac and immediately initiated an emergency shutdown, completing the shutdown and isolating the line within 10 minutes. An Enbridge staff member dispatched to the location has confirmed an oily sheen on the water. Repeat, this is a drill."
Last fall, those words kicked off one of the largest emergency response drills in our more than 65-year history at the location where our Line 5 pipeline crosses the Straits of Mackinac between Lake Michigan and Lake Huron.
After eight months of planning and preparation involving a dozen organizations, from Enbridge, the US Coast Guard and the US Environmental Protection Agency, to regulators, first responders and a local Native American community, hundreds of participants arrived on site in St. Ignace and Mackinaw City, MI for two days of intensive training before the drill commenced on September 24.
"We selected the Straits of Mackinac because we know that our neighbors there care deeply about protecting the Great Lakes and the local environment and have lots of questions and concerns about the safety and reliability of Line 5 where it crosses the Straits," says Mike Koby, Vice President Enterprise Safety & Operational Reliability. "By holding the drill in a community that is watching us closely, with media and observers on hand, we tested and sharpened our emergency preparedness and also, we hope, demonstrated how committed we are and the resources and planning we have in place to protect the environment from harm."
Over the course of the day, more than 600 participants in the drill, observed by representatives of more than 20 agencies and community organizations, deployed thousands of feet of protective boom in open water and at key control points, positioned skimmers, pumps and vacuum trucks, and coordinated the actions of 20 boats and larger vessels, including the U.S. Coast Guard cutter Alder. Behind the front lines of the exercise a Unified Command team oversaw the other aspects of the drill using the Incident Command System, practicing the planning and inter-agency integration required to deliver a safe and effective response.

"We do everything we can to prevent incidents before they occur, but if they do we are determined to be ready to respond with comprehensive plans in place and the right resources and trained personnel on standby." Mike says. "This drill gave us a chance to test and refine our Straits of Mackinac Tactical Response Plan, practice open-water containment and recovery and strengthen our skills in the Incident Command System. It also helped build the important relationships with other responding agencies that would be critical during a real incident, and boost the training and expertise of the Enbridge Enterprise Emergency Response Team."
"Ultimately, emergency response preparedness is like insurance. We hope we never have to use it, but we invest in hundreds of drills, exercises and equipment deployments each year so that we're ready if it's ever needed."
About Line 5
Straits of Mackinac
Built by Enbridge in 1953, Line 5 carries approximately 540,000 barrels of light crude oil and natural gas liquids to markets in Michigan and beyond every day. Where the pipeline crosses the Straits of Mackinac, it splits into two smaller lines with the thickest pipe wall of any line on our systems. We monitor the crossing, and all parts of our pipeline system, 24 hours a day, seven days a week, 365 days a year. We regularly inspect the line from the inside, using in-line inspection tools, and from the outside with divers and remotely operated underwater vehicles, and we operate Line 5 at less than 25% of its design capacity to further enhance safety.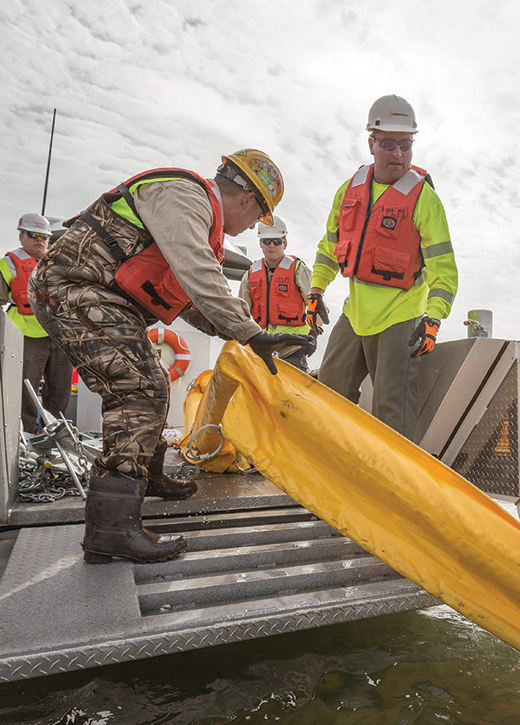 Thinking safety. Working safely.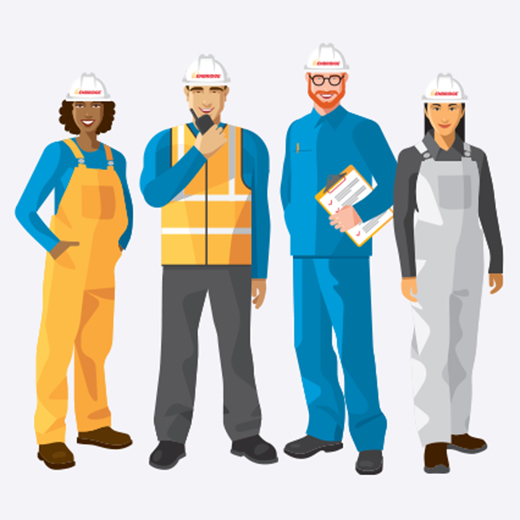 Best-trained, least-used
The Enbridge Enterprise Emergency Response Team is ready for the call if it ever comes. With more than 175 personnel from all parts of the company, this elite team is specially trained each year and prepared to lead a coordinated, effective and safe response should a major incident occur. Our philosophy: our response team will be the best trained and least-used unit within Enbridge.
Emergency response plans
We have comprehensive and up-to-date emergency response plans in place to help us respond rapidly anywhere we operate, should an incident occur. Plans include detailed tactics, maps, available internal and external resources, key contacts, environmental and community considerations and various incident scenarios with safety and response guidelines.
---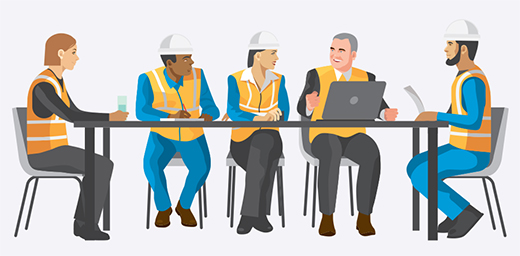 All on the same page
We have more than 1,400 Enbridge employees trained in the Incident Command System. This approach is the standard for first response agencies across North America and allows us to all work together safely and effectively when responding to incidents.
Lessons learned
Continual improvement
An emergency response exercise or drill is about more than just practicing. We're also identifying how we can improve our skills, our relationships with other response agencies and neighbors in the area, and the key equipment and resources required to be even more effective in responding if an incident occurs.
Following our exercise in the Straits of Mackinac we're expanding our training so more Enbridge personnel have the advanced skills required to lead a safe and effective response. Our lessons learned also pointed towards having more and improved tactical response equipment available should it be needed.
While the exercise showed that we were well prepared overall, we took a closer look at our response capability and are raising the bar for oil containment and recovery on open water and in winter conditions. Over 2016 and 2017 we're adding about $7 million of equipment in the Straits, including high-speed open-water oil recovery systems, additional booms and specialized boat-mounted skimmers to boost our safe and effective response when ice is present.
Innovation in action
From research to reality
Following a two-year research partnership with Michigan Tech, Enbridge has a new tool to monitor Line 5 where it crosses the Straits of Mackinac. The research found that sonar-equipped Autonomous Underwater Vehicles (AUVs) are effective for mapping the bottom of the Straits which helps us monitor changes near the pipeline crossing. The sonar scans, along with inspections by divers and tethered submersibles, and in-line inspections, give us another way to keep the crossing safe.