---
2015 performance at a glance
In 2015, Enbridge safely delivered billions of barrels of crude oil to refineries across North America to become the everyday energy we all rely on: gasoline, diesel and aviation fuel that drives our economy and powers our society. We also moved trillions of cubic feet of natural gas to heat homes and drive industry, and generated thousands of megawatts of renewable energy to power our daily lives.
---
While we safely delivered 2.8 billion barrels of oil last year, our record was strong but not perfect. We had a total of 45 leaks on our crude oil pipelines—38 of them contained on Enbridge property—totaling 279 barrels. The best safe delivery record in our recent history shows that our safety focus is making a difference. But, like you, we know that even one spill is one too many, and we apply what we learn from every incident to become even safer.
Crude Oil Pipelines
---
Barrels of crude oil safely delivered in 2015
---
Total barrels spilled in 2015 (0.00001%)
---
Barrels spilled within our facilities
---
Barrels spilled outside of Enbridge's property in 2015 (0.0000005%)
More oil safely delivered with fewer spills in 2015
Both in terms of the number of leaks (45) and the volume of crude oil released (279 barrels), last year was our best performance, by far, in the last decade. At the same time, the amount of crude oil we safely delivered increased significantly. We delivered nearly 19% more oil than in 2014, with a 90% reduction in spill volume.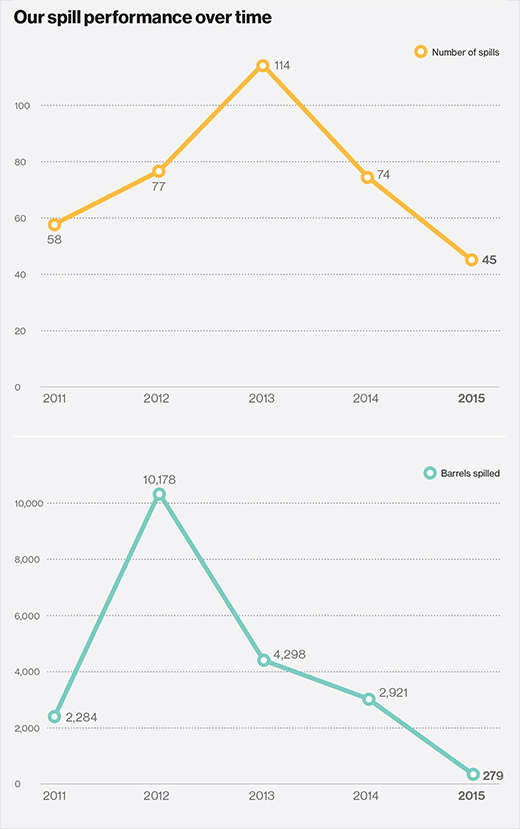 Natural Gas Pipelines and Processing
Every day, our natural gas pipelines move an average of almost 7 billion cubic feet of natural gas – nearly 2.5 trillion cubic feet each year – and in our gas processing business we prepare more than 3 billion cubic feet of gas for market on a daily basis.
In 2015, we had 9 federally reportable spills totaling 14 barrels of liquid, as well as one natural gas release totalling slightly more than 1 million cubic feet, vented to the atmosphere.
Gas distribution
Our gas distribution business provides reliable natural gas service to more than 2.1 million customers in Ontario, Quebec, New Brunswick and New York State.
In 2015, we safely delivered more than 422 billion cubic feet of natural gas to those customers and had no significant incidents during that time.
In-line inspections
In 2015, we completed nearly 200 in-line inspections on our crude oil and natural gas pipelines and distribution systems. These inspections – typically requiring months of planning and often costing millions of dollars – allow us to monitor the physical condition and health of the pipelines from the inside, using sophisticated tools to gather the information we need to keep our systems healthy and in excellent shape.
$1,300,000
in grants to community response agencies in 2015 and a total of $9.3 million in Safe Community grants across Canada and the U.S. since 2002.
---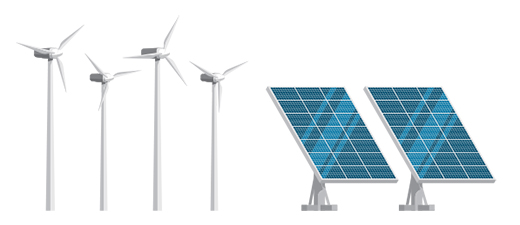 Our green power projects represent a total of nearly 2.8 GW (1.9 GW net) of renewable energy generation capacity from wind, solar, geothermal and other sources in North America and now Europe, with the potential to power more than 1 million homes.
---
139,123
Total hours of Environment, Health & Safety training in 2015—an average of nearly 16 hours of training per employee.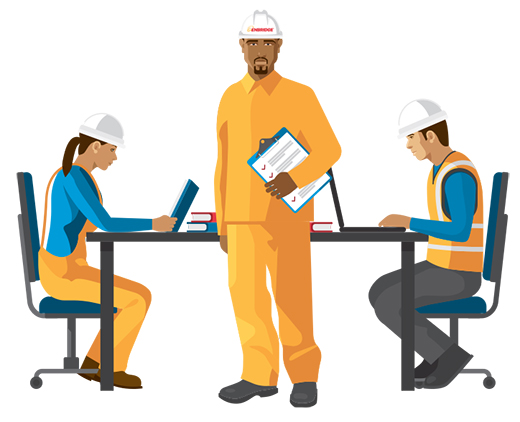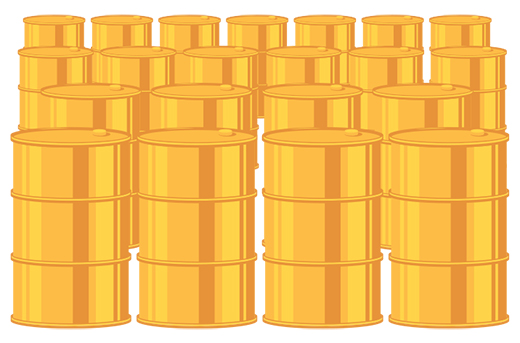 2.5M
We safely deliver an average of 2.5 million barrels of oil each day through the world's most extensive oil pipeline system.