---
St. Clair River HDD Installation
Enbridge's agreement with the State of Michigan, signed in November 2017, lays out a path forward in addressing the future of Line 5—and establishes greater collaboration between Enbridge and the State in moving toward a long-term solution.
One of the seven key actions, as part of this agreement, is a commitment by Enbridge to replace the existing Line 5 St. Clair River crossing segment, located between Marysville, Michigan and Froomfield, Ontario (see map below).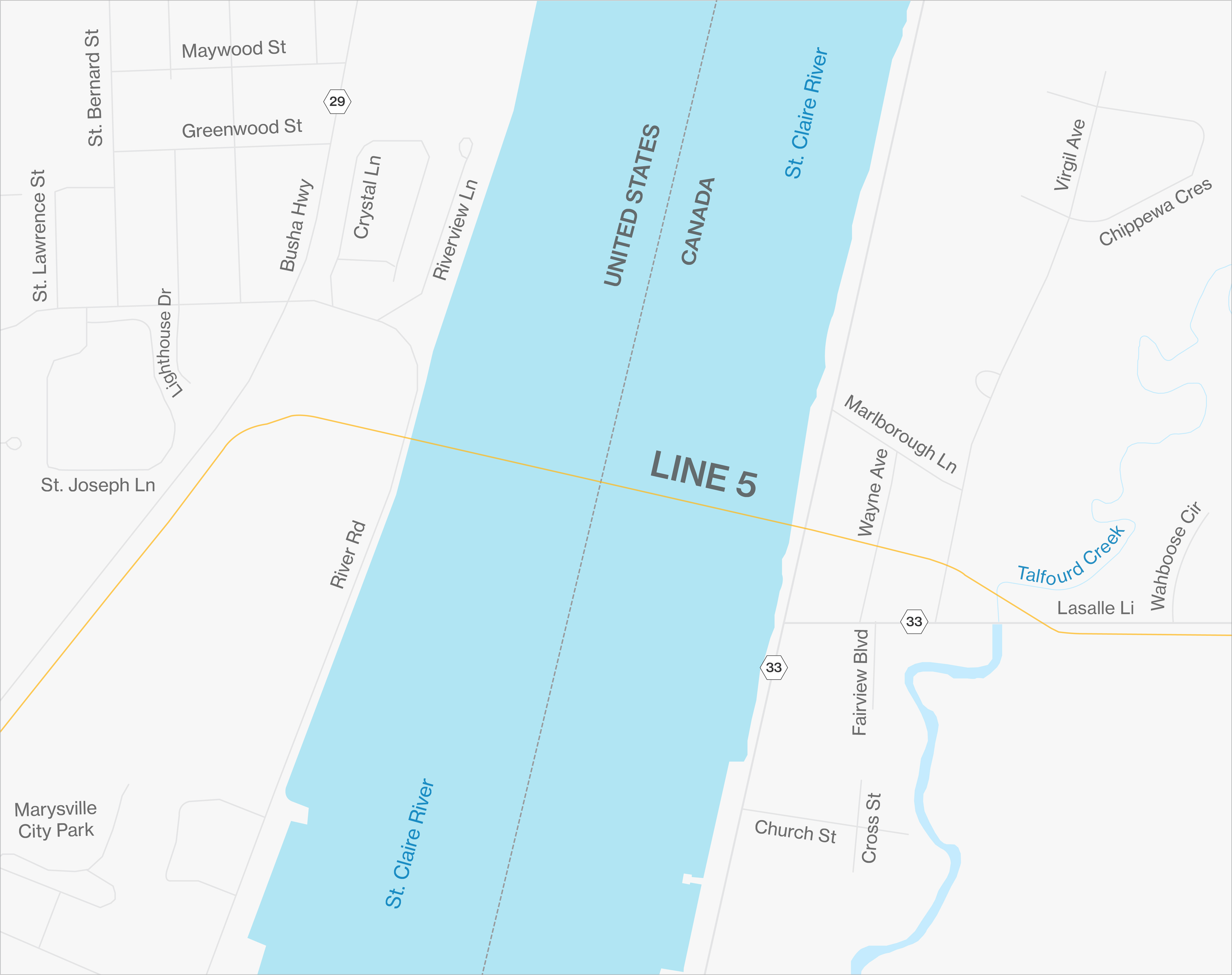 Click on the image above for a larger version of the Line 5 St. Clair River crossing location.
---
The new segment of pipe will be installed underneath the riverbed using horizontal directional drill (HDD) technology.
In the case of large rivers or certain sensitive crossings, Enbridge uses HDD technology when possible to install underground pipelines. HDD projects can be completed in a way that minimizes environmental and stakeholder impact, even in sensitive areas.
Construction schedule
Enbridge began work to replace the Line 5 St. Clair River crossing in February 2020. Following pre-construction site preparation in January, drilling the new borehole crossing began the week of March 1, 2020, and was completed at the end of March.
Work to prepare the new pipe segment, measuring a total of 858 metres (2,814 feet), is ongoing. The pipe is being strung out along the south side of LaSalle Line (on Shell property) and the individual pipe segments welded together. Once fully assembled, the new segment will be hydrostatically tested with water to ensure safety and quality assurance standards are met.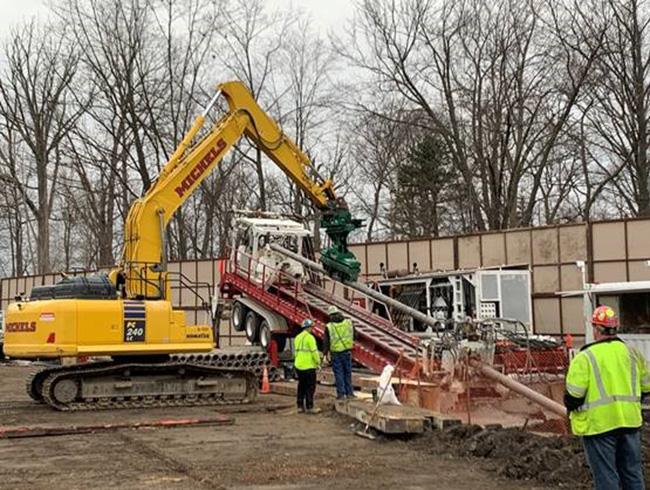 Horizontal directional drilling activity on the St. Clair River HDD Installation project in mid-March 2020.
Once testing of the new pipe is complete, the pipe string will be pulled from the Canadian side back to the U.S. side of the river. The current schedule for the pipe-pullback is April 19-24, 2020. Please note that LaSalle Line on the Canadian side of the river will be closed to traffic during this period. Signage will be in place to alert drivers to detour routes.
Following the "pull-back," a second hydrostatic test will be performed with the pipe in place to confirm the integrity of the new pipe segment beneath the river.
The new Line 5 St. Clair River crossing is anticipated to enter service in July 2020, and site remediation work will occur in July and August 2020.
---
---
How to contact us
If you have questions about the St. Clair River HDD installation, please contact us via:
Telephone: 1-888-263-3654 (toll free)
E-mail: projects@enbridge.com
We will reply promptly to calls and e-mails.