---
Enbridge Light Oil Market Access Program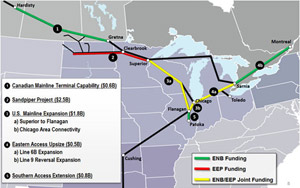 Called the "Light Oil Market Access Program," the $6.2 billion initiative is comprised of a number of individual projects. Together, these projects will accommodate transportation of approximately 400,000 barrels per day (bpd) of additional light oil to refinery markets in Ontario, Quebec, and the U.S. Midwest.
The projects that make up the Program are being developed in response to shifting supply and demand patterns in North America. Specifically, shippers have asked Enbridge to provide increased transportation of crude oil – and in particular, rapidly growing supplies of light crude oil – between growing producing regions and major refinery hubs. These projects are responsive to fundamental shifts in the crude oil supply in North America.
The Program is part of Enbridge's overall growth strategy, which includes other market access initiatives: Enbridge's Western Access, Gulf Coast Access and Eastern Access programs, which offer flexible transportation options to major crude oil markets and will provide North American consumers access to growing domestic supplies of crude oil while reducing reliance on non-North American volumes.
To fund these and other growth plans, Enbridge, on an enterprise-wide basis, has raised more than $6 billion of capital markets funding to date in 2012, and has expanded our general purpose bank credit facilities to more than $12 billion.
Enbridge is well underway in stakeholder consultations for some of these projects and will soon begin consulting with landowners and other stakeholders on other projects in earlier stages of planning.
High-Level Summary
Increase in system light market access: 400,000 barrels per day (bpd)
Overall cost: $6.2 billion
The individual projects within the Program are targeted to be available for service at varying dates from 2014 to early 2016
Light Market Access Projects
North Dakota System Expansion and Extension
Construction of a 965-kilometre (600-mile) 24-inch diameter line (Sandpiper Project) from Beaver Lodge, North Dakota, to the Superior, Wisconsin, Terminal
Will increase Bakken takeaway capacity by 225,000 bpd
Estimated capital cost of this project is approximately $2.5 billion
Eastern Access Capacity Expansion
Enbridge has secured sufficient commercial support to proceed with additional aspects of the previously announced $2.7 billion Eastern Access Program.
Full reversal and capacity expansion of Line 9 to 300,000 bpd
U.S. mainline system expansions - through the addition of pumping horsepower and increased terminal capability at existing sites -between Flanagan, Illinois, and the border near Sarnia, Ontario
The upsized Line 9 reversal and supporting U.S. mainline expansion capital brings the total Eastern Access Program estimated cost to $3.2 billion including the $0.2 billion Toledo Pipeline expansion.
Southern Access (Line 61) Extension Pipeline
Construction of a 165-mile, 24-inch diameter Southern Access Extension Pipeline from Flanagan to Patoka
Initial capacity of 300,000 bpd
Estimated cost of $0.8 billion
U.S. Mainline System
Based on increased availability of western light oil supplies, and attractive pricing relative to U.S. Gulf Coast sourced supply, Chicago-area refineries are shifting to the west as their primary light oil supply source.
Construction of a 122-kilometre (76-mile), up to 36-inch diameter twin of the existing Line 62 (Spearhead North), with an initial capacity to 570,000 bpd
Estimated cost $0.5 billion
Capacity expansion of Line 61 to its full 1,200,000 bpd potential
Estimated total cost $1.5 billion