---
Atlantic Bridge
The Atlantic Bridge Project will transport significant and diverse natural gas supplies to the New England states and the Canadian Maritime provinces.
The project is expected to provide reliability of energy throughout the region, and help generate savings for homeowners, businesses, and manufacturers.
The Atlantic Bridge Project is designed to provide additional capacity on our Algonquin Gas Transmission and Maritimes & Northeast Pipeline systems to move reliable, economical natural gas into New England and to specific end use markets in the Canadian Maritime provinces with an initial in-service date in November 2017. The 2017 facilities enable Algonquin to provide firm transportation service for a portion of the Atlantic Bridge's project capacity.
Our goal is to place all the Atlantic Bridge facilities into service as soon as possible to meet the needs of the region. On October 27, 2017, the Federal Energy Regulatory Commission (FERC) granted Algonquin Gas Transmission's request to place into service the Atlantic Bridge Connecticut facilities to provide 40,000 dekatherms per day of incremental firm transportation service.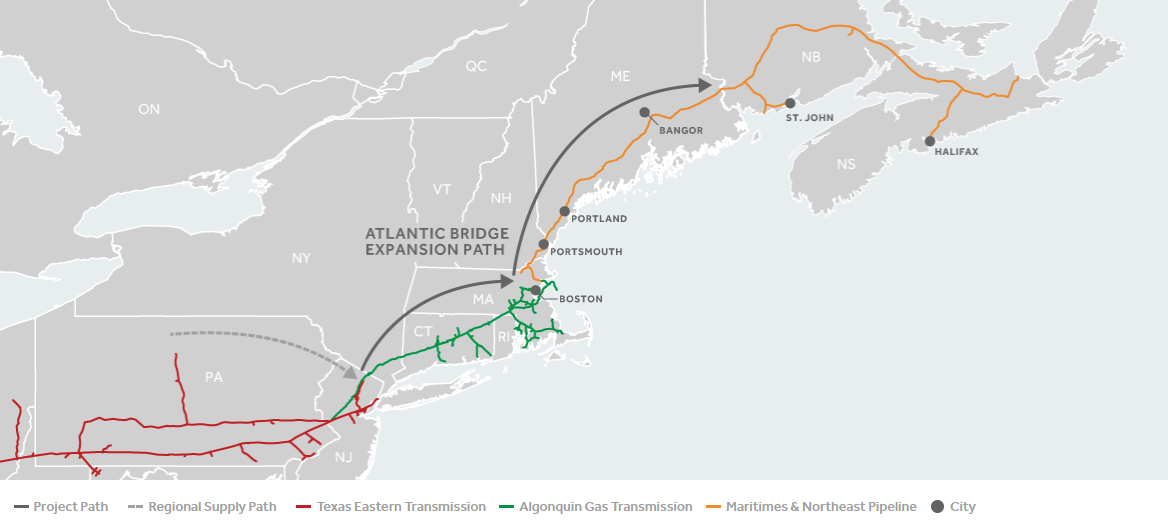 Project overview: 
Type: Natural gas pipeline
Status: Under review
Peak day capacity: 132,700 dekatherms per day (Dth/d)
Expected to transport: Natural gas
Initial in-service date: November 2017
Ownership: Algonquin Gas Transmission, LLC and Maritimes & Northeast Pipeline, L.L.C. (U.S.); Maritimes & Northeast Pipeline Limited Partnership (Canada)
FERC docket number: CP16-9-000
---
Project Information:
Atlantic Bridge Project Calendar
NYSDEC LEGISLATIVE PUBLIC HEARING
YORKTOWN HEIGHTS, NY
October 19, 2016
6:00 PM

Yorktown Community and Cultural Center
1974 Commerce Street
Yorktown Heights, NY 10598
FERC SCOPING MEETINGS
Project representatives will be present one hour before each meeting (starting at 5:30 p.m.) to describe the Project, present maps, and answer questions.
YORKTOWN HEIGHTS, NY
Monday, May 11, 2015
6:30 p.m.
Yorktown Community and Cultural Center
1974 Commerce Street
Yorktown Heights, NY 10598
GLASTONBURY, CT
Tuesday, May 12, 2015
6:30 p.m.
Riverfront Community Center
300 Welles Street
Glastonbury, CT 06033
WEYMOUTH, MA
Wednesday, May 13, 2015
6:30 p.m.
Abigail Adams Middle School
89 Middle Street East
Weymouth, MA 02189
FRANKLIN, MA
Thursday, May 14, 2015
6:30 p.m.
Hawthorne Suites by Wyndham
835 Upper Union Street
Franklin, MA 02038
OPEN HOUSES
DANBURY, CT
March 2, 2015
5:30 PM - 7:30 PM
Crowne Plaza Danbury
18 Old Ridgebury Road
Danbury, CT 06810
SUFFERN, NY
March 3, 2015
5:30 PM – 7:30 PM
Crowne Plaza Suffern - Mahwah
(formerly Holiday Inn)
3 Executive Boulevard, Exit 14B
Suffern, NY 10901
NORWICH, CT
March 4, 2015
5:30 PM – 7:30 PM
Norwich Holiday Inn
10 Laura Blvd
Norwich, CT 06360
SOUTHBURY, CT
March 5, 2015
5:30 PM - 7:30 PM
Crowne Plaza
1284 Strongtown Road
Southbury, CT 06488
GLASTONBURY, CT
March 9, 2015
5:30 PM - 7:30 PM
Glastonbury Riverfront Community Center
Community Room B
300 Welles Street
Glastonbury, CT 06033
CHAPLIN, CT
March 10, 2015
5:30 PM - 7:30 PM
Chaplin Senior Center
132 Chaplin Street
Chaplin, CT 06235
YORKTOWN, NY
March 11, 2015
5:30 PM – 7:30 PM
American Legion Hall
235 Veterans Road
Yorktown Heights, NY 10598
FRANKLIN / MEDWAY, MA
March 16, 2015
5:30 PM – 7:30 PM
Helen Keller Elementary School Cafeteria
500 Lincoln Street
Franklin, MA 02038
MILLIS / NORFOLK, MA
March 17, 2015
5:30 PM - 7:30 PM
Norfolk Town Library
NPL Community Room
139 Main Street
Norfolk, MA 02056
WEYMOUTH, MA
March 19, 2015
5:30 – 7:30 PM
Weymouth Elks #2232
1197 Washington Street
East Weymouth, MA 02189
LITTLE COMPTON, RI
March 23, 2015
5:30 PM - 7:30 PM
Little Compton Town Hall
40 Commons
Little Compton, RI 02837
WALPOLE, MA
March 25, 2015
5:30 PM - 7:30 PM
Boyden Elementary School
1825 Washington Street
Walpole, MA 02071
QUINCY, MA
March 26, 2015
5:30 – 7:30 PM
Sons of Italy Social Center
120 Quarry Street
Quincy, MA 02169
LANDOWNER INFORMATIONAL MEETINGS
GLASTONBURY, CONNECTICUT
September 17, 2014
5:30 – 7:30 P.M.
Glastonbury Riverfront Community Center
Community Room B
300 Welles Street
Glastonbury, CT 06033
CHAPLIN, CONNECTICUT
September 18, 2014
5:30 – 7:30 P.M.
Chaplin Senior Center
132 Chaplin Street
Chaplin, CT 06235
WALPOLE, MASSACHUSSETTS
September 22, 2014
5:30 – 7:30 P.M.
Boyden Elementary School
1852 Washington Street
So. Walpole, MA 02071
MILLIS/NORFOLK, MASSACHUSETTS
September 23, 2014
5:30 – 7:30 P.M.
Norfolk Town Library
139 Main Street
Norfolk, MA 02056
TIVERTON, RHODE ISLAND
September 24, 2014
5:30 – 7:30 P.M.
Tiverton Town Hall
343 Highland Road
Tiverton, RI 02878
LITTLE COMPTON, RHODE ISLAND
September 25, 2014
5:30 – 7:30 P.M.
Town Hall
40 Commons
Little Compton, RI 02837
YORKTOWN, NEW YORK
September 29, 2014
5:30 – 7:30 P.M.
American Legion Hall
235 Veterans Road
Yorktown Heights, NY 10598
SUFFERN, NEW YORK
September 30, 2014
5:30 – 7:30 P.M.
Crowne Plaza (formerly Holiday Inn)
3 Executive Blvd (Exit 14B)
Suffern, NY 10901
DANBURY, CONNECTICUT
October 1, 2014
5:30 – 7:30 P.M.
Crowne Plaza
18 Old Ridgebury Road
Danbury, CT 06810
SOUTHBURY, CONNECTICUT
October 2, 2014
5:30 – 7:30 P.M.
Crowne Plaza
1284 Strongtown Road
Southbury, CT 06762
NORWICH, CONNECTICUT
October 6, 2014
5:30 – 7:30 P.M.
Norwich Holiday Inn
10 Laura Blvd
Norwich, CT 06360
FRANKLIN/MEDWAY/BELLINGHAM, MASSACHUSETTS
October 7, 2014
5:30 – 7:30 P.M.
Hawthorn Suites by Wyndham
835 Upper Union Street
Franklin, MA 02038
BOURNE, MASSACHUSETTS
October 8, 2014
5:30 – 7:30 P.M.
The Beachmoor, Massachusetts Maritime Academy
11 Buttermilk Way
Buzzards Bay, MA 02532