---
PennEast Pipeline Project
The PennEast pipeline will reliably meet growing energy demand in New Jersey and Pennsylvania while providing environmental and economic benefits to the region, and will transport enough clean, affordable and abundant natural gas to serve 4.7 million homes.
This project will provide Enbridge with a strategic opportunity to leverage existing assets by directly connecting northeast Pennsylvania Marcellus shale production to the Texas Eastern Transmission and Algonquin Gas Transmission systems, along with other delivery points, and will allow Enbridge to further strengthen its relationship with some of its biggest customers.
Visit the PennEast Pipeline Project website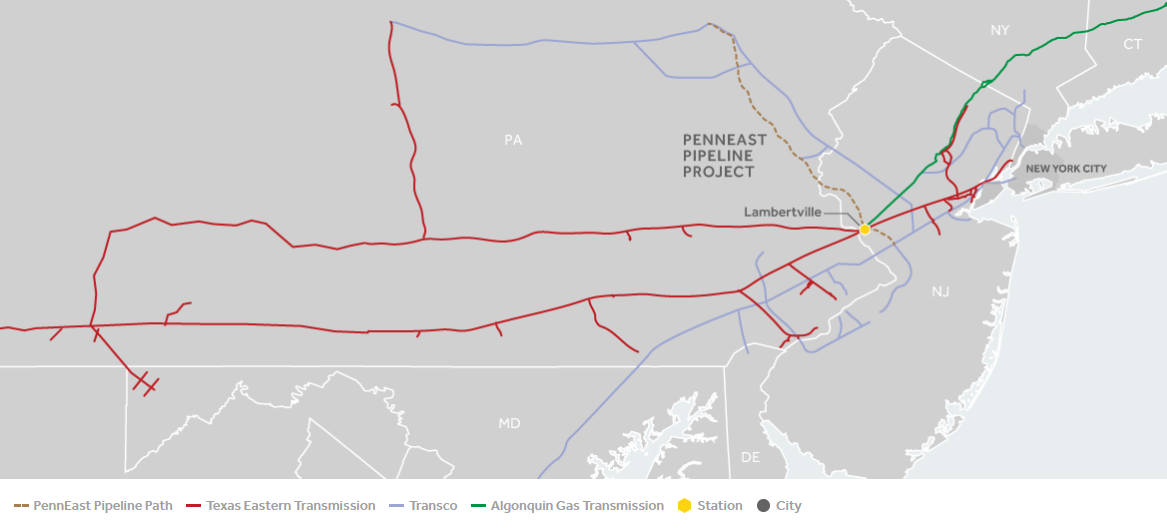 Project overview:
Type: Natural gas pipeline
Status: Under review
Length: 118 miles
Peak day capacity: 1.1 billion cubic feet per day (Bcf/d)
Expected to transport: Natural gas
Phase One expected in-service date: November 2021
Phase Two expected in-service date: 2023
Ownership: Enbridge Inc. (20%). Other partners include: Southern Company Gas; NJR Pipeline Company, a subsidiary of New Jersey Resources; South Jersey Industries; and UGI Energy Services (UGIES), a subsidiary of UGI Corporation.
Operator: UGI Energy Services
FERC docket number: CP15-558-000
Project website: Click here
---
Project Information:
The Federal Energy Regulatory Commission (FERC) exclusively authorizes the construction of new interstate natural gas facilities. FERC is also the lead federal agency responsible for conducting environmental reviews of interstate natural gas projects in compliance with the National Environmental Policy Act (NEPA).
PennEast filed with FERC an application for a Certificate of Public Convenience and Necessity for the PennEast Pipeline Project on September 24, 2015, and was assigned FERC Docket No. CP15-558-000. PennEast received its FERC Certificate in January 2018.
Prior to filing a formal application, PennEast participated in FERC's Pre-file process, Docket No. PF15-1-000, conducting a series of activities including meetings with landowners, public officials, government agencies and community members to provide information and gather input for the project.
Following the application filing, the Pre-file docket number (PF15-1-000) was converted to FERC Docket No. CP15-558-000.
In January 2020, the Project filed a new phased approach with federal regulators. Phase One would consist of 68 miles of 36-inch diameter pipeline, constructed entirely within Pennsylvania and ready to deliver natural gas as early as November 2021, pending regulatory approval. The Phase Two portion would include the remaining route in Pennsylvania and New Jersey, with a targeted completion of 2023. The PennEast partners are fully committed to the entire project and meeting the needs of its customers for safe, clean, reliable and affordable energy.