---
CER Prescribed Area and Pipeline Damage Prevention Regulations (Canada)
ENGLISH | FRANÇAIS
Enbridge complies with specific pipeline standards and regulations in each jurisdiction in which its companies operate. Enbridge is primarily regulated in Canada by the federal Canada Energy Regulator (CER), with certain assets also regulated by the Alberta Energy Regulator (AER).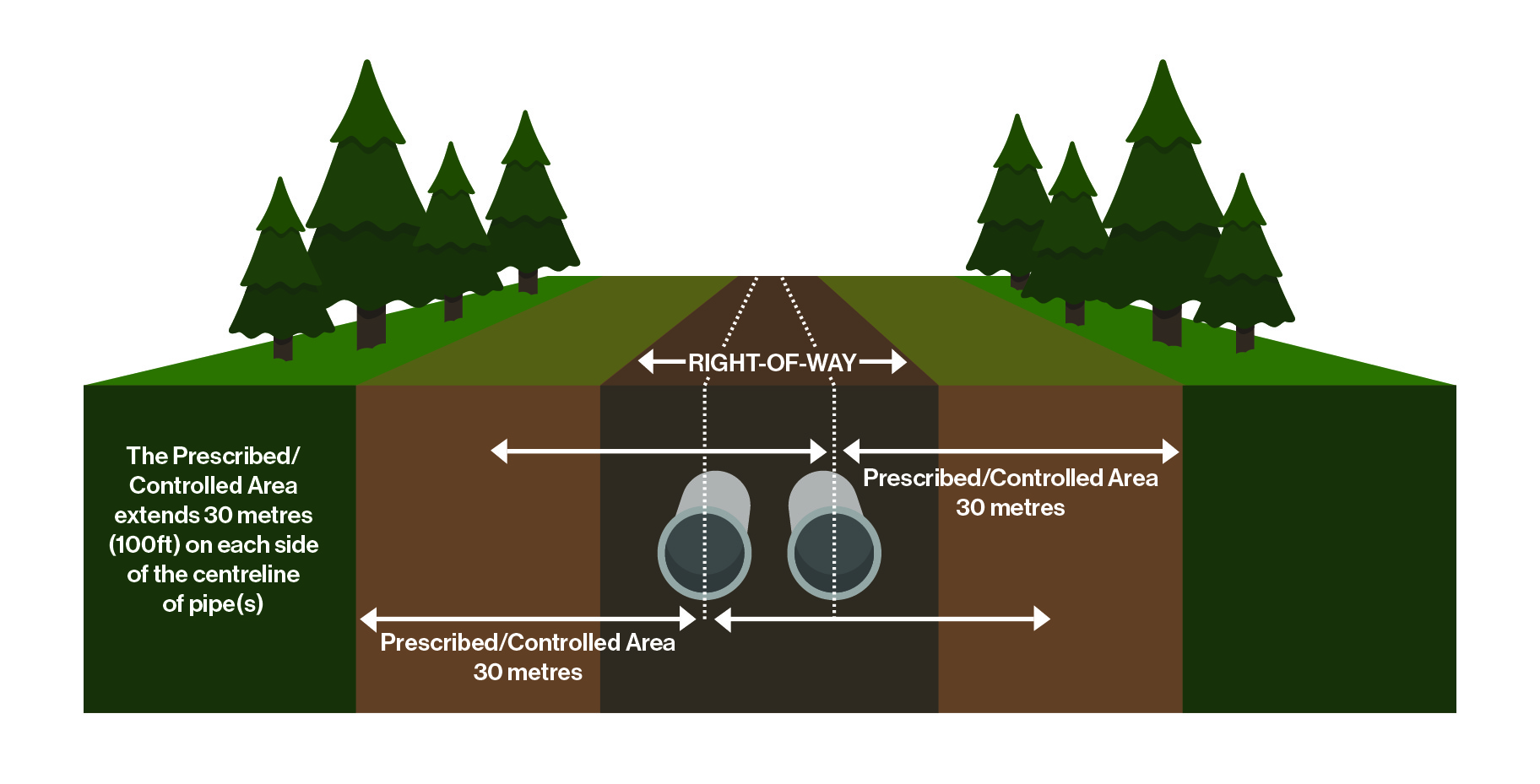 In addition to the right-of-way (ROW) where the pipeline is located, the CER has established a 30-metre (100-foot) prescribed area measured perpendicularly on each side, from the centreline of the pipe to protect people, the environment and the pipeline.
The CER's Pipeline Damage Prevention Regulations—Authorizations and Obligations of Pipeline Companies govern the conditions under which ground disturbance activities can be safely conducted on or within 30 metres of the pipeline(s).
If you are planning to construct a facility on, across, along or under a pipeline, or cause/perform a ground disturbance activity within the 30 metre prescribed area, or use explosives, you must first contact Enbridge and obtain permission.
Alberta Energy Regulator (Alberta)
In Alberta, pipelines are regulated by the Alberta Energy Regulator (AER), formerly the Energy Resources and Conservation Board. The AER has established a controlled area for pipelines in the province. A pipeline's controlled area is the land bordering it for 30 metres (100 feet) along each side, measured from the center of the pipeline.
If you are planning any ground disturbance activities within 30 metres (100 feet) of the pipeline, you must contact Alberta One-Call at (800) 242-3447 at least three working days prior to any work being started. Any ground disturbance within 30 metres of a pipeline must be supervised by trained Enbridge staff, who can safely direct the activity.
Click here to read or download the AER's Safe Excavation Near Pipelines brochure.