North American Supply Projection
Global supply outpaced demand for the first half of 2019 until volatility with U.S. sanctions against Iran and Venezuela along with escalating trade negotiations with China affected production. In December 2019, OPEC+ countries committed to deepen production cuts by a further 400,000 bpd, bringing their total reduction commitments to 1.7 MM bpd to balance against growing non-OPEC supply and maintain higher crude oil prices. Heading into 2020, Brent is near $68 per barrel.
WTI discounts to Brent have been volatile. Surging Permian and other North American oil production have outstripped pipeline capacity causing considerable price dislocations for virtually all inland crude oil grades for part of 2019. In the second half of the year, new pipeline capacity from the Permian, including Enbridge's interest in the Gray Oak pipeline, started to come on stream with differentials between Midland, Cushing and the USGC narrowing. The incremental new capacity should support prices to further production growth in the region as more barrels reach export terminals to increase competition with international grades. According to the U.S. Energy Information Administration, the Permian basin alone added over 800,000 bpd of supply through 2019 with a potential to repeat in 2020.
Western Canadian Sedimentary Basin (WCSB) producers have been particularly hard hit by infrastructure constraints. Physical supply from the WCSB increased and exceeded pipeline capacity resulting in large storage builds and, correspondingly, significant price discounting. This led the government of Alberta to adopt two policies: 1) to purchase 120,000 bpd rail capacity; and 2) interim production curtailment initially at 325,000 barrels per day, then ratcheting downwards through 2020 when incremental pipeline and rail capacity is anticipated. Despite the challenges faced by WCSB producers from a lack of new pipeline capacity, production is expected to continue growing.
The 2019 Canadian Association of Petroleum Producers (CAPP) forecast (Figure 1) illustrates that WCSB supply will continue to add over 1 million bpd of supply by 2035, necessitating additional pipeline capacity. The Canada Energy Regulator (CER), in its latest Canada's Energy Future 2019 report, shows an even more robust forecast of future incremental raw oil sands production of around 1.3 MM bpd in the same time frame.
Notably, key producers are reducing costs and emissions by improving operations and developing new technology. Advancements like solvent-assisted steam-assisted gravity drainage (SA-SAGD) will lower both breakeven production costs and emissions per barrel. Future WCSB production will continue to grow efficiently and sustainably. The need for crude oil transportation infrastructure remains strong. Access to low-cost transportation to premium markets is fundamental in supporting the Western Canadian petroleum industry.
The U.S. Geological Survey has estimated that the Bakken and Three Forks deposits in eastern Montana and North Dakota hold at least 7.4 billion barrels of technically recoverable oil, although many industry experts believe this is a conservative figure. Production in the Bakken region has grown from about 200,000 bpd in early 2007 to around 1.4 million bpd by the end of 2019. Incremental pipeline capacity from the region supported continued development. Crude prices have strengthened, and the current view is that these higher and more stable prices will provide the economic incentive for increased activity and continued production growth in the Bakken/Three Forks region.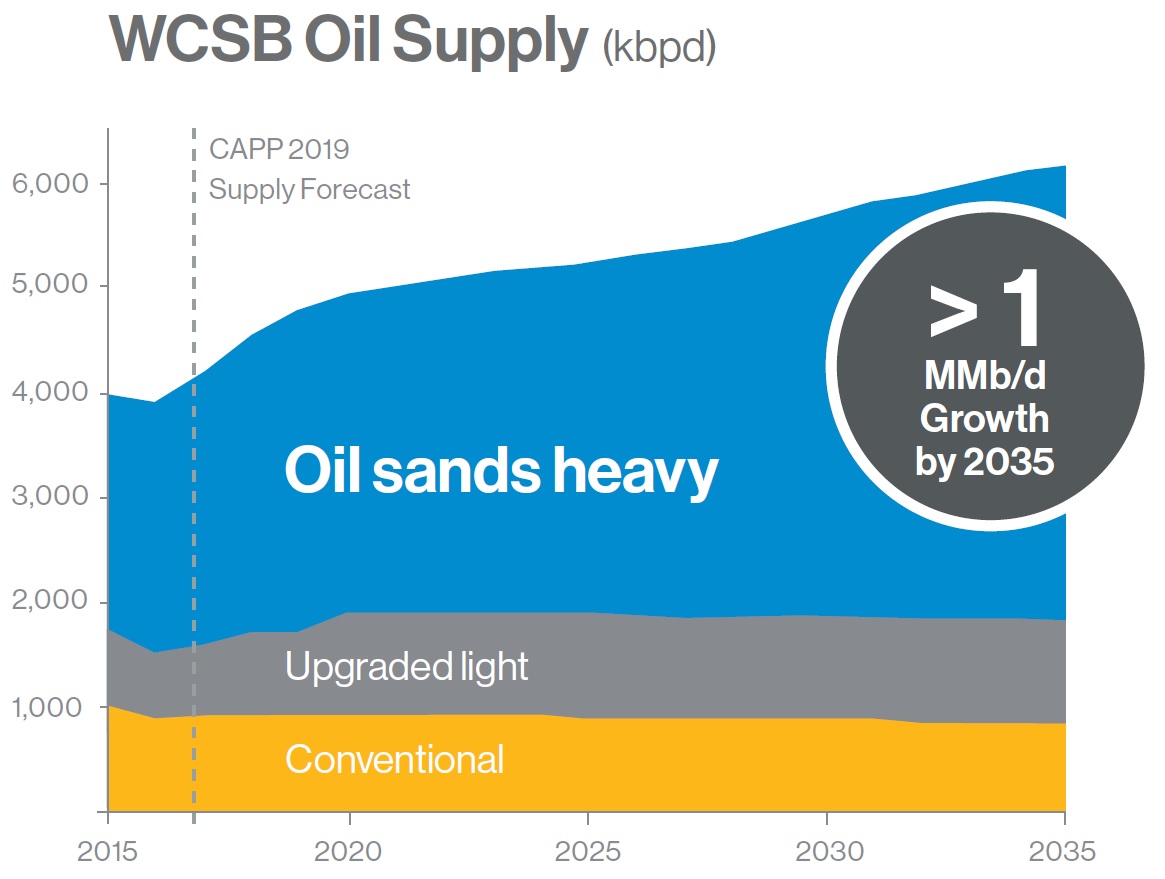 Click to view larger image