A practical approach to energy transition
Dear shareholder,
Energy is the backbone of our economy and our society, and it's Enbridge's role to deliver it. Without energy, we cannot heat our homes or meals, power our vehicles or produce the asphalt they drive on, energize our factories, or create thousands of products we rely on—from computers that connect us to medical equipment that saves lives.


In short, at Enbridge we continue to fulfil our purpose of fueling quality of life across North America and beyond—safely, reliably, 24/7, every day of the year.
Yet the energy business is at an inflection point. We all know we need to accelerate the transition to a lower-carbon future, while at the same time delivering a secure and affordable supply of energy. A practical approach to energy transition is required. We need to lower emissions, while meeting growing energy demand. We need to support our customers today, while anticipating their needs tomorrow. And to meet that demand, we have to develop new energy sources and keep energy costs in check.
It's against this backdrop that we've taken on new leadership roles at Enbridge, beginning January 1, 2023, as President and CEO, and Chair of the Board, respectively. Pamela is Enbridge's first female Chair of the Board and its first Black Chair - something we are both proud of. We feel incredibly fortunate to be part of an 11,000-strong team who share our passion for the business and our mission to be the first choice energy delivery company for our customers, communities, investors, governments and employees. As a team, we rally around Enbridge's role to deliver energy to millions of North Americans, and increasingly in other parts of the world. The pride of the team is evident—and contagious.
Over the last decade, under Al Monaco's leadership as CEO, management transformed Enbridge into a leading energy delivery company. On behalf of all of us at Enbridge, we'd like to thank Al for his significant contributions to the Company and we wish him well in retirement.
We are honored to be leading Enbridge into its next phase of growth. Our premier natural gas, liquids and renewables businesses are well diversified. We deliver energy to the best markets at very low cost. Our commercial underpinnings give us resiliency and predictability of cash flows through market cycles, and our balance sheet is strong. We will build on this legacy and bring the same discipline and rigor to our decision-making process to create value for all our stakeholders.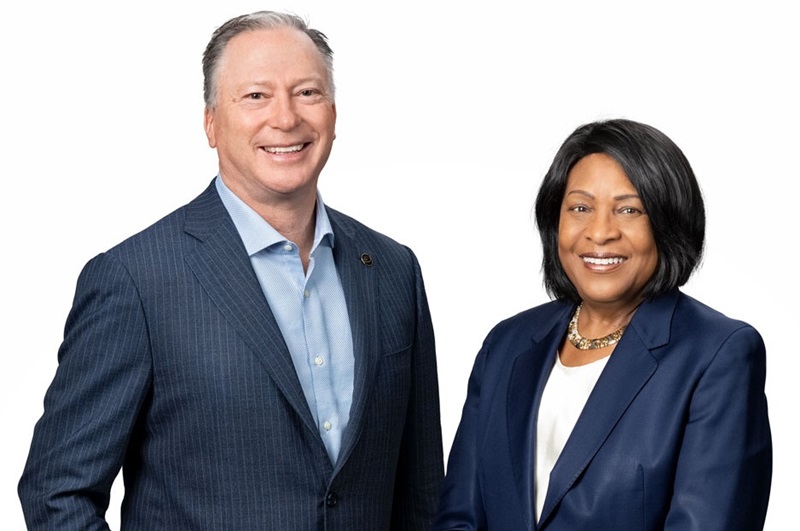 Greg Ebel, President and CEO of Enbridge, and Pamela Carter, Chair of Enbridge's Board of Directors.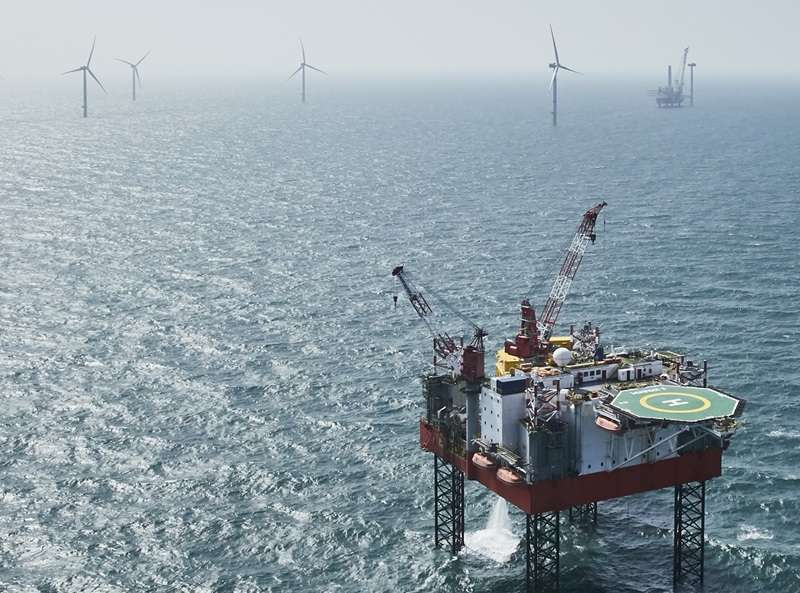 Delivering on our promises
Despite global volatility in 2022, Enbridge navigated the year well and delivered solid performance.
That performance starts with safety. We achieved industry-leading results with integrity and maintenance programs that secure and modernize our network and ensure communities are safe and reliably "energized."
From this foundation, we delivered strong operating performance, recorded high system utilization rates and placed nearly $4 billion of secured capital into service, which will add earnings and cash flow to 2023 and for decades to come.
We achieved record financial results, increased our dividend for the 28th consecutive year—including a 3.2% increase for 2023—and delivered total shareholder return of 14%, well ahead of the S&P 500 Index of approximately -18% and the Toronto Stock Exchange S&P/TSX Composite Index of -6%.
We continued to optimize our portfolio, recycle capital to reinvest into the Company and maintain a strong balance sheet. We monetized $2 billion of non-core assets in 2022, bringing the total to $11 billion since 2018.
We're excited about the $8 billion of new organic growth opportunities, which advances our secured capital program to over $18 billion. These growth opportunities are a strong strategic fit, exceed our risk-adjusted hurdle rates and align with our emissions-reduction goals.
Progressing our strategy
We want to thank the entire Enbridge team for making substantial progress on our strategy in 2022. That progress takes a smart, practical approach to energy transition by providing the energy needed today while simultaneously advancing solutions for tomorrow and beyond.
When it comes to investing in our conventional business, we are ensuring reliability, lowering our emissions, meeting our customers' needs and expanding North American export infrastructure. When it comes to investing for tomorrow and beyond, we are ramping up investment in lower-carbon solutions that complement our existing assets, including renewables, carbon capture, hydrogen and renewable natural gas. Combined, these exciting opportunities not only help us realize the right energy mix for the future but also ensure we do it the right way.
Please see some highlights from the year 2022 at right.
Within lower-carbon solutions, we are beginning to realize the returns from our early investments and forward posture. Our first-in-North America hydrogen-blending pilot project in Markham, Ontario, led to a larger project with Gazifère in Quebec. Our proposed Wabamun Carbon Hub, in partnership with First Nations and Métis nations in Alberta, has paved the way for similar projects across our footprint. Our landmark Athabasca Oil Sands Pipeline Equity Partnership with 23 Indigenous communities is now the industry gold standard for creating true partnerships with Indigenous peoples. And our Indigenous Reconciliation Action Plan, published last year, lays out how we will advance Indigenous participation across our business.
Having a deeper understanding of Indigenous culture and history is important to our business, and last year, 100% of our employees and contractors completed Indigenous awareness training.
Our commitment to be leaders in the energy transition and in ESG (environmental, social and governance) is the right thing to do—and it also enables better performance and creates opportunity.

Gas Transmission and Midstream: We sanctioned a 300 million cubic feet per day expansion of our T-South and T-North pipelines in British Columbia that will feed Woodfibre LNG, where we invested $1.5 billion for a 30% stake in the project. We see natural gas continuing to be a critical part of the energy supply mix well into the future, both domestically and globally, and playing a key role in lowering global emissions.
Gas Distribution and Storage: We added over 45,000 new customers at our natural gas utility and made progress on projects that lower emissions of natural gas. This included constructing three renewable natural gas projects and developing a green hydrogen blending project at Gazifère, Quebec.
Liquids Pipelines: We advanced our U.S. Gulf Coast strategy by permitting a two million barrel storage expansion at the Ingleside export facility in Corpus Christi—last year's anchor investment—and increasing ownership in two key Permian pipelines, Gray Oak and Cactus II, that will serve the region and our terminal.
Renewables: Our acquisition of Tri Global Energy gives us significant onshore development expertise and accelerates our growth. The deal comes with contracted revenue streams and more than doubles our development project hopper to seven gigawatts. It also places us among the top renewable energy developers in North America. We now own or have a stake in 47 renewable facilities in operation or under construction across five countries in North America and Europe. This includes the 480 MW Saint-Nazaire project, France's first commercial-scale offshore wind facility, which became fully operational in 2022.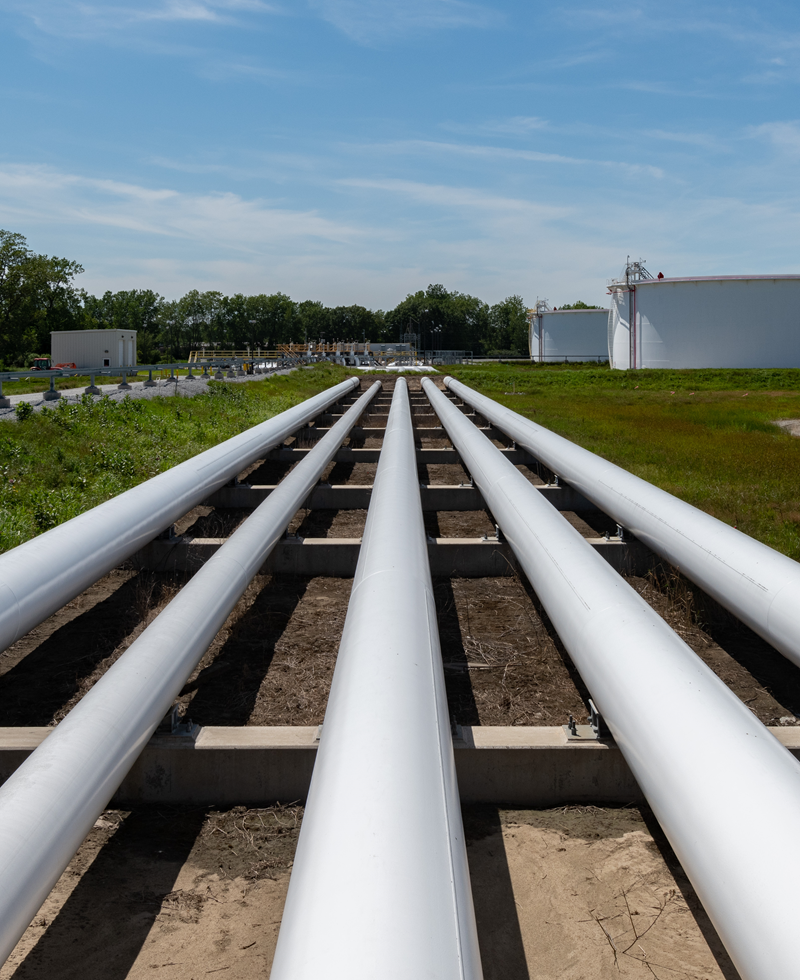 Next-generation growth
This past year, we launched our Tomorrow is On campaign. We love this moniker as it captures the mindset of the organization as we think about the energy future and how we will drive performance and our next generation of growth. To be clear, we are thoughtfully embracing the future, not stubbornly denying it.
Meeting society's energy and energy security demands and meeting climate demands cannot be an either/or proposition. Study upon study shows that demand and access to renewable energy will only increase over the next few decades—but that society will continue to rely heavily on conventional fuels. This past year underscored the growing global need for safe, secure forms of energy, in particular natural gas and LNG.
North America is blessed with abundant resources, and we have among the highest environmental standards globally. We have an opportunity and imperative to share our resources with the world. Participating in the energy transition in smart ways by partnering conventional energy sources with intermittent renewables and advancing new technologies and energy solutions like carbon capture and storage will improve the sustainability profile of all energy sources.
We are confident that our assets will be an integral source of energy supply to key markets for decades to come. The progress we made in 2022 sets us up for the future. The strength of our core businesses, disciplined approach to capital allocation and strong balance sheet put us in a great position to grow with, and into, our new energy realities, while providing our shareholders the solid investment returns they have come to expect.
With this in mind, we expect earnings before interest, taxes, depreciation, and amortization ("EBITDA") in 2023 to be between $15.9 billion and $16.5 billion, representing just under 6% growth relative to the midpoint of our 2022 guidance range, and distributable cash flow ("DCF") per share of between $5.25 to $5.651, all of which supports the continued growth of our dividend.
1 DCF per share is a non-GAAP measure; these measures are defined and reconciled in the Non-GAAP and other financial measures section of Appendix D.
Governance
We remain committed to clear and transparent disclosure across all areas of the business.
Demonstrating our commitment to the highest standards of corporate governance, the Board is actively engaged with management on how we communicate with all our stakeholders and ensure transparency in our approach.
Listening to our stakeholders and taking time to understand their perspectives helps ensure that we are on the right path on key issues like the energy transition and better assures our ongoing success.
Thank you
At its core, Enbridge is about its people—people dedicated to providing safe, reliable, affordable service today and embracing tomorrow as they share their insights, innovations and hard work.
Thank you, to each and every one of our team. We also are grateful for the continued loyalty of our customers and partners, and we remain committed to serving their needs both for conventional and lower-carbon energy solutions.
Finally, thank you to our shareholders for your continued support. We value your confidence in Enbridge.
Sincerely,

Gregory L. Ebel
President and Chief Executive Officer

Pamela L. Carter
Chair, Board of Directors
Calgary, Alberta
March 2, 2023