Tomorrow is on: Corporate vision and strategy
At Enbridge, our primary purpose is to fuel people's quality of life in a safe, clean, and socially responsible manner. Our vision to be the leading energy infrastructure company in North America and beyond supports this purpose.


We strive to be the first-choice supplier to customers, communities, investors, regulators, policymakers and employees. In pursuing this vision, we play a critical role in enabling the economic and social well-being of people across the world by providing access to affordable, reliable, and secure energy.
Our four core businesses (Gas Transmission and Midstream, Liquids Pipelines, Gas Distribution and Storage, and Renewable Power Generation) transport, distribute, and generate energy including liquids, natural gas, renewable power, and lower-carbon fuels. We recognize that the energy system is changing, and we fully expect to succeed as part of a cleaner energy future by investing in lower-carbon platforms while ensuring the continuity and stability that the world requires through the transition.
Our strategy is underpinned by a deep understanding of energy supply and demand fundamentals. Through disciplined capital allocation that is aligned with our outlook on energy markets, we have become an industry leader with a diversified portfolio across both conventional and low-carbon energies. Our assets have reliably generated low-risk, resilient cash flows through many commodity and economic cycles.
We remain confident in our two-pronged growth strategy and will continue to invest in our diversified footprint of both conventional businesses and complementary low-carbon platforms, such as renewables, carbon capture and storage, hydrogen, and renewable natural gas.
ESG continues to be integral to our strategy; we are committed to reducing our emissions, building lasting relationships with our stakeholders and Indigenous communities, and promoting diversity, equity and inclusion.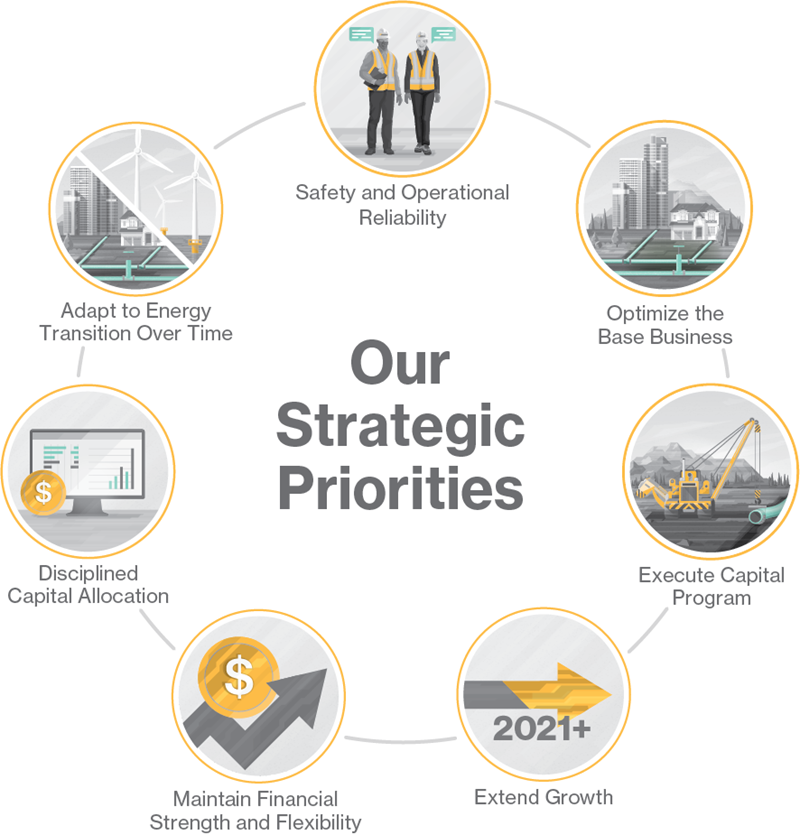 What we stand for
What we stand for complements our strategic priorities and is foundational to our Company—connecting our people, bringing meaning to each individual's contributions, and inspiring our teams to safely and reliably deliver the energy society needs and wants.
Everyone at Enbridge is guided by a strong set of core values—Safety, Integrity, Respect and Inclusion—that reflect what is truly important to us as a company. Our core value of Inclusion reflects that we are continually striving to improve equity in our workplace and build an environment where everyone feels welcome and has a strong sense of belonging.