CSR Performance Highlights
Corporate Social
Responsibility Highlights
The world isn't standing still, and neither are we.
We're working to meet the high standards the public expects of us–putting safety and environmental protection first; being open and transparent about our performance; providing good jobs to a talented workforce; and striving to build strong relationships with communities, Indigenous and Native American groups and stakeholders everywhere we operate.
Fitness of Enbridge's Liquids Systems and Detecting Leaks
Our goal is to achieve industry leadership in the safety and reliability of our pipelines and facilities, and protection of the environment.
Summary Profile of 2016 Spills on Enbridge's Liquids Systems
Eight reportable1 spills on our liquids pipelines systems in Canada and the U.S.
Volume from these spills was 657 barrels
Reliable delivery rate of 99.99 percent for the year
Number and Volume (Barrels) of Reportable Spills on Our Liquids Pipelines Systems 2014-2016

1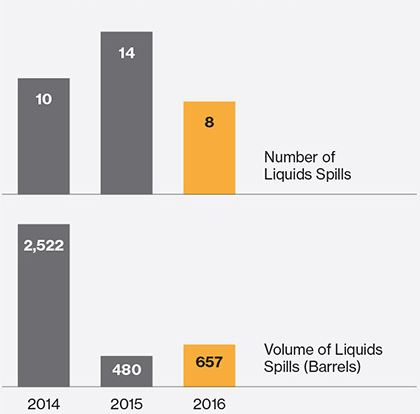 1 We have restated the values for our 2014 and 2015 number and volume of liquids spills such that they align with our definition for reportable Incidents. Please see Enbridge's 2016 CSR & Sustainability report for more information
We're also very aware that as a North American leader in energy infrastructure systems that deliver oil, natural gas and renewable energy, we are uniquely positioned to help bridge the transition to a lower-carbon future.
Energy systems are changing and so are we. But one thing won't change. We will keep fueling people's quality of life, because life takes energy.
Occupational Health and Safety
We are committed to ensuring that everyone returns home safely at the end of the day, and that our assets are operated safely. Our commitment is based on caring for our employees, contractors, customers, communities and the environment.
Fatal Incidents and Recordable and Lost Days Injury Rates
We strive to be leaders in occupational health and safety. While our recordable injuries and lost-days injuries in 2016 were the lowest they have been since we began tracking them, tragically two members of our team-contractors working on projects on our behalf-were fatally injured on the job in separate incidents.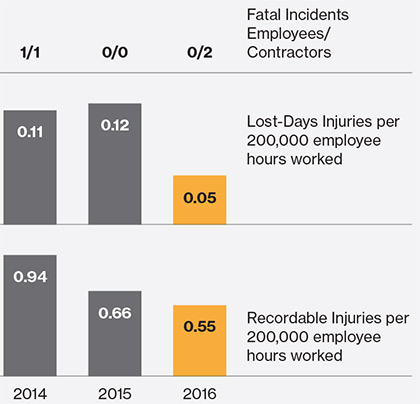 2016 at a Glance
Maintaining the Fitness of our Systems and Detecting Leaks
$750M
We invested about $750 million in programs that help us maintain the fitness of our systems and detect leaks across our operations in Canada and the U.S.
15,681
pipeline inspections conducted on our liquids and natural gas pipelines and distribution network
99.99%
There were eight reportable spills on our liquids pipelines systems in Canada and the U.S., compared with 14 in 20151. The volume from these spills was 657 barrels, compared with 480 barrels in 2015. These amounts represent a reliable delivery rate of 99.99 percent for the year, based on our volumes spilled and gross delivery volumes.
Renewable & Alternative Energy
>$5B
invested in renewable and alternative energy projects since 2002
~3,500 MW 2
of gross generating capacity operating, secured or under construction (Enbridge Inc. and subsidiaries' interests: ~2,500 MW)
2 Includes 497 gross MW from the Hohe See Offshore Wind Project, in which Enbridge acquired an effective 50-percent interest in February 2017.