Investment Proposition
How We Deliver Value to Our Shareholders
While the size and reach of Enbridge has grown as a result of our combination with Spectra Energy, our value proposition to shareholders remains the same –delivering superior returns through the strength of our low-risk business model. This has driven our success in the past and it will continue to do so in the future.

What Sets Us Apart
Resiliency
Our low-risk business model delivers highly predictable results in all market conditions
Minimal exposure to market prices, foreign exchange and interest rates
Minimal volume risk; strong, long-term contracts and billing structures
Minimal credit risk; majority of revenues underpinned by strong counterparties
Financial Strength and Flexibility
Strong, investment-grade credit ratings
Ample liquidity, strong access to capital
Strong Supply and Demand Fundamentals
Liquids: Western Canada Sedimentary Basin is short pipeline capacity, with 600,000 barrels per day oil sands growth expected through 2020
Natural Gas: Connectivity to major markets; steady long-term growth from demand into the U.S. northeast, southeast and Gulf Coast
Renewables: Renewable power expected to account for a larger share of the collective energy mix as demand for lower-carbon energy sources grows
Industry-Leading Growth Outlook
$27-billion commercially secured growth capital program alone drives 12 –14 percent annual ACFFO per share growth rate (2014 –2019)
Additional $48 billion in future projects supports further potential upside to cash flow and annual 10–12 percent dividend growth through 2024
Multiple Strategic Platforms for Growth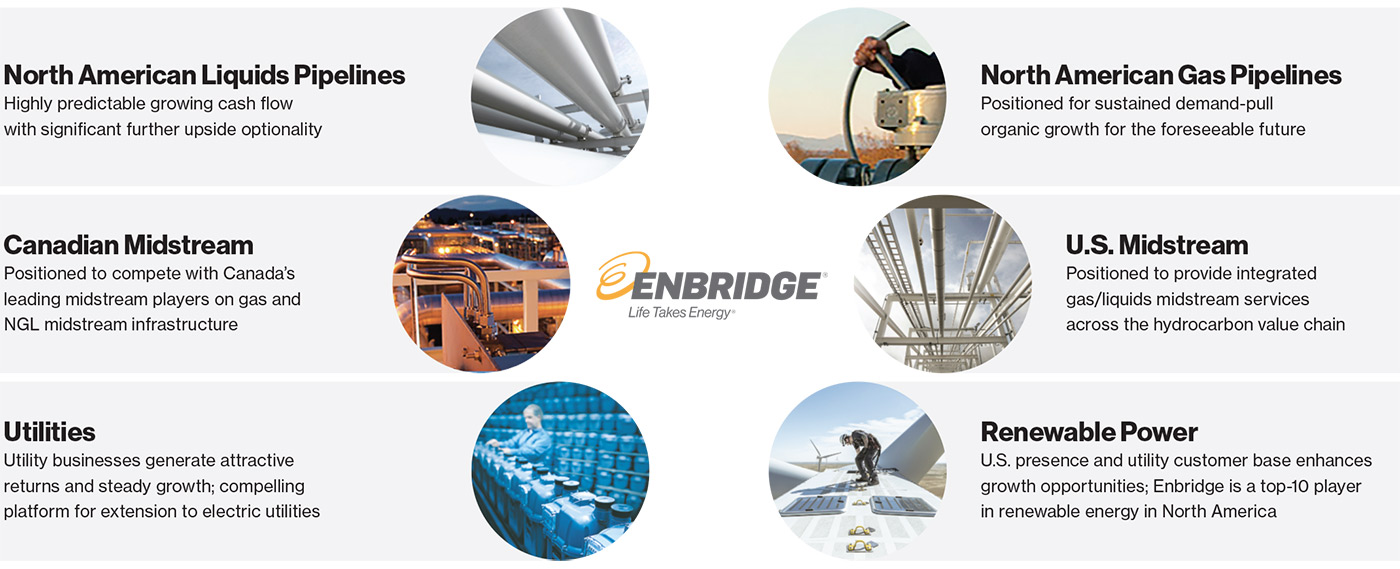 Available Cash Flow from Operations (ACFFO)
$3.7B
Dividends Paid per Common Share
$2.12
Adjusted Earnings per Common Share
$2.28
ACFFO per Common Share
$4.08
Year-over-Year Dividend Growth
14%
We have a consistent track record of delivering annual dividend increases, and our continuing goal is to deliver superior shareholder returns through capital appreciation and dividends.

1 Compound Annual Growth Rate of an investment over a specified time period.

1Total shareholder return inclusive of share price appreciation, assuming dividends are reinvested. Chart represents data from January 1, 2007 to December 31, 2016.
2Compound Annual Growth Rate of an investment over a 10-year time period.