Letter to Shareholders
Positioning Enbridge for the Future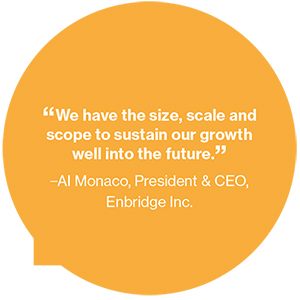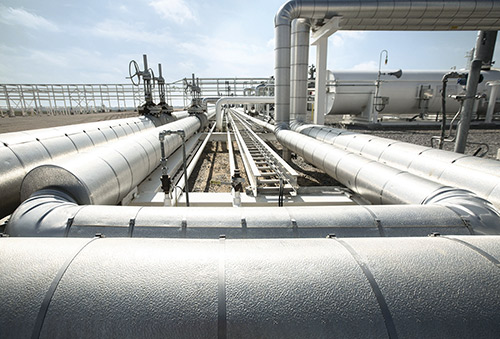 Al Monaco
President &
Chief Executive Officer
There's a new energy around energy
As we begin 2017, commodity prices have stabilized and we're seeing increasing confidence in a sustained recovery–that's good news for our customers and drives the need for more energy infrastructure.
Longer term, the outlook for energy and infrastructure is positive. World demand for energy is expected to grow by 30 percent by 2040, and to meet that demand we're going to need all sources of supply, including traditional fuels and renewable energy. The integrated North American energy market–with its abundant energy resources, world-class technology and availability of capital–has a powerful competitive advantage when it comes to meeting global energy needs. That advantage becomes even more powerful when enabled by new infrastructure that creates timely access to markets.
While we continue to face opposition to energy development, we're seeing a more constructive debate taking place on the merits of energy. There's growing understanding that a balanced approach is possible: that we can develop our energy resources and generate economic prosperity, while at the same time protect our environment.
Enbridge was already well-positioned to benefit from these dynamics, but on February 27, 2017, we became even stronger when we successfully closed our combination with Spectra Energy to create North America's largest energy infrastructure company and one of the world's largest publicly traded energy companies–valued at $166 billion1.
With this one strategic move, we've brought the highest-quality liquids and natural gas infrastructure franchises on the continent together under one roof–with the largest scale and highest-quality assets, industry-leading growth capital program, a strong financial position and an exceptional group of people. We have the size, scale and scope to sustain our growth well into the future, creating long-term value for our shareholders for decades to come.
Today, we're better positioned than ever to not only extend and diversify Enbridge's growth over the next couple of decades, but also to be a leader in North America's energy future. In doing so, we're building on the same value proposition that got us to this point–delivering strong growth and steady and growing income within a low-risk business model.
1 Enterprise value as at February 22, 2017.
---
Delivering solid results in 2016
Enbridge's reliable business model again delivered solid financial results in 2016 despite significant industry challenges, including the commodity price downturn, a difficult project execution environment and extreme wildfires in northeastern Alberta in May that curtailed oil sands production.
Annual adjusted earnings increased to $2.1 billion or $2.28 per common share. Adjusted earnings before interest and income taxes (EBIT) grew to $4.7 billion. Available Cash Flow from Operations (ACFFO) for the full year 2016 was $3.7 billion or $4.08 per common share, a 10-percent increase over 2015. Our strong results reflected positive contributions from our largest lines of business, and were largely driven by growth capital that we've put into service over the past two years. Importantly, they also reflect our strong performance from safety and operational reliability. We won't ever let up on this– our most important priority–and the work our teams have done to achieve industry leadership is paying off.
Delivering consistent and dependable dividend growth is core to our shareholder value proposition and a direct reflection of our low-risk business model, which has proved its ability to perform well in all market conditions. We increased the dividend 14 percent in 2016; and in January, we announced a further 10-percent increase effective the first quarter of 2017, marking the 22nd consecutive year of increased dividends for the Company. These dividend increases reflect the strength of our base business, together with the impact of $2 billion in growth capital projects that we brought into service during 2016 and our expectation of additional Enbridge growth projects coming into service in 2017. Following the combination with Spectra Energy, we believe the financial outlook of the combined company will support a further five-percent increase in our quarterly dividend in 2017 (above and beyond the 10-percent increase announced in January 2017), which we expect to confirm when we announce our first quarter 2017 results in May.
Building on our core strengths
Our businesses performed well overall in 2016. The most significant contribution to our 2016 results came from our Liquids Pipelines segment. During the year, our liquids Mainline ran very close to full utilization, although through puts were impacted by the Alberta wildfires. In December, we delivered a record 2.6 million barrels per day (bpd) ex-Gretna at the Canada-U.S. border; and in January 2017, volumes ex-Gretna set another record of 2.65 million bpd. Our ability to achieve this utilization doesn't just happen. It's driven by our maintenance and integrity program and careful planning to ensure high reliability and reduced downtime.
We made substantial progress on our secured growth capital program:
The Canadian federal government approved the Canadian portion of our $7.5-billion Line 3 Replacement (L3R) Program, and we continue to make progress towards regulatory approvals in the U.S. Scheduled to be in service in 2019, this replacement program will support the safety and operational reliability of the Mainline system, enhance flexibility, allow us to optimize throughput on the Mainline system and restore approximately 370,000 bpd of capacity from Western Canada into Superior, Wisconsin, providing the most timely and reliable solution for transporting western Canadian crude oil to the Chicago, U.S. Gulf Coast, eastern U.S. and Canadian refinery markets. The largest project in our history, the L3R Program has also involved our most extensive outreach ever to Indigenous and Native American groups and communities, and we will continue to engage with them as we move beyond regulatory approval.
We placed the Line 6B Expansion Project into service, completing the final component of our Eastern Access Program, which is providing increased access to refineries in the upper Midwest U.S. and eastern Canada.
Enbridge Gas Distribution Inc. (EGD) completed the $0.9-billion Greater Toronto Area (GTA) Project, which has enabled EGD to meet the demands of growth in the GTA and continue the safe and reliable delivery of natural gas to current and future customers.
The 103-megawatt (MW) New Creek Wind Project in West Virginia entered service in December, further advancing our key corporate priority of growing our renewable generation platform.
In January 2017, we placed into service the Athabasca Pipeline Twin project, which is the first phase of our $2.6-billion Regional Oil Sands Optimization Project to connect growing oil sands supply to our Mainline system.
We also acquired assets to further strengthen our liquids pipelines, gas pipelines and renewables businesses, including:
The acquisition of the Tupper natural gas processing plants and associated pipelines in the Montney region of northeastern British Columbia for $0.5 billion, enhancing our natural gas footprint in one of the most attractive gas plays in North America.
Investment in a 50-percent interest in Eolien Maritime France SAS (EMF), a French offshore wind development company, to co-develop three large scale offshore wind farms off the coast of France that would produce a combined 1,428 MW of power.
In February 2017, Enbridge and Enbridge Energy Partners finalized the acquisition of a 27.6-percent interest in the 470,000-bpd Bakken Pipeline System, which will connect supply from the prolific Bakken formation in North Dakota to eastern PADD II and U.S. Gulf Coast refineries. In light of this acquisition, we announced the deferral of our Sandpiper Project in the Bakken region until such time as crude oil production in North Dakota recovers sufficiently to support development of additional new pipeline capacity.
Also in February, we announced the acquisition of an effective 50-percent stake in the 497-MW Hohe See Offshore Wind Project, which will be constructed in the North Sea in partnership with the state-owned German utility, Energie Baden-Wurttenberg, and is expected to be in service in late 2019.
During the balance of 2017, we expect to complete and put in service $13 billion in growth projects, including the remaining Regional Oil Sands Optimization projects, the 249-MW Chapman Ranch Wind Project in Texas and the Sabal Trail Transmission project.
During 2016, we took numerous steps to strengthen Enbridge's balance sheet and improve overall financial flexibility. In total, we raised more than $10 billion in new long-term capital across the Enbridge group through public markets and our dividend reinvestment programs. In addition, as part of our asset-monetization program announced in association with the Spectra Energy combination, we sold approximately $1.7 billion of miscellaneous non-core assets and investments.
Mainline Advantage
Enbridge's liquids Mainline system offers shippers and the Company several competitive advantages.
Upstream, our Mainline is connected to one of the most prolific oil producing regions in the world–the Western Canada Sedimentary Basin (WCSB). Based on the most recent forecast from the Canadian Association of Petroleum Producers, we expect about 600,000 bpd of supply growth through 2020, with an additional 800,000 bpd of growth through 2030.
Downstream, our Mainline is connected to many of the best markets in North America and directly to 3.5 million bpd of refining capacity and connected pipelines. The scale and reach of the Mainline system generates very stable and competitive tolls for Canadian producers, which is critical in the current low-oil-price environment as it enables them to achieve the best netbacks.
Our ability to bring on incremental capacity through Mainline system optimizations and execution of our downstream market access strategies over the past five years has provided our customers with tremendous value. Looking ahead, the Mainline continues to provide opportunities for low-cost capacity expansion to match WCSB supply growth through additional integrity work, system optimization and the addition of pump stations.
Addressing challenges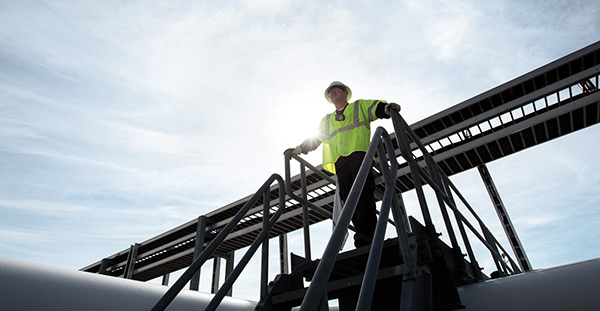 The year was not without its challenges and disappointments.
Our primary focus is always on the safety of our people, communities and the environment. We responded quickly to the dangers posed by the extreme wildfires in and around Fort McMurray, Alberta, in May–ensuring the safety of our employees, working closely with our customers and temporarily shutting down or curtailing operations of some of our terminals and pipelines in the region.
Overall in 2016, our rates of recordable and lost-days injuries were the lowest since we began tracking them. However, tragically, two contractors working on projects were fatally injured on the job. We take any safety incident very seriously, and we will apply the lessons learned from these incidents to our work practices.
We were disappointed by the Canadian federal government's decision in November to direct the National Energy Board to dismiss our Northern Gateway Project application and rescind its certificates.
In May 2016, we began a strategic review of our U.S. sponsored-vehicle strategy in light of the commodity price environment that was particularly impacting the performance of Enbridge Energy Partners L.P.'s (EEP) and Midcoast Energy Partners L.P.'s (MEP) natural gas gathering and processing assets. In January 2017, we announced the privatization of MEP. We expect to complete a strategic review of EEP in the second quarter of 2017.
Executive Leadership Team
Al Monaco
President & Chief Executive Officer
Cynthia Hansen
EVP, Utilities & Power Operations
Guy Jarvis
EVP & President, Liquids Pipelines
Byron Neiles
EVP, Corporate Services
Karen Radford
EVP & Chief Transformation Officer
Bob Rooney
EVP & Chief Legal Officer
John Whelen
EVP & Chief Financial Officer
Bill Yardley
EVP & President, Gas Transmission & Midstream
Vern Yu
EVP & Chief Development Officer
Repositioning for the future
On September 6, 2016, we announced our combination with Spectra Energy–a combination that made great strategic and financial sense at the time and even more so today as the outlook for energy and infrastructure development gains momentum in 2017. The combination brings together the best liquids, natural gas and natural gas liquids platforms. The infrastructure portfolio of the combined company is critical to meeting North America's energy needs, driving economic growth and allowing North Americans to sustain our quality of life.
We now have the largest energy infrastructure footprint in North America, with six strategic growth platforms–North American liquids pipelines; North American gas pipelines; Canadian midstream; U.S. midstream; utilities; and renewable power. Each has competitive positions and opportunities to grow organically, covering the best production basins and end-use markets, as well as the entire energy value chain–from storage, gathering and processing, to long-haul and natural gas distribution to consumers. Our liquids system is directly connected to more than 3.5 million bpd of refining capacity and connected pipelines.
We move approximately 20 percent of all natural gas consumed in the U.S. Our gas utilities serve 3.5 million residential, commercial and industrial customers. Taken together, this allows us to manage even larger-scale projects, offers greater cross-business value to our customers, gives us a strong position on which to grow, and provides us with a balance between liquids and natural gas.
We also now have an industry-leading organic growth program. This includes $27 billion of secured growth projects expected to be in service through 2019, and an additional $48-billion pool of probability-weighted projects that are under development and will drive growth beyond 2019.
With the closing of the transaction behind us, we're focused on achieving synergies and moving forward as one company with one vision and one strategy. We've mapped out longer term integration milestones, including harmonizing safety and operational procedures. We've also made very good progress in developing an execution plan to capture $540 million in pre-tax annual synergies by 2019. This includes work on organizational design, system optimizations and rationalizing our real-estate footprint, among other things.
Our approach to the business won't change
While the size and reach of our company has changed, our approach to our businesses will remain the same.
We'll keep our eyes on what matters most to us– the safety of the public and our people, operational reliability and protecting the environment.
We'll continue to focus on improving our efficiency and enhancing our competitiveness so that we're equipped to succeed in a new energy future–to be more effective, support our customers, win new business and improve how we get things done.
We'll stay true to our value proposition for shareholders through our disciplined, low-risk business model. On the strength of our combined organic growth program, we're confident we'll be able to extend our 10 –12 percent annual dividend growth through 2024.
Our discipline around capital investment isn't changing. We remain committed to maintaining Enbridge's strong balance sheet and credit ratings, and ample access to low-cost capital to fund our secured growth program. In fact, the combination with Spectra Energy is a positive step change for this, creating significant financial flexibility to continue to secure the most significant and attractive growth projects.
We'll continue to actively engage with all of our stakeholders, including those who oppose energy development– listening carefully, responding to concerns and acting on community input. This includes engagement with the Indigenous communities and Native American tribes located along our rights-of-way in Canada and the U.S.
For both Enbridge and Spectra Energy, developing our people has always been a priority and this too will remain the same. Our people are a critical part of Enbridge's competitive advantage, and we'll continue to develop our people at all levels of the organization and provide them with opportunities to grow and help us maintain our strong culture of success.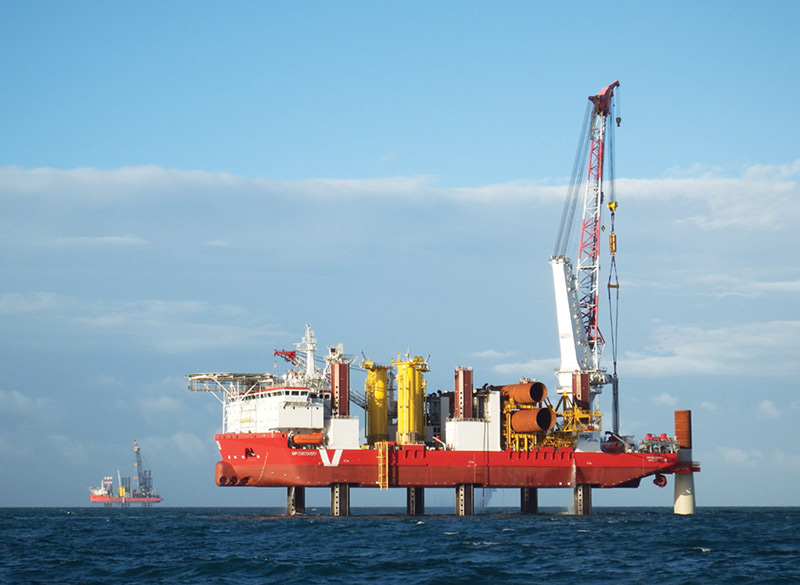 Investing in Offshore Wind
We see great potential in offshore wind and to date have invested in five large projects in the United Kingdom, France and Germany for a total of approximately 1,100 MW of net generation capacity under development.
Offshore wind is one of the fastest-growing energy segments in Europe, where there is a significant push for a greater component of renewables in the supply mix. This means these projects have very strong commercial underpinnings and secure, long-term revenue streams.
Offshore wind is a strong fit for Enbridge, given our history with onshore renewable technology, our major-projects capability and our experience in working offshore in the Gulf of Mexico.We plan to continue to grow our renewable generating capacity and be at the forefront of the global transition to a lower-carbon future.
Acknowledgements
On behalf of the Board and the Executive Leadership Team, thank you to all of our employees for their hard work doing both their regular jobs and making the additional effort to see the combination with Spectra Energy through to fruition. We have a great team of people, and it's your contribution that enables our success and makes Enbridge a great company.
Thank you to the Board of Directors for their guidance through the combination process. David Arledge, James Blanchard and George Petty have retired from Enbridge's Board and I thank all of them for their many years of service and guidance. Enbridge's Board is now comprised of 13 Directors. We're pleased to welcome Greg Ebel, formerly Chairman, President & CEO of Spectra Energy, as non-executive Chair of Enbridge's Board, as well as incoming Board members Pamela Carter, Clarence Cazalot, Jr., Michael McShane and Michael Phelps.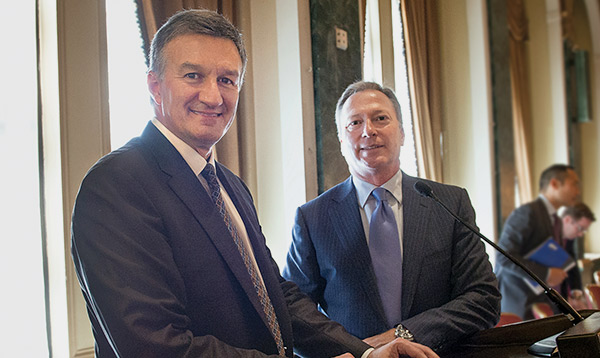 Al Monaco and Greg Ebel
A bright future
We're extremely proud of what Enbridge has accomplished over the past seven decades, and our role in delivering energy and contribution to the economy.
We've grown rapidly and expanded from our foundation in liquids pipelines into new platforms of natural gas and renewables.
We've created value for our shareholders, generated economic opportunities and supported the communities in which we work. We've connected customers to the right markets and provided stable, competitive tolls so they can achieve the best netbacks. We've made safety our top priority and we continue to strengthen our safety performance and culture.
This is our vision for Enbridge: delivering the energy people want and need; the first choice of our customers and inspiring the trust of our stakeholders; a must-own investment for our shareholders; and at the core of it all, an energized and proud team.


Al Monaco
President &
Chief Executive Officer
March 13, 2017