How we prevent incidents:
For Enbridge, keeping people and the environment safe and maintaining the reliable flow of energy we all count on comes before anything else. That means anticipating and preventing incidents long before they occur. This mindset guides us when we plan new projects, it's with us as we build and maintain our system, and it drives our decisions every day.
---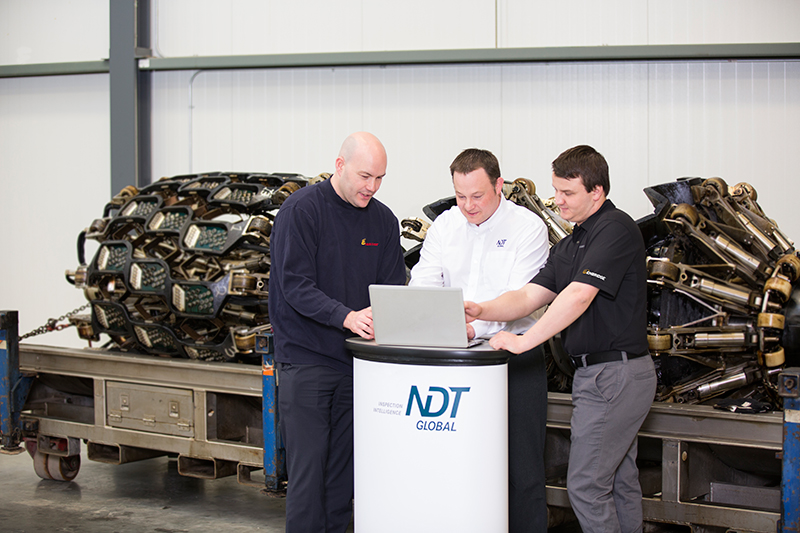 Advancing Technology to Make Pipelines Even Safer
At Enbridge our safety success comes from paying close attention to what's working correctly and even closer attention to what could go wrong.
Focusing on how our systems might fail is the key to keeping them in top shape, running safely and reliably. It's a mindset that drives our focus on prevention.
We build prevention into our systems from the very outset, selecting routes that maximize safety, designing and building our pipelines and facilities according to strict specifications using high quality materials, and then operating them carefully and thoughtfully, to maintain their health over the long term.
To build on our already strong safety record, we also pay attention to how our pipelines might fail – from threats of cracking, metal fatigue and corrosion to third-party damage and ground movement. And we dedicate a tremendous amount of time and resources to scan the horizon for potential problems and proactively nip trouble in the bud to make our prevention programs even better.
Case in point: inline inspection.
Inline inspection is a key part of our ongoing effort to keep our pipelines operating safely and smoothly. The tools we send through our pipelines use sophisticated technology including ultrasound and magnetic flux leakage to scan the pipe walls from the inside out, millimetre by millimetre, and detect microscopic features long before they become a problem. Think of it as a regular health check-up for our energy infrastructure using cutting-edge diagnostic imaging.
We've long been a leader in using inline inspection on our pipelines and over the last number of years we've ramped up our already strong focus even further.
In early 2017 Enbridge contributed more than $7 million to a multi-year partnership with NDT Global, a leading ultrasonic pipeline inspection service provider. The initiative will develop the next generation of inline inspection tools and bring them into service by 2019, boosting the industry's capability to reliably detect microscopic cracking in crude oil pipelines.
"We're working to create the next generation of inspection tools that make even the tiniest imperfections in a pipeline, most of which are benign, more understandable," says Trevor Grams, Enbridge's Director of Research and Development. "The more clarity we have on those features within a pipe—the better information the tool gives us, and the more reliable that information is—the better we can manage our infrastructure."
"With this project, we're talking about a step change—a big leap ahead in technology," says John Fallon of NDT Global. Working closely with industry partners to advance pipeline technology and safety is nothing new for Enbridge.
We have a 15-year track record of fruitful collaboration with NDT including partnering on the 2012 development of an innovative ultrasonic inspection tool for dual-diameter pipelines and a program of sharing the data from our verification digs back with NDT so they can compare field results with the data from more than 100 inspection runs.
"Many of the latest inspection improvements from NDT Global have been first validated with Enbridge," Fallon says. "Generally speaking, Enbridge has the biggest and most complete integrity program of any pipeline operator worldwide, with a long-term perspective of driving technology forward. It's very influential in the industry."
Our collaboration to advance pipeline inspection technology doesn't stop with NDT. Click here to find out more about how we work with industry on pipeline inspection research and development.
---
Boosting leak detection for water crossings
In the fall of 2016 Enbridge added a new tool to its pipeline safety toolbox when it installed 966 m (0.6 miles) of fiber optic leak detection cable alongside its Norlite pipeline using horizontal directional drilling (HDD) deep beneath the North Saskatchewan River.
The engineering feat set the record for the longest HDD pipeline installation incorporating fiber optic leak detection technology and adds another layer of safety to water crossings.
"River crossings are a real challenge. To be honest, there was a healthy degree of skepticism that we could meet the challenge of placing a sensitive fiber optic cable next to a heavy steel pipe. This feels like a moon shot—and we landed it," says Ray Philipenko, Manager of the Leak Detection department within Enbridge's Pipeline Control Systems and Leak Detection (PCSLD) area.
The challenging project successfully installed not one, but two different types of sensitive leak detection cables along the heavy steel pipe, giving pipeline operators yet another important source of data to monitor the pipeline and detect potential problems early.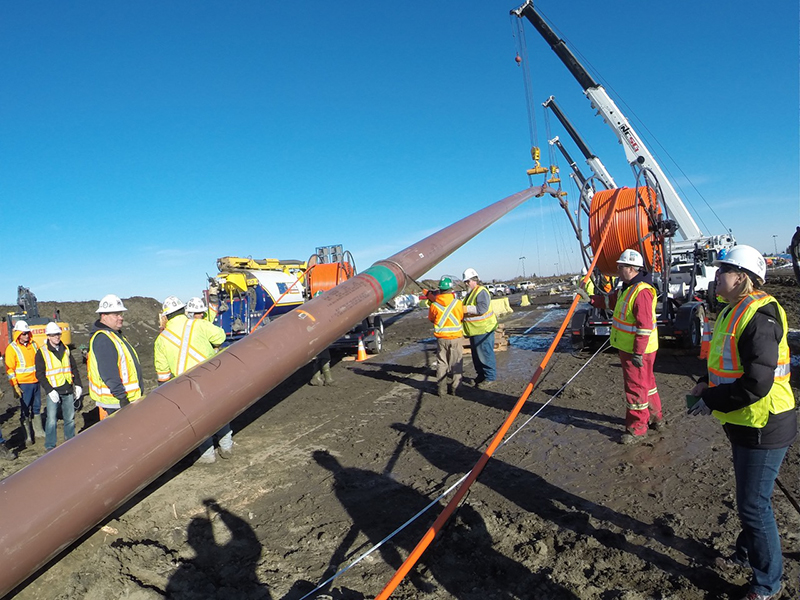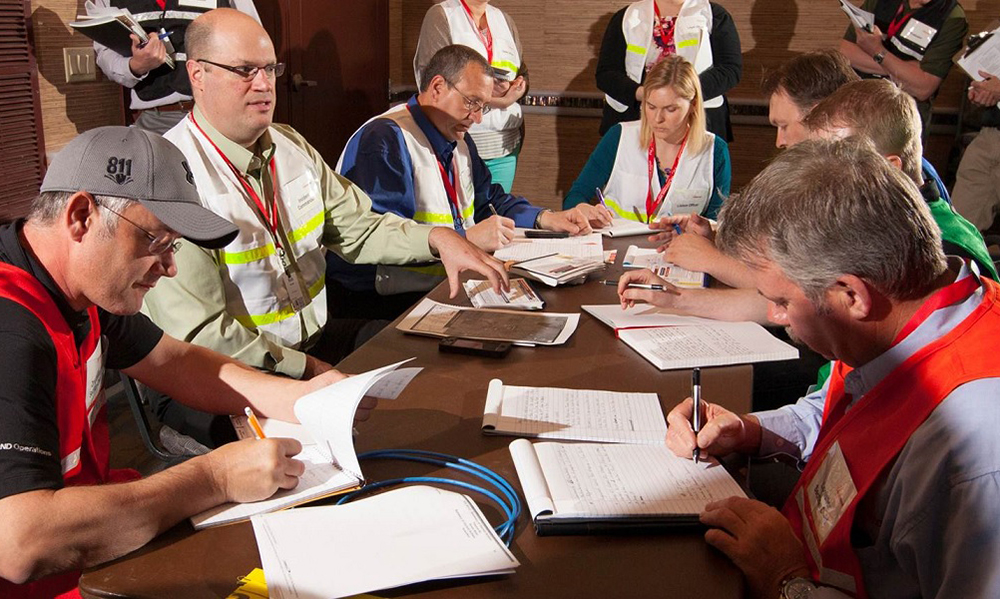 Dwelling on past incidents to make us safer
One of the keys to keeping our systems safe is building a strong safety culture, where every member of the Enbridge team is not only empowered and trained to be safe, but also has a strong emotional connection to safety too.
To foster a strong culture and ensure that every employee and contractor understands their duty to be safe we regularly take time to stop and engage the team on safety.
This includes daily safety moments and tailgate talks, as well as safety observation programs to promote vigilance on and off the job.
Each year we develop case studies based on recent incidents, focusing on the human factors that contributed to them and prompting team discussion.
In addition, each year we pause, as an organization, and take a close look at a significant safety failure from our history through our Foundational Safety Stories. The anniversaries of these incidents present an opportunity to remind every member of the team of the human, community and environmental toll of incidents and to reinforce our belief that every incident can be prevented.
Advanced training bolsters gas pipeline safety
Control center operators monitor and safely operate the complex pipeline systems that deliver the vast amounts of oil and natural gas that society relies on to meet its energy requirements every day. It's their job to keep the pipelines operating safely, to detect early signs of trouble and prevent incidents from occurring. It's an awesome responsibility and one that the team in charge of Enbridge's natural gas pipelines is even better equipped to meet, thanks to an advanced online training program implemented last year.
Blaine Brown, Enbridge's Manager of Gas Control based in Houston, TX, says that the operators welcomed the opportunity to boost their expertise. "The feedback as our operators went through the program was that it was very thorough, very challenging," he says, noting that the training boosted the connection between what the operators saw on their screens in the control room and what was actually happening with the pipeline, sometimes hundreds of miles away. "They said it gave them a better understanding of how the equipment operates so they can respond to events more quickly and with more knowledge."
Blaine notes the training has already enhanced safety and increased the operators' ability to identify potential problems early and respond in exactly the right way. "We hold each other to a high standard. The operators, Enbridge and the communities where we operate expect every member of the team to be excellent," Blaine explains. "Equipping these guys with the best tools and training boosts safety and is in everyone's best interest."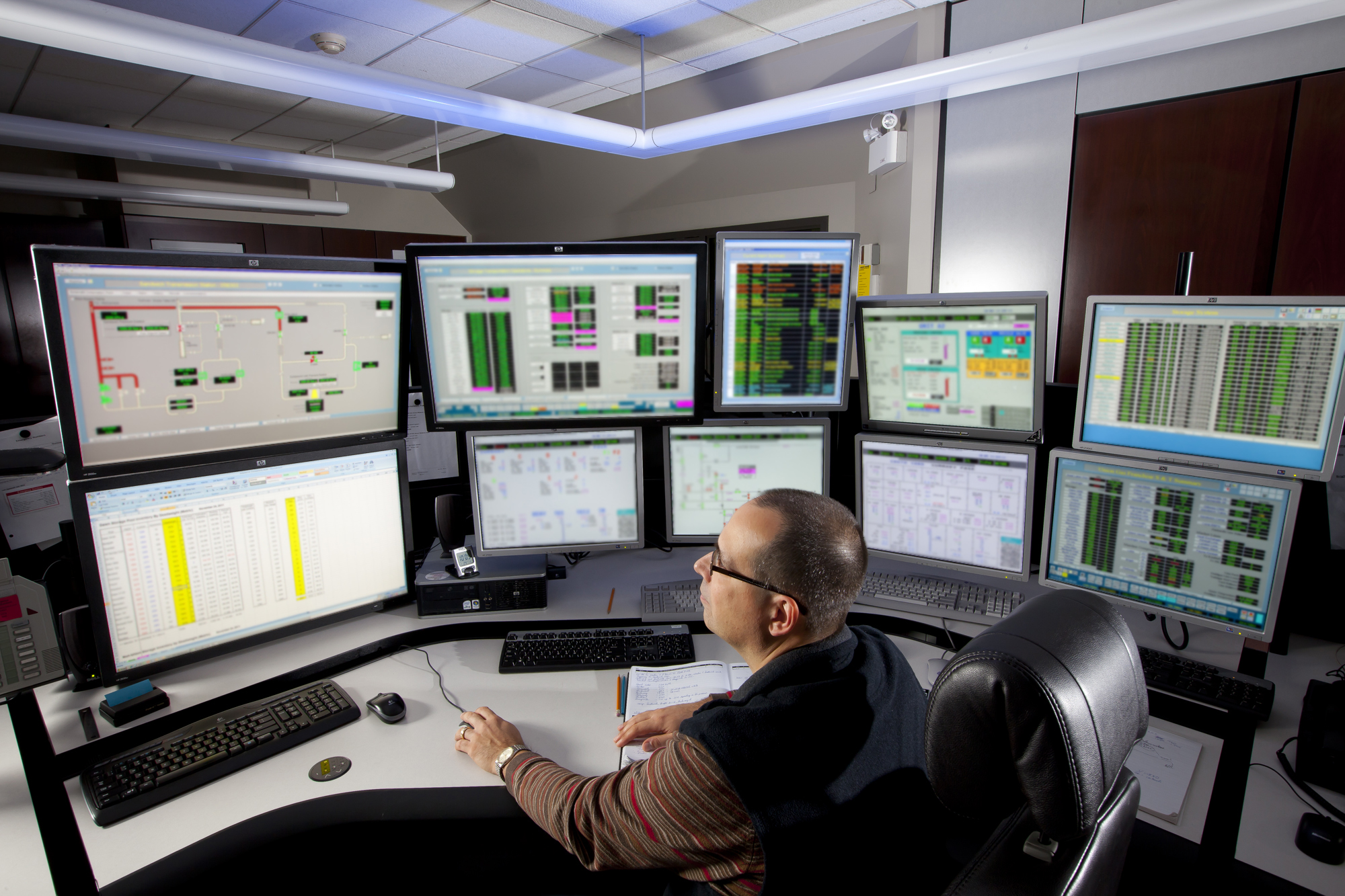 Focusing on Process Safety
The importance of a strong – and safe – start
You might think that starting up a new facility or one that has just been through a shutdown and maintenance would be straightforward and safe. After all, everything is new, and should be shined up and ready for service, right?
The short answer is yes. The longer – and safer – answer is: it's not quite that simple. Which is why Enbridge pays close attention to the issue.
"Experience has shown us that we need to take special care to ensure safety during start-ups. New equipment may operate differently, processes and procedures may have changed, there may be schedule pressure, and start-ups are relatively rare, unlike normal day-to-day operations," says Ron Lewis, a Specialist in Operations Programs. "Safety is our Number 1 priority all the time, and in such a complex environment, with so many people involved we know that we need to be especially vigilant when we bring a facility or pipeline into service."
Which is why in 2016 Ron was part of a team that developed an industry-leading, detailed pre-start-up safety review process, or PSSR, to make the process even safer. "The PSSR helps us anticipate trouble and get ahead of it. The process represents Operations' last line of defense in ensuring a safe start-up, makes every team member's responsibilities clear and literally gets everyone on the same page," Ron says.
Which page? The approval page in the document which operations' representatives sign to confirm that their area is ready to go.
"It's a disciplined process and we back it up with personal accountability," Ron says. "We know that safety is at stake, we take it seriously and we put our names on it."
Visit the @enbridge Blog to learn more about how we strive to prevent all incidents.
In 2017, we spent $1.95 billion on programs that help us to maintain the fitness of our systems across our operations in Canada and the U.S.
---
Last year we invested more than $15 million on advanced leak detection systems that strengthen our ability to identify small leaks early and respond more quickly and effectively.
---
In 2017, we carried out 349 in-line inspections using sophisticated tools that travel within our pipelines to assess their health, millimeter by millimeter, from the inside out.
---
Last year Enbridge completed more than 1,769 preventive maintenance digs across our liquids and natural gas systems, excavating our pipelines to take a closer look, confirm their health and make any repairs, if required.
---
In 2017, Enbridge Gas Distribution and Union Gas conducted leak surveys on more than 25,000 kilometers (15,500 miles) of distribution mains in Ontario and Quebec and surveyed more than 690,000 lines used to carry gas from the mains to customers' residences.