How we Respond
---
Rapid, vigorous response protects pipelines
Enbridge tackles slope movement during construction project to keep existing pipelines safe.
The best way to respond to an incident is to stop it in its tracks and prevent it from becoming more serious.
In October 2017 the team working on an extension of Line 25, a 36-inch natural gas pipeline through the rolling countryside of East Ohio, did just that when they encountered a problem: the hillside where crews had dug a trench to install the new pipeline was slipping downhill.
At first the signs were subtle - soil sliding into the open excavation. But Bob Fisher, who was in charge of the construction, knew it could point to bigger problems. Bob consulted with Mike Lemaster, Operation's Area Supervisor and their further investigation revealed that two existing natural gas pipelines in the same right-of-way, 25 and 50 feet uphill from the trench, were also moving. Bob and Mike shared these findings with their colleagues and management, kicking off a vigorous response, with Enbridge mobilizing a diverse team of experts from departments across the organization as focus shifted from construction of the new pipeline to protecting the existing lines.
The ground movement was comparatively slow, between one and five inches per hour, but every inch added more strain to Lines 10 and 15, two active 30-inch pipelines in the Texas Eastern Transmission system transporting natural gas between Texas and the Gulf Coast and the northeast U.S.
Fisher's crews conducted surveys on the slope to determine the extent of the problem and quickly installed trench boxes in the open excavation in an attempt to stop the movement.
On October 11 crews noted that the hillside was still moving, despite their efforts the day before.
"The difficulty you get into is that you know your pipelines are moving. A large block of soil is moving and dragging the pipelines downslope with it." Says Doug Dewar, one of Enbridge's experts in managing geotechnical issues, who had arrived from British Columbia the night before. "Safety is our primary concern, and our mindset is always that we will only operate our pipelines when we can confirm that they're safe. With the continued movement and the strain that put on the pipelines, we had to act to avoid the potential for loss of containment."
Enbridge had to make Lines 10 and 15 safe, and that meant shutting them down so that crews could safely excavate them, confirm they were not damaged, and stabilize the hillside. To put that decision in perspective, the pipelines were transporting 1.8 billion cubic feet of natural gas every day to customers who were relying on it.
"Shutting down the entire Texas Eastern 30-inch system is not an easy decision to make, but each layer of management and every department listened, asked questions, understood the gravity of the situation, and put safety first," says Doug Barnes, one of Enbridge's experts in pipeline integrity, tasked with keeping our systems safe and fit for service.
After Enbridge gas control shut down the pipelines on the evening of October 11 crews quickly got to work, excavating the soil uphill of the pipelines, relieving the strain and allowing the pipelines to rebound.
To ensure that the event hadn't caused damage, the integrity team inspected the exposed pipelines, X-rayed every weld and brought in one of the world's leading experts on weld evaluation to assess the results and confirm that the joints were safe.
With the pipelines stabilized Enbridge safely returned them to service, bringing Line 15 back into operation on the evening of October 14 and Line 10 on October 15.
Then crews turned their attention to a permanent solution to stop the hillside from slipping again, installing a retaining wall anchored right into the bedrock. Even after the retaining wall was in place, Enbridge added extra layers of safety before the pipelines were re-buried, Dewar notes.
"We installed strain gauges on the pipelines before we backfilled them and established a survey grid in the area that will allow us to keep a close watch for any ground movement in the future," he says.
From Barnes' perspective the event not only provided ample learning opportunities to help make us even safer in the future, but also demonstrated Enbridge's focus on identifying trouble early and stopping it before it could lead to an incident. "Teams from across the organization worked together to develop and implement a plan to address this issue and prevent the potential for more serious trouble," he said. "Shutting down those pipelines was a very big business decision – as big as it can get – with significant financial and operational implications, but Enbridge always puts safety first," he says.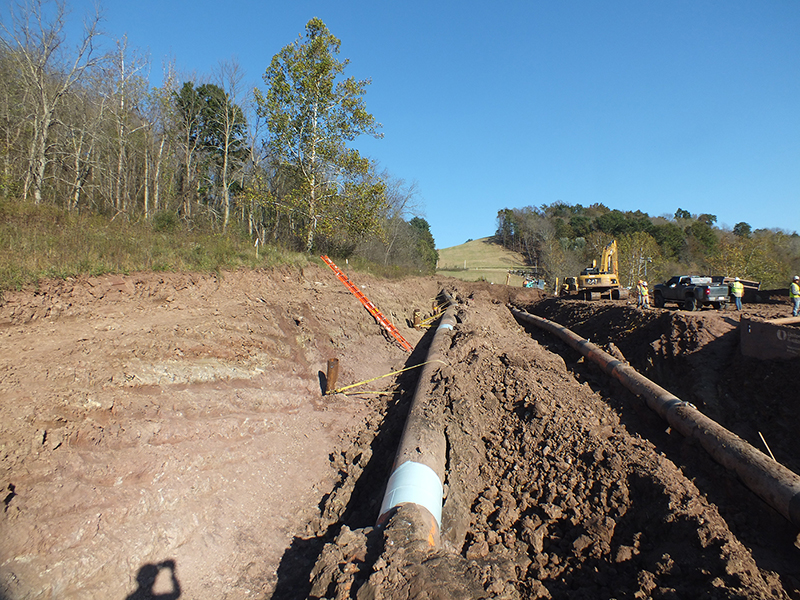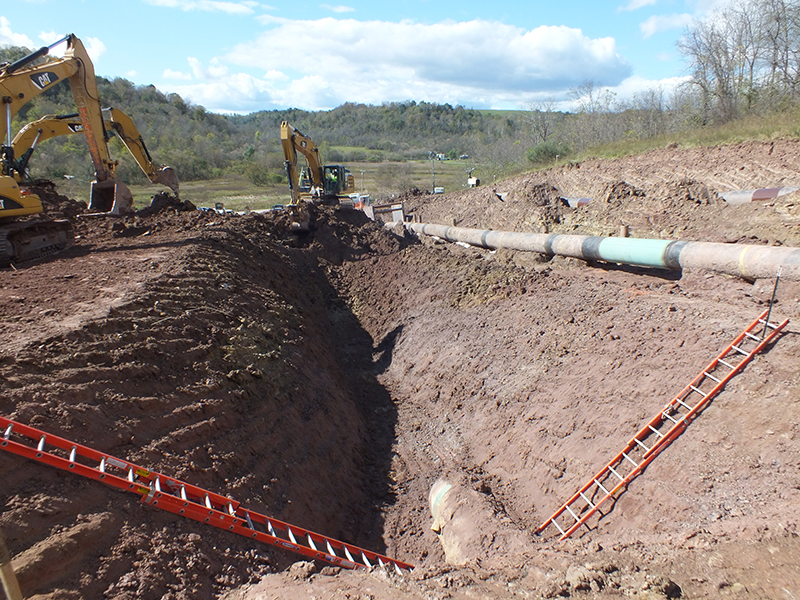 Bad vibes, good safety
For the last few years we've been pioneering fiber optic technology to detect pipeline leaks (see Boosting Leak Detection for Water Crossings ) and now Enbridge is exploring similar technology to stop one of the most significant threats before it even gets close to our pipelines.
Even with an extensive and well-used Call/Click Before You Dig program, damage to our pipelines from third-party excavation and construction along our rights-of-way poses a real safety challenge.
Since 2014, Enbridge Gas Distribution has been collaborating with NYSEARCH, an R&D organization representing 25 natural gas utilities, on a right-of-way intrusion detection project.
Currently in the testing phase, the system uses sensitive fiber optic cables along the right-of-way to detect the unique ground motion and vibrations associated with hand digging, excavation using heavy machinery and other activities that could indicate potentially damaging activity near a pipeline.
Once suspect vibrations are detected, the system would alert operations personnel, providing advanced warning and allowing Enbridge to respond and intervene before a third-party line strike occurs, keeping the public and pipelines safe.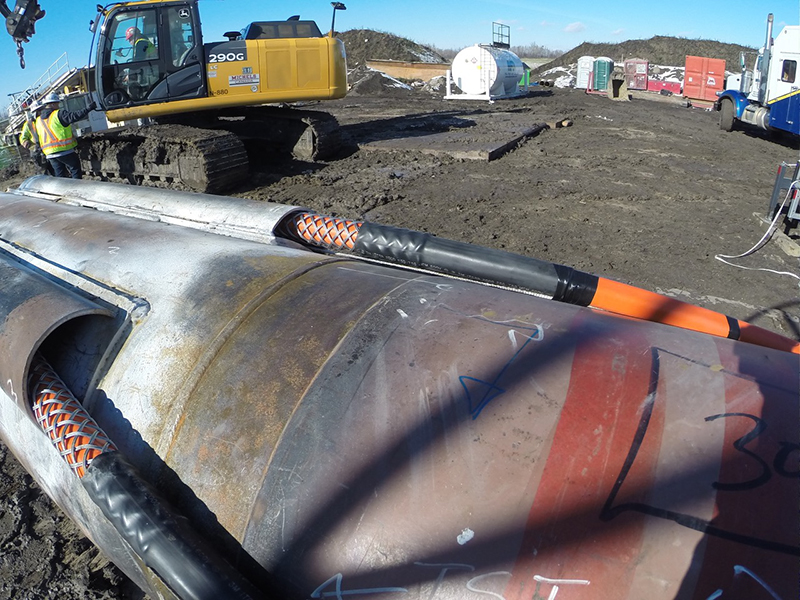 Response by the numbers
200
Since 2013 we have trained more than 200 Emergency Response Ambassadors in the U.S. to build strong relationships with emergency responders near our pipelines and facilities through in-person presentations, tours and tabletop exercises.
240
In 2017 our Canadian Emergency Response Ambassadors carried out more than 240 visits with municipal officials, first responders and 9-1-1 dispatchers near our crude oil pipeline system, informing them about our online training and our Safe Community Program.
Testing, testing…
Over the past five years, Enbridge's Leak Detection team has conducted a total of 75 scheduled fluid withdrawal tests at 21 locations across our North American crude oil pipeline network.
What's a fluid withdrawal test?
Simply put, Enbridge safely withdraws crude oil from a pipeline while it is operating to test our sophisticated leak detection systems. In effect, a fluid withdrawal test is the best way to simulate a pipeline leak for our systems and our pipeline operators.
A typical fluid withdrawal test involves:
installing a metering skid and several large storage tanks on site;
connecting the skid to one of our pipelines;
conducting controlled withdrawals, at specific rates and operating conditions, to test the sensitivity of our computerized leak detection systems; and
reinjecting the oil back into the pipeline following tests.
Often, we will let our pipeline operators know about the tests in advance, but sometimes we will run the tests without alerting them, allowing us to assess both the effectiveness of the leak detection systems and the processes followed by personnel when responding to the alarm.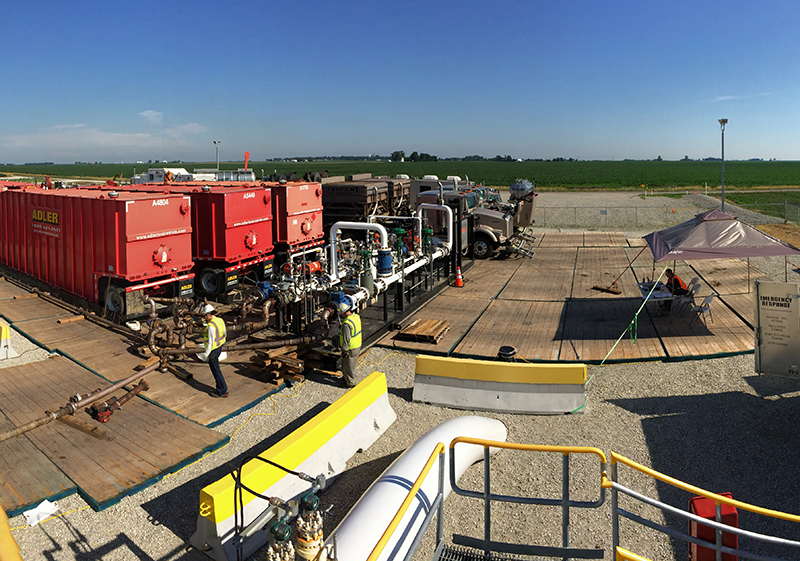 Your role in safe energy delivery
How you can help
Enbridge's highest priority is – and always must be – the safety of the public, the communities where we live and work, of the more than 15,000 members of our team across North America, and of the environment.
Every member of the Enbridge team strives to transport, generate and deliver the energy North America relies on as safely as possible. You have a role to play in the safe and reliable operation of the energy systems that power our communities and society as well.
There are two key ways you can contribute to the safety and reliability of Enbridge's systems in your community. First, make sure to call or click before you dig.
It's free, helps prevent accidental damage to our systems and could save your life.
In the United States call 8-1-1, and in Canada visit clickbeforeyoudig.com, two to three working days before you plan to do any excavation – from landscaping activities like planting trees, digging a new garden or building fences, to clearing brush or larger construction work – so that a locator can visit and mark underground utilities.
Second, be aware of the warning signs of a pipeline or gas distribution system leak and know what to do to stay safe in the event of an emergency.
Visit enbridge.com and search "recognizing a pipeline leak" to find out how to identify a potential leak and the critical safety actions you should take in the event of an incident.
If an incident occurs, your quick action and notification of emergency services and Enbridge can save lives and help protect your home, your community and the environment. If you suspect a pipeline or gas distribution system leak or emergency, first make sure that you and those around you are safe and then, as soon as it is safe to do so, call 9-1-1 and then call Enbridge's 24-hour emergency hotline for your area.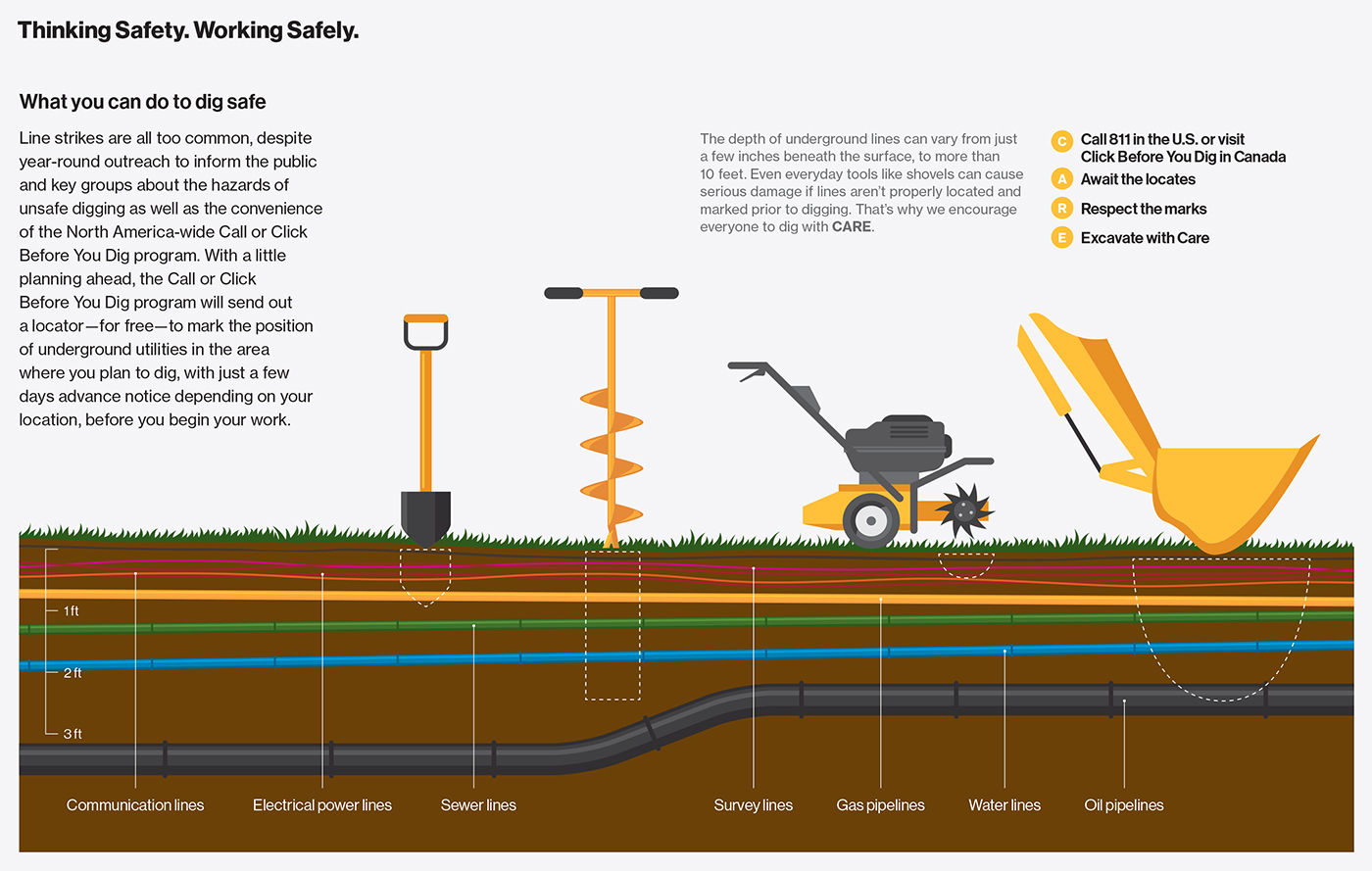 ---
---