Applying Our Indigenous Peoples Policy: A Focus on Enbridge's Line 3 Replacement Program
Enbridge's Indigenous Peoples Policy and Implementation Framework provide principles and practices that guide our efforts to respect Indigenous rights and establish good working relationships with Indigenous Peoples affected by our business activities.
But like any set of high-level principles and practices, how these concepts get applied is continuously informed by the quality of the relationships that exist on the ground on a personal and day-to-day basis. In addition, our experience from other projects that have involved controversy over Indigenous rights—such as our Northern Gateway Project1 in 2015 in Canada and our minority investment in the Dakota Access Pipeline2 in 2016 in the U.S.—has also influenced our thinking and actions.
Our approach to Indigenous consultation and engagement on Enbridge's Line 3 Replacement Program in 2017–2018 provides the best real-time example of how our learning on Indigenous inclusion in energy infrastructure has evolved—and continues to evolve. Key components of that strategy are summarized here for discussion.
Background and Current Status
Enbridge's Line 3 Replacement Program is the largest project in our history. It will replace 1,031 miles (1,660 kilometres) of existing aging pipeline and associated facilities on both sides of the Canada-U.S. border with the newest and most advanced pipeline technology and provide improved capacity to support U.S. and Canadian demand for Canadian crude oil. The project will include the replacement of existing pipelines in the Canadian provinces of Alberta, Saskatchewan and Manitoba, and in the U.S. states of North Dakota, Wisconsin and Minnesota3.
Our Line 3 Replacement Program also involves the most comprehensive Indigenous consultation and engagement initiative in Enbridge's history.
In Canada, Enbridge engages directly with Indigenous Nations and groups both inside and outside of regulatory processes. For us, best practice means we strive to consult as early as possible in the project planning stage, before filing a proposal or application. The federal government has a legal obligation to consult directly with Indigenous Nations and groups affected by a proposed project. In addition, at the direction of the federal regulatory agency responsible for pipelines—the National Energy Board—Enbridge also consulted with over 150 different Indigenous groups as far away as 187 miles (300 kilometres) from the existing pipeline right of way across the provinces of Alberta, Saskatchewan and Manitoba. Results from these consultations informed final approval of the project by the federal government in 2016 and were reflected in conditions attached to the certificate authorizing its construction and operation. Construction commenced in 2017 and will be completed in 2019. Currently, we have no legal challenges based on Indigenous rights to our Line 3 Replacement Program in Canada.
In the U.S., the federal government has a similar legal obligation, as part of regulatory review and approval processes, to consult potentially affected Tribal Nations. In addition, Enbridge has and continues to engage directly with Tribal leadership, staff and members to understand and address their concerns through changes in our plans and/or practices. Construction in Wisconsin has been completed. Our Line 3 Replacement Program is still subject to regulatory review in Minnesota, where it has faced legal challenges on a variety of different issues. Local Tribal Nations are participating in this current review process, which will conclude in 2018.
1For further background on Enbridge's Northern Gateway Project please see page 77 in our 2016 CSR Report
2For further background on Enbridge's minority investment in the Dakota Access Pipeline please see page 77-78 in our 2016 CSR Report
3Maps and further information on Enbridge's Line 3 Replacement Program are available on the program's website
Line 3 Replacement Program: Key Components in Enbridge Approach to Indigenous Involvement
Early Consultation and Engagement: during project design and planning phases
Lifecycle Approach: includes engagement during operating and decommissioning phases (asset lifecycle)
Demonstrated Change and Responsiveness: adjustments to Enbridge plans and/or practices based on community input
Joint Initiatives on Safety, Cultural and Environmental Protection: to address key concerns
Socio-Economic Participation: to maximize opportunities and benefits
Investment: in community-identified priorities
Community-Specific Agreements or Initiatives: to provide a framework for an ongoing relationship
Collaboration and Dispute Resolution: can include improved access to information and/or to mediation or negotiation and/or to other joint activities
Three Performance Areas for Improvement
Within this framework, the following three performance areas were prioritized for the application of new strategies and practices aimed at improving Enbridge's relationships with Indigenous communities along our Line 3 Replacement Program corridor.
1) Community-Specific Collaborations and Agreements
Improved Practices and Innovation
We recognize that meaningful consultation with Indigenous Peoples on our oil pipelines requires an approach that enables both Enbridge and Indigenous communities to jointly address a range of interests, needs and opportunities over time. This means that in both Canada and the U.S. we engage outside of government-to-government consultation processes with Indigenous Nations and groups where our projects and operations affect their lands and interests. More specifically in the U.S., this includes engaging with Native American Tribes where our oil pipelines directly cross their Tribal lands, as well as areas outside of Tribal land but upon which local Indigenous communities have retained rights to fishing, hunting and cultural activities. It also means that in both the U.S. and Canada—where there is interest among the Indigenous communities and/or groups—we enter into voluntary agreements that can provide a basis for long-term relationship building.
Significant Outcomes to Date
We have secured 55 agreements representing a majority of Indigenous Nations and groups directly along the Line 3 Replacement Program corridor in Canada.


We have improved communications and commitments on safety and maintenance matters with U.S. Native American Tribes with whom we have easement agreements.
2) Socio-Economic Participation
Improved Practices and Innovation
In 2016, we strengthened our efforts to achieve greater economic inclusion of local Indigenous communities by establishing a centralized team, within Enbridge's broader Supply Chain Management function (SCM), dedicated to expanding opportunities for socio-economic participation by Indigenous groups. This team includes specialists in Indigenous business development who work directly with interested Indigenous communities to further identify and define socio-economic participation opportunities that meet their needs and interests. They also support compliance with Tribal requirements for employment and training related to our activities and operations on Tribal land.
These changes have led us to adopt a multi-pronged approach to responding to local community needs and interests based on opportunities for both direct contracting (through pre-qualification for Indigenous businesses that meet Enbridge requirements for safety, quality and technical capability), and through indirect sub-contracting for labour, supplies and employment.
This approach has included introducing a database on Indigenous-owned businesses and establishing robust requirements for Indigenous socio-economic participation into all RFPs for contractors. As part of the RFP process, our contractors must submit a plan for inclusion of Indigenous businesses in any non-self-performed work, which then becomes part of their contractual obligation to Enbridge. Significant weighting is in place on evaluation of contractor socio-economic plans to ensure meaningful award decisions are made and contractor plans for Indigenous socio-economic inclusion are actively managed through execution to ensure compliance. We also provide enhanced access to training-to-employment opportunities, including construction training opportunities and employment support programs.
Significant Outcomes to Date
As of Quarter 2 2018, our Line 3 Replacement Program in Canada and the U.S. has created approximately $87 million in Indigenous economic opportunities. This includes contracting, labour, business development and training initiatives with Indigenous businesses and groups. We are currently targeting the creation of $250 million in Indigenous economic benefits through to project completion in Canada, and $100 million (U.S. Dollars) in the U.S. This represents an ambition of achieving up to a tenfold increase in Indigenous economic participation over our most recent project of comparable size and scope.


Together with interested Indigenous communities, we are currently piloting a labour strategy that includes a web-based labour portal in Canada that can identify and connect qualified community members with interested contractors and trade unions. This initiative creates an opportunity for interested Indigenous organizations to provide a labour brokering service to Enbridge, with the goal of increasing the number of Indigenous workers on the project while also enabling participating communities to develop a revenue stream.
3) Safety, Cultural and Environmental Protection
Improved Practices and Innovation
As a result of input received from Indigenous Nations and groups on their concerns related to safety and the protection of cultural and environmental resources and values, we made changes to project design, planning and routing for our Line 3 Replacement Program in both Canada and the U.S. Community-based input has also led to increased Indigenous participation in archeological work, monitoring and cultural studies/surveys to inform environmental and cultural protection plans, and to increased Indigenous inclusion in emergency response planning and exercises. Indigenous Nations and groups along our rights of way want increased transparency and access to information regarding pipeline maintenance, integrity and operations, and we are responding by providing this information on a more regular basis.
Significant Outcomes to Date
We have developed a series of new joint initiatives, partnerships and projects in the following areas:
Safety
We increased our investment in community-based capacity and resources for emergency response.


New safety-focused initiatives also took place between Enbridge and interested Minnesota Tribal Nations and county and state emergency response officials to enhance coordination on cultural awareness and pipeline safety issues.
Environmental and Cultural Protection
We provided financial support for traditional knowledge and land use studies across the Canadian right of way. At the request of interested Tribal Nations in Minnesota, we are funding a traditional cultural resources survey. The scope of this $6-7 million survey extends beyond regulatory requirements and is being carried out through a collaboration involving a number of different Tribes. For more information see: Star Tribune


We utilized Indigenous monitors during 2017 pre-construction and construction activities in Canada, and during 2017 construction activities in the U.S., to ensure Enbridge's compliance with commitments and conditions requiring assessment and protection of Indigenous heritage resources and culturally sensitive areas.


We provided support for enhanced community-based capacity and resources for environmental management and monitoring in Canada.


We embarked on a joint pilot project with interested Indigenous communities in Canada that involves water quality monitoring at a river crossing for our Canadian mainline system (which includes Line 3). This joint project is also exploring a web-based platform to support greater involvement by community elders and youth in issues related to pipeline safety and water protection.


In response to what the Canadian Government heard from Indigenous groups during consultations on our Line 3 Replacement Program, when the government announced approval of the project in November 2016 it also announced that it would:


Enbridge is supportive of enhanced federal programs for monitoring and economic inclusion and we participate in them as requested. In addition, one of the regulatory conditions for approval of the project was that we, in consultation with potentially affected Indigenous groups, develop an Aboriginal Construction Monitoring Plan to enhance participation by Aboriginal groups during construction. This initiative is separate from the IAMC initiative described above. It includes: hiring of independent Indigenous monitors as part of project construction teams, public reporting of results from these monitors, and additional cultural assessments, mitigation planning and community cultural tours. To read the Aboriginal Construction Monitoring Plan for the Line 3 Replacement Program please visit: https://apps.neb-one.gc.ca/REGDOCS/Item/Filing/A84731. Enbridge is also required to regularly file Aboriginal Consultation Reports that describe continuous consultation on the project. To read these reports please visit: http://www.enbridge.com/l3monitoring
LINE 3 REPLACEMENT PROGRAM SKILLS AND TRAINING:
U.S. - Heavy Duty Equipment Operator Training
In Minnesota, Enbridge facilitated the introduction of Local 49 (Heavy Equipment Operators) with interested Tribes to start discussions on training opportunities. As a result, the union hosted a six-week training program, and eight tribal members graduated with a pre-apprentice certificate that enables access to full-time employment. Due to its success, the union will host a similar training program in the summer of 2018.
Canada - Training to Employment
To enable Indigenous communities to gain long-term sustainable benefits from our Line 3 Replacement Program, we provide training to employment programs. Training programs for Line 3 in Canada have to date resulted in equipment and "pipeline 101" training for approximately 256 Indigenous individuals, with another 90 participants scheduled to be trained in spring 2018. These training programs focus on transferrable skills. Other areas for skills development opportunities include welding and environmental monitoring and management.
Canada and the U.S. - Employees and Contractors
We provide Indigenous awareness training for our employees and contractors working on our Line 3 Replacement Program in support of our commitment to fostering an understanding of the history, traditions, rights and culture of Indigenous peoples among our employees and contractors. Through the training, we strive to build the capacity of our employees and contractors so that they can better communicate and engage with local Indigenous peoples, and can acquire the tools necessary to build trusted and respectful relationships.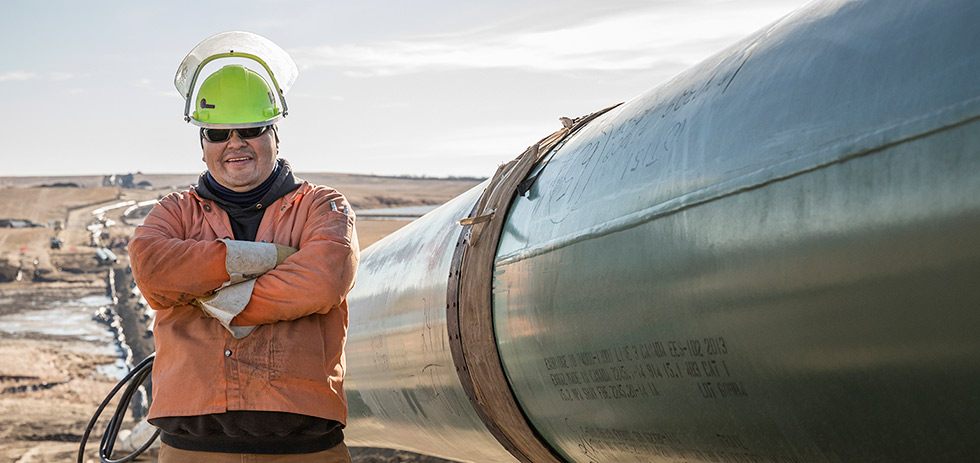 Experienced pipeliner Leo Cardinal, who lives near Goodfish Lake, Alberta, has been working on Enbridge's Line 3 Replacement Program across the Canadian prairies, and is a 10-year veteran of various industrial and trades positions. In October 2017, he was one of about 200 Indigenous men and women working for Enbridge's contractors on the Line 3 Replacement Program.
---