Although our Line 3 Replacement Program is currently our largest project, Enbridge is equally focused on improving Indigenous engagement across all of our projects and operations in Canada and the U.S., including other Liquid Pipelines as well as in our Gas Transmission and Midstream business, and our Natural Gas Distribution business. Priority areas include cultural knowledge, environmental management, community investment, grievance procedures, workforce cultural awareness and education, and Indigenous employment. Some specific examples of new approaches and practices in each of these areas are provided below.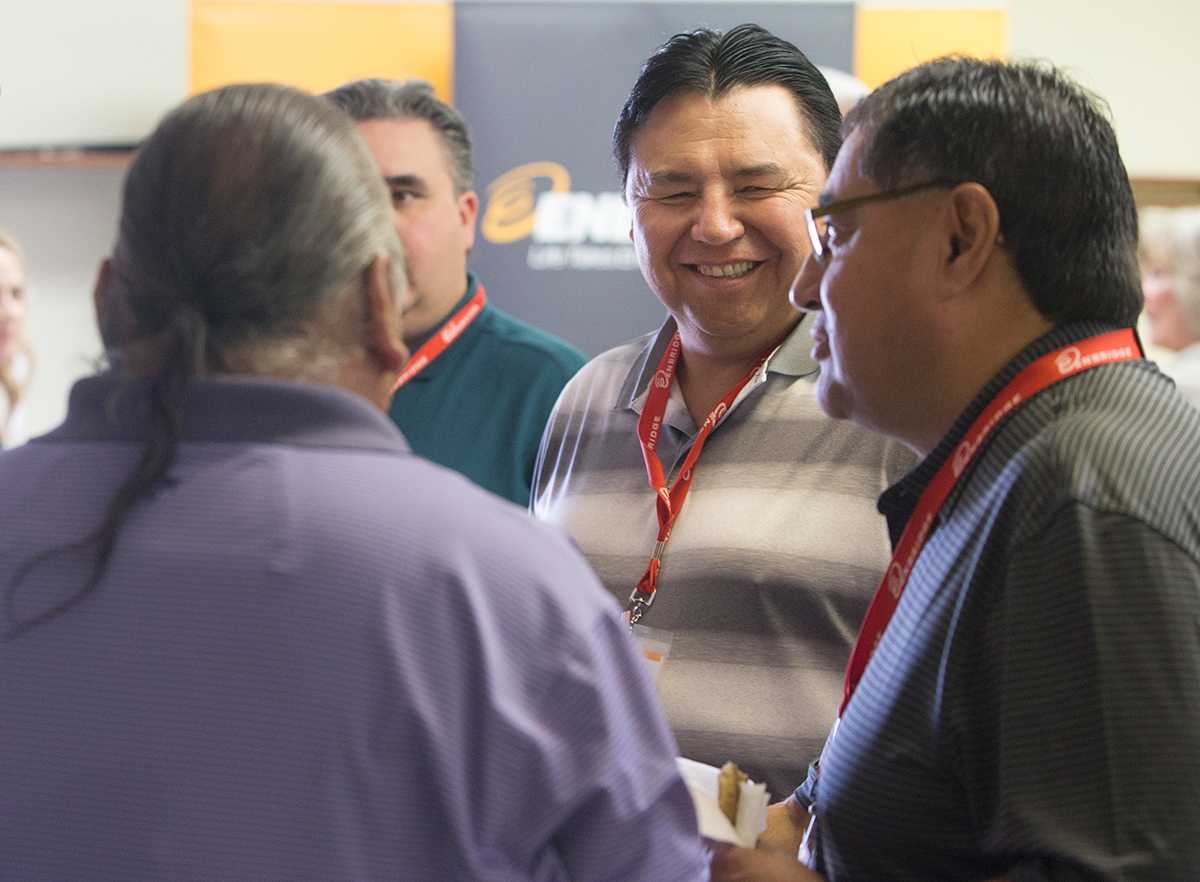 Enbridge representatives visited Rosetown, and Outlook, Saskatchewan, and Provost, Alberta in advance of Line 3 Replacement Program construction.
Cultural Knowledge
Liquid Pipelines, Ontario, Canada
Extensive consultation on cultural protection on our Line 10 Westover Segment Replacement Project in Ontario resulted in the hiring of 15 archeological monitors from local Indigenous communities, who worked collaboratively with archeologists on a significant archeological site and re-routing of the project around two archeological sites. Capacity funding was provided to support additional analysis of reports and findings as well as identifying mitigation measures.
Gas Transmission and Midstream, Northeast U.S.
In support of natural gas projects in the east coast of the U.S., Enbridge proactively engaged four Tribes with ancestral interests along construction rights of way in New York, Connecticut, Rhode Island and Massachusetts. This close coordination involved support for training Tribal youth in the identification and documentation of religious and cultural properties of significance to Tribes, which helped foster learning and enhanced awareness among Enbridge employees and contractors on Tribal history and culture.
Environmental Management
Liquid Pipelines, Northwest Territories, Canada
In early 2018, Enbridge entered into an Environmental Management Agreement (EMA) with five First Nations on the Line 21 Segment Replacement Project in Canada's Northwest Territories. The EMA establishes a structure and process for addressing their concerns about the replacement project and ongoing operations of Line 21. Among other things, it provides a framework for engagement on monitoring, information sharing and performance evaluation.
Gas Transmission and Midstream, British Columbia
We have two full-time monitors from local Indigenous communities overseeing the impact of two natural gas projects in British Columbia on two endangered caribou herds. The monitors examine the areas around the projects for caribou tracks and other signs, and they ensure that any wildlife trails along the projects' footprints remain open and accessible for all animals to use. We are also training construction crews on how to work without disturbing a threatened Northern Mountain Caribou herd and are supporting a maternal penning project.
Community Investment
We partner with and support Indigenous communities near our projects and operations on their own priorities for community development. These can include educational and cultural initiatives as well as projects and volunteer activities focused on safety and other aspects of community wellbeing and sustainability. In 2017, we provided more than $1.7 million in community investment support to Indigenous communities in Canada and the U.S. Some examples include:
Engineering Futures: A partnership with Edmonton Catholic Schools' Braided Journeys Program (Alberta) that matches Indigenous high school and junior high girls to female engineering mentors at Enbridge.


Cushing Native American Heritage Festival: A collaboration with the Downtown Cushing Revitalization Association (Oklahoma) in support of activities to celebrate and educate on Native heritage and beliefs.


Enbridge Aboriginal Home Program: In partnership with Habitat for Humanity, this programs supports building homes for Indigenous families across Canada as part of the Jimmy and Rosalynn Carter Work Project.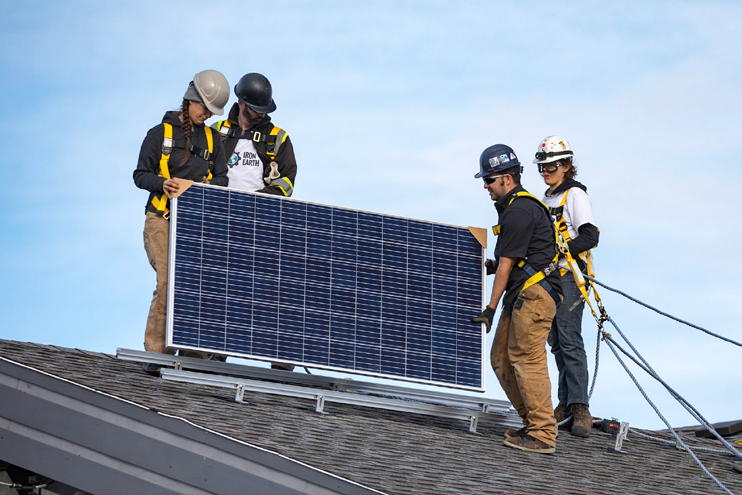 Members of the Louis Bull Tribe, in central Alberta, and fellow graduates of the Iron & Earth solar skill program install solar panels on the roof of a community daycare facility in October 2017. Iron & Earth hopes to upskill 1,000 oil, gas and coal workers, as well as Indigenous community members, as solar specialists through hands-on installations.
Addressing Concerns and Resolving Disputes
All Business Units
As part of our consultation and engagement processes, we respond to community concerns through direct communication and management systems that ensure any concerns identified are documented, tracked and addressed. In some cases, we enter into formal project agreements with specific communities to provide extra assurances regarding cultural and environmental protection or community participation in construction, maintenance and monitoring activities. In cases where concerns pertain to the cumulative effects of development, we provide information about the steps we have taken to minimize these effects, such as following an existing right of way. We share our environmental protection plans and incorporate appropriate mitigation measures. Where appropriate, we escalate engagement to include other subject matter experts as well as additional senior leadership within Enbridge. When these steps do not resolve the concerns, we meet with the community to discuss additional actions that we could take, including mediation and negotiation.
Workplace Cultural Awareness and Education
All Business Units
Enbridge provides our employees and contractors with cultural awareness training to support our commitment to fostering an understanding of the history, traditions, rights and cultures of Indigenous Peoples. Through the training, we strive to build the capacity of our employees and contractors to better communicate and engage with local Indigenous Peoples, and to acquire the tools necessary to build trusted and respectful relationships. In 2017, over 450 employees and contractors received this training in five of our operating regions in Canada and the U.S. We will increase this number in 2018 and will develop online awareness training.
We are also committed to the goal of increasing Indigenous employment at Enbridge to ensure that our demographics are representative of the demographics of the regions in which we operate. We have a working group of Indigenous and other interested employees that support educational initiatives aimed at supporting a workplace culture that is inclusive.
Indigenous Education and Employment
All Business Units
Enbridge works with Indigenous Nations and groups, local schools, governments, non profits and our contracting workforce to help provide opportunities for the development of transferrable skills. This includes initiatives that provide training in career development, safety, employment readiness and construction-specific trades to Indigenous communities located near our projects and operations. In 2017, we also supported training for an innovation project involving solar panel installation on a community daycare facility in partnership with Iron & Earth.
NORLITE PIPELINE: Indigenous Training and Employment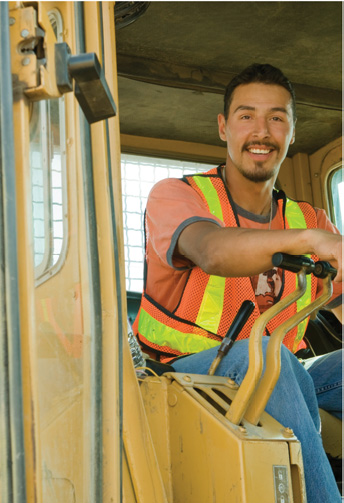 Background
Enbridge asked our prime contractors on the Company's Norlite Pipeline Project in northeastern Alberta to participate in an initiative aimed at maximizing contracting opportunities for Indigenous individuals and businesses during the 2016 and 2017 construction season. The goal was to increase Indigenous economic participation in the supply of goods and services to both Enbridge and its contractors.
Approach
Enbridge provided the contractors involved with a new Indigenous Business Database, developed by our Supply Chain Management team, and assisted in the development of socio-economic plans which specifically outlined all of the opportunities for Indigenous businesses to participate as subcontractors in mainline and facilities work.
Outcomes
At project completion, the total amount spent on Indigenous businesses was close to $80 million.
On a single pipeline spread alone, one of Enbridge's mainline contractors issued 15 distinct subcontracts to Indigenous businesses or joint ventures—a major improvement over past performance. The extent to which the Norlite contractors embraced this opportunity exceeded our expectations. They not only considered and hired Indigenous businesses from the Indigenous Business Database, but they located and added other qualified Indigenous suppliers as well. The two major prime contractors were also able to engage two Indigenous companies in high-value contracts to provide workforce camps for the project.
SUSTAINABLE ENERGY: Gas Distribution Businesses
Many of the Indigenous communities that Enbridge's natural gas distribution utilities in Ontario engage with have a strong interest in advancing their own energy security and sustainability. We are currently working with some of these communities to identify opportunities to collaborate on locally-based projects that can reduce utility costs and GHG emissions.
One of Enbridge's gas distribution businesses in Ontario, Union Gas has been approved for grant funding from the Ontario government which will enable the expansion of its natural gas system to supply three Indigenous communities that currently rely on propane and higher-cost electricity to heat their homes. Once these communities are on residential gas supply from Union Gas, they will be eligible to access our Home Weatherization Program (HWP), which provides qualified customers with initial and final energy audits, basic water saving measures, a programmable thermostat, a carbon monoxide alarm, smoke alarm and insulation installation at no cost to the customer.
---