Previous Targets
Spotlight on GDS
Since the early 1990s, Enbridge's natural gas distribution business has realized significant emissions reduction. The largest GDS initiative was a multi-year, multi-million dollar cast iron pipe replacement program, which started in the early 1990s and was completed in 2012. In total, GDS replaced approximately 1,800 km of aging cast iron and bare steel pipe with coated steel and plastic pipe. As a result, GDS reduced its annual fugitive GHG emissions (mostly methane) by approximately 145,000 tCO2e. GDS also reduced methane emissions by 95% through retrofitting of our pneumatic equipment.
Enbridge has previously set and met enterprise-wide and business unit specific GHG emissions reduction targets. Between 2005 and 2010 we achieved an initial target to reduce direct emissions from our Canadian operations to 15% below 1990 levels. Between 2010 and 2011 we achieved an additional 6% reduction below 1990 levels, for total reductions of 21% below 1990 levels. In 2012, our GDS business set a new target to reduce the emissions intensity of its operations relative to total number of customers. The goal was to reduce emissions intensity by 5% between 2011 and 2015. The target was achieved ahead of schedule, largely on the strength of the accelerated cast iron replacement program (see below).
Development of New Targets and Metrics
We set out to establish new targets in 2015 but our acquisition of Spectra Energy delayed that effort so that we could implement targets reflective of a larger and more diverse asset base and strategy. From now through 2020, Enbridge business units will each work to develop next-generation targets for reducing the emissions intensity of our operations (Scope 1 and Scope 2).
Scope 1: Direct GHG Emissions—Occur from sources that are owned or controlled by the Company, for example, emissions from combustion in owned or controlled compressors, boilers or vehicles, also including emissions from owned or controlled processing equipment (i.e. fugitive and venting emissions).
Scope 2: Indirect GHG Emissions (Electricity)—GHG emissions from the generation of purchased electricity consumed by the Company. Scope 2 emissions physically occur at the facility where electricity is generated.
Scope 3: Other Indirect GHG Emissions—GHG emissions emitted as a consequence of the activities of the Company, but occur from sources not owned or controlled by the Company. Some examples include extraction and production of purchased materials, transportation of purchased fuels, and use of sold products and services.
Our LP business unit has primarily Scope 2 emissions because electric pump stations are used to push crude oil through the pipelines. By contrast, our GTM and GDS business units have higher Scope 1 emissions because they use primarily natural gas-powered compressors to deliver gas into and through pipelines.
Current Metrics
It is widely recognized that there is a need to develop consistent approaches for measuring and reporting corporate GHG emissions. In the absence of both consistent methodologies for measuring emissions and third party assurance for reporting emissions, it is very difficult to compare the performance of one company against that of another.
We provide GHG data on an absolute basis in our sustainability report. In this report, we have chosen to provide emissions intensity data. We have done this for two primary reasons. First, as this report contends, reducing global GHG emissions will require concerted action across the entire energy system. More specifically, emissions reduction progress needs to be made in each part of the energy system—this includes more efficient transportation of oil and gas. An intensity metric allows for meaningful comparison of corporate performance within each part of the value chain and across our different businesses. Second, an intensity metric provides the only meaningful way to measure emissions reduction progress year over year when a corporation's asset base and/or its level of business activity is growing. It allows for meaningful analysis of corporate progress as our business grows organically and through acquisition.
We will continue to account for industry trends relating to metrics and we anticipate modifying our metrics as industry standards evolve.
The metric we report in the chart on Page 25 shows the emissions intensity of each of our core businesses on a volumetric basis. Our LP business has no significant Scope 1 emissions as crude oil is pushed through the pipes using electric pumps. The numbers provided show that the emissions intensity of our LP assets has gone up slightly, due in large part to throughput increases. As throughput increases, so do Scope 2 emissions because electric pump stations must work harder to push oil through the pipeline.
The following graphic shows where emissions come from within the oil value chain. It demonstrates that our crude oil transportation business makes up a very small portion of total GHG emissions on a lifecycle basis. It also shows that Enbridge's emissions are well below the industry average within the midstream sector.
Lifecycle Emission Intensity (Scope 1 and Scope 2)
(Canadian Oil Sands, Average Produced), kg CO2e/bbl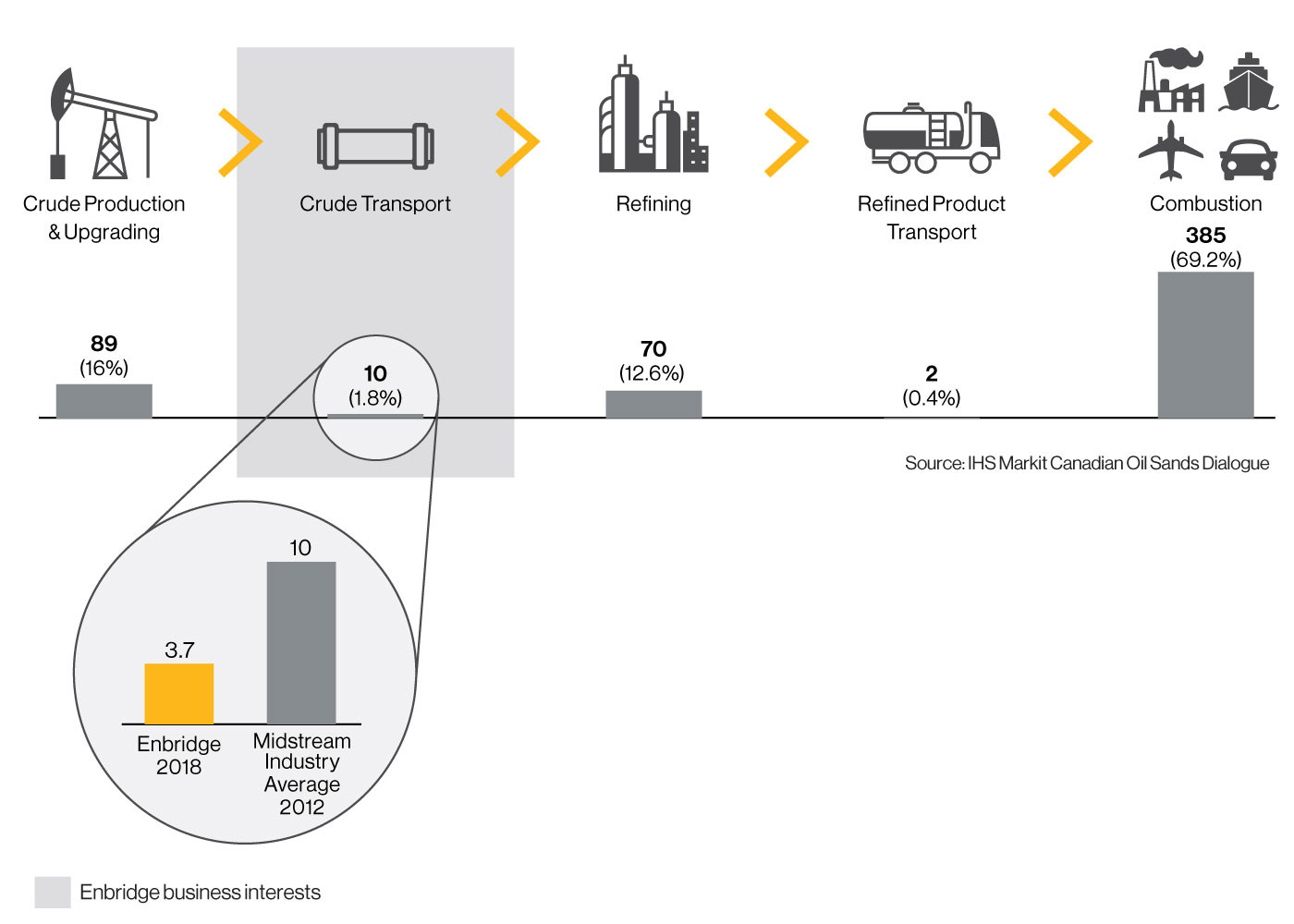 Enbridge has a larger role in the natural gas value chain with both a gas transportation business (GTM) and a distribution and storage business (GDS), whose emission intensity for Canada and U.S. is shown on the chart on Page 25. In order to move natural gas through a pipeline, the gas needs to be pressurized at compressor stations located along the route. Compressor stations can be fueled by natural gas or electricity. The chart on Page 25 shows higher Scope 1 emissions for GTM Canada than GTM U.S. Similarly, GTM U.S. has higher Scope 2 emissions than GTM Canada. While there are many factors that determine the GHG intensity of different systems, the differences that appear in our metric are explained primarily by the fact that GTM U.S. uses more electric compressor stations than GTM Canada.
Moreover, since our metric, as we define it, captures all emissions from Enbridge-operated pipelines—irrespective of our level of ownership and in accordance with Greenhouse Gas Protocol guidelines—the increase in GTM's emission intensity is a direct result of converting the Alliance Pipeline into an Enbridge-operated pipeline. Alliance has higher emission intensity because it is a long-haul pipeline and travels through jurisdictions with high-emission electricity grids. Enbridge's Scope 2 emissions intensity is expected to improve significantly as provincial electricity grids lower their emissions.
GDS has primarily Scope 1 GHG emissions from natural gas combustion used to power line heaters, compressors and turbines used in the distribution and storage of natural gas. GDS has limited Scope 2 emissions as electricity is used primarily for office buildings. As the chart on Page 25 shows, GDS emissions intensity decreased slightly from 2017 to 2018.
The impact of our renewable energy production does not appear in the chart on the following page. Enbridge has the capacity—either operating or under construction—to generate more than 1,700 MW (net) of zero-emission energy in North America and Europe. The graphics above illustrate the impact of our production on GHG emissions. The graphic above shows that Enbridge produced enough zero-emission power in 2018 to supply more than 485,000 homes for one year. It also shows how many tonnes of CO2e would be avoided if our renewable energy projects were used to replace coal-fired generation.
While the data depicted on the following page is helpful as we monitor and look to continuously improve our performance, we will look for meaningful ways to incorporate our renewable energy assets into the metrics we use below.
Metrics

Environmental Performance

2017

2018

GREENHOUSE GAS EMISSIONS INTENSITY1,2

LP (Canada and U.S.)

Greenhouse gas emissions intensity by scope tCO2e/kbbl

Scope 1: Direct

0.0

0.0

Scope 2: Indirect

3.6

3.7

GTM (Canada)3,4

Greenhouse gas emissions intensity by scope tCO2e/Bcf

Scope 1: Direct

1,505

1,445

Scope 2: Indirect

0.2

19.7

GTM (U.S.)3,5

Greenhouse gas emissions intensity by scope tCO2e/Bcf

Scope 1: Direct

599

725

Scope 2: Indirect

143

134

GDS (Canada and U.S.)6

Greenhouse gas emissions intensity tCO2e/Bcf

Scope 1: Direct

483

478

Scope 2: Indirect

1.5

1.3

Note:

The relationship between emission intensity and pipeline throughput is complicated and each pipeline is different. Factors to consider when calculating emission intensity include the pipeline network, age of the pipeline system, operational parameters and weather conditions (particularly for GDS).
Intensity metric excludes Scope 3 emissions.
Scope 1 and Scope 2 emissions exclude gas gathering and processing facilities in both Canada and the U.S. because these assets were or will be substantially divested in transactions authorized in 2018.
Maritimes and Northeast Pipeline (Canada) Scope 1 and Scope 2 emissions are not included in the 2017 results and Scope 2 emissions are not included in the 2018 result because comparable data are not available year over year.
The following U.S. offshore operations are excluded from the intensity metric: Garden Banks, Mississippi Canyon and Nautilus.
GDS results for 2017 and 2018 include transmission, distribution and storage assets of Enbridge Gas Inc.
Task Force on Climate-related Disclosure Index
These recommendations were released in June 2017. This index references where information that addressed the recommendations can be found.
TCFD Recommendations

Strategy

Disclosure

Describe the climate-related risks and opportunities the organization has identified over the short, medium and long-term.

pp. 4-17

Describe the impact of climate-related risks and opportunities on the organization's business, strategy and financial planning.

pp. 4-17

Describe the resilience of the organization's strategy, taking into consideration different climate-related scenarios, including a 2 degree Celsius or lower scenario.

pp. 4-17

Governance

Describe the board's oversight of climate-related risks and opportunities.

pp. 18-19

Describe management's role in assessing and managing climate-related risks and opportunities.

pp. 19

Risk Management

Describe the organization's processes for identifying and assessing climate related risks..

pp. 20-21

Describe the organization's processes for managing climate-related risks.

pp. 21

Describe how processes for identifying, assessing and managing climate-related risks are integrated into the organization's overall risk management.

pp. 21

Metrics and Targets

Describe the targets used by the organization to manage climate-related risks and opportunities and performance against targets.

pp. 22

Disclose the metrics used by the organization to assess climate-related risks and opportunities in line with its strategy and risk management process.

pp. 22-25

Disclose Scope 1, Scope 2 and, if appropriate, Scope 3 GHG emissions, and the related risks.

pp. 22-25