---
Al Monaco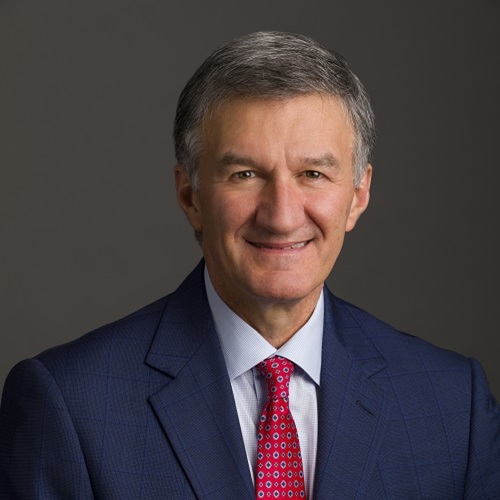 Former President and Chief Executive Officer
On Oct. 3, 2022, Enbridge announced that Greg Ebel, previously Enbridge's Board Chair, would succeed Al Monaco as President and Chief Executive Officer effective Jan. 1, 2023; to support Mr. Ebel through the transition, Mr. Monaco will serve as an advisor to March 1, 2023. Appointed as President, Chief Executive Officer and a Director of Enbridge in 2012, Mr. Monaco led Enbridge through a period of great transformational growth combined with an intensified focus on safety, reliability and environmental protection that has positioned it as North America's leading diversified energy delivery company.
Under his leadership, Enbridge focused on long-term sustainable growth and a balanced and deliberate energy transition—delivering total shareholder return of more than 130%, EBITDA growth of more than 270% and dividend growth of more than 190%.
Enbridge during this period invested more than $100 billion in energy infrastructure projects, including the acquisition of Spectra Energy in 2017, which accelerated the company's natural gas strategy and expanded its U.S. footprint. Additionally, the company expanded its LNG pipeline connections and export capabilities, made its first investment in liquefaction (Woodfibre), invested nearly $10 billion in renewables including major investments in solar and wind and accelerated its investment in other lower carbon technologies, renewable natural gas, hydrogen, and carbon capture and storage.
As President and CEO, Al became a leading advocate for a smart energy transition and for a North American energy strategy that assures the world of affordable, safe, reliable and responsible energy. Enbridge strengthened its position as an industry leader in environmental, social and governance (ESG) performance. It was among the first in the energy midstream space to set a goal to achieve net zero greenhouse gas emissions by 2050 and the first to set public goals for diversity, equity and inclusion.
Al is a director and member of the executive committee of the American Petroleum Institute; a director of Weyerhaeuser; and a member of the Business Council (US); the U.S. National Petroleum Council, the Business Council of Canada, the Business Council of Alberta, and the Catalyst Canada Advisory Board.
Al was the recipient of the Fraser Institute's Founders Award (2019) and has been recognized as "Canadian Energy Person of the Year" (2017), the "Alberta Business Person of the Year" (2016) by the Energy Council of Canada and by Alberta Venture (2016), respectively, and the Haskayne Alumni Award (2020). Most recently, Al was awarded the Honouring Integrity, Legacy and Leadership (HILL) Award from the University of Regina.
He earned his MBA from the Haskayne School of Business at the University of Calgary and is a CPA. He also completed the Advanced Management Program at Harvard Business School.
Al and his wife Laurie live in Calgary and have three sons.
Speeches
May 18, 2022: Canadian Club Toronto
Mr. Monaco called for a "fresh look" at how Canada can lead the global energy transition. Read the blog post here; read his remarks here.
May 4, 2022: Enbridge Annual Meeting of Shareholders
May 5, 2021: Enbridge Annual Meeting of Shareholders
Oct. 15, 2020: University of Calgary's Haskayne School of Business 2020 Alumni Awards
Mr. Monaco was recognized with a 2020 Haskayne Alumni Award on Oct. 15. See his speech and a video marking the occasion.
Nov. 20, 2019: Business Council of British Columbia
Mr. Monaco addressed the BCBC in Vancouver at the B.C. Business Summit 2019. Read the remarks.
Oct. 17, 2019: Canada-United States Business Association (CUSBA)
Mr. Monaco addressed CUSBA in Detroit on the Future of Energy: The North American Competitive Advantage. Read the remarks.
April 26, 2019: Submission to the Standing Senate Committee on Energy, the Environment and Natural Resources re: Bill C-69