---
Al Monaco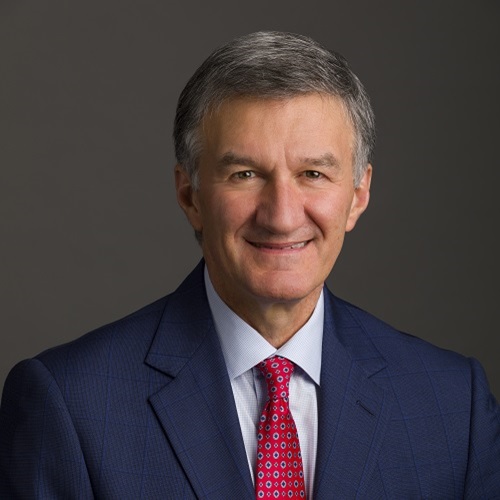 Download high resolution image (2.2 MB)
President and Chief Executive Officer
Appointed as President, Chief Executive Officer and a Director of Enbridge in 2012, Al Monaco has led Enbridge through a period of unprecedented growth combined with a continued focus on safety, reliability and environmental protection that has positioned it as North America's leading energy infrastructure company.
Under Al's leadership, Enbridge has focused on long-term sustainable growth while maintaining the company's low-risk business model. In 2017, Enbridge completed the $37-billion acquisition of Spectra Energy, which diversified the company, accelerated its natural gas strategy and expanded its U.S. footprint. Enbridge has invested more than $60 billion in energy infrastructure projects over the last seven years, including Canada's first export pipeline system to the U.S. Gulf Coast, and the company's first international offshore wind project.
Enbridge has prioritized sustainability by containing emissions from its operations and diversifying its asset base to reflect the global energy mix. Enbridge has developed an industry-leading approach to stakeholder and Indigenous engagement based on trust, collaboration and economic partnerships. Al is a strong advocate for building diverse and inclusive working environments and has signed Enbridge to Equal by 30, a pledge to support gender equality in the energy sector by 2030.
Al is a champion of North America's energy industry and its ability to become a global leader by supplying affordable, reliable and responsible energy to the world. He is a Director and member of the American Petroleum Institute Executive and Finance Committees; a Director and member of the Weyerhaeuser Board and its Compensation Committee; and a member of the Business Council (US); the U.S. National Petroleum Council, the Business Council of Canada, the Business Council of Alberta, and the Catalyst Canada Advisory Board.
Al was the recipient of the Fraser Institute Founders Award (2019), and has been recognized as "Canadian Energy Person of the Year" (2017) and "Alberta Business Person of the Year" (2016) by the Energy Council of Canada and Alberta Venture, respectively.
Al is a staunch supporter of the community, including the United Way and the annual Enbridge Ride to Conquer Cancer. Al and his wife Laurie live in Calgary and have three sons.
Al earned a Master of Business Administration from the Haskayne School of Business (Finance) at the University of Calgary. He holds a CPA, CMA designation and is a member of the Chartered Professional Accountants of Alberta. He completed the Advanced Management Program at Harvard Business School.
Speeches
May 18, 2022: Canadian Club Toronto
Mr. Monaco called for a "fresh look" at how Canada can lead the global energy transition. Read the blog post here; read his remarks here.
May 4, 2022: Enbridge Annual Meeting of Shareholders
May 5, 2021: Enbridge Annual Meeting of Shareholders
Oct. 15, 2020: University of Calgary's Haskayne School of Business 2020 Alumni Awards
Mr. Monaco was recognized with a 2020 Haskayne Alumni Award on Oct. 15. See his speech and a video marking the occasion.
Nov. 20, 2019: Business Council of British Columbia
Mr. Monaco addressed the BCBC in Vancouver at the B.C. Business Summit 2019. Read the remarks.
Oct. 17, 2019: Canada-United States Business Association (CUSBA)
Mr. Monaco addressed CUSBA in Detroit on the Future of Energy: The North American Competitive Advantage. Read the remarks.
April 26, 2019: Submission to the Standing Senate Committee on Energy, the Environment and Natural Resources re: Bill C-69