---
Enbridge and Fanshawe establish new Renewable Energies Scholarship
September 23, 2016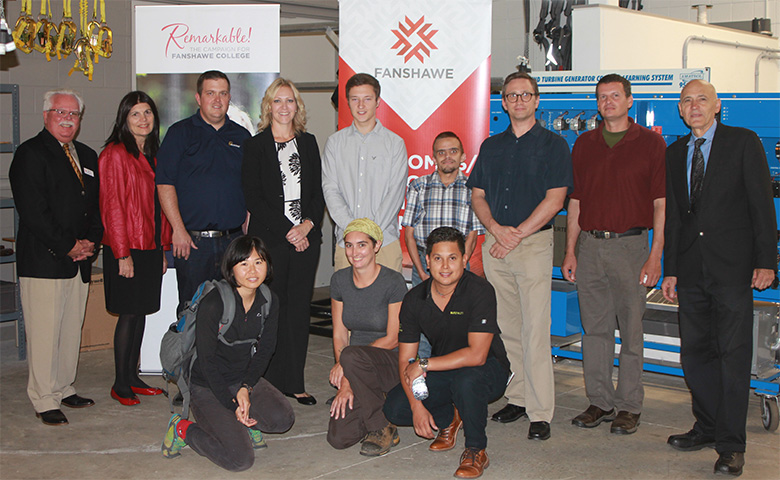 Representatives from Enbridge, Fanshawe College, and students in the Renewable Energies Technician Diploma Program gather on Friday, September 23, to announce the new Renewable Energies Scholarship.
ST. THOMAS, Ont. (Sept. 23, 2016) – Fanshawe College and Enbridge are proud to announce the Renewable Energies Scholarship in support of students enrolled in the Renewable Energies Technician diploma program at the College's St. Thomas/Elgin Regional Campus.
"Enbridge recognizes students who have demonstrated leadership and have excelled academically in Fanshawe College's Renewable Energies Technician program," says Ian MacRobbie, Enbridge's General Manager of Green Power & Transmission. "Renewable energy is fundamental to a low-carbon economy, and having the right people with the right skills and education in this sector is key. This scholarship was created to help ensure that happens."
Announcing the scholarship comes at an exciting time as 43 students are enrolled in the Renewable Energies program this fall – nearly twice the number from previous years. To help address the need for skilled technicians, particularly in the wind and solar energy sectors, Enbridge and Fanshawe collaborated to recognize and support students studying in this sector.
"We are very pleased that Enbridge has chosen to launch this new scholarship to encourage and support our students," stated Ross Fair, Chair of the St. Thomas/Elgin campus. "Last year, Colleges and Institutes Canada (CICan) recognized the Renewable Energies Technician program as one of the most innovative offerings in the country. Now, it is exciting to witness the growth in enrolment, and to see powerhouse companies like Enbridge invest in the program. We are very grateful to our industry partners who recognize the potential in our students."
The first recipients of the Enbridge Renewable Energies Scholarship will be announced in spring 2017.
For further information, please contact:
Ross Fair
Chair, St. Thomas/Elgin Regional Campus
Fanshawe College
519-633-2030 x228
rfair@fanshawec.ca
About Enbridge Inc.
Life takes energy. And for more than 65 years, Enbridge Inc. (TSE: ENB, NYSE: ENB) has played an essential role in connecting people to the energy they need to live their lives to the fullest. Enbridge operates the world's longest crude oil and liquids transportation system across North America, with a significant and growing involvement in natural gas gathering, transmission and midstream business, as well as an increasing involvement in power transmission. Enbridge also owns and operates Canada's largest natural gas company and has interests in nearly 2,000 megawatts of net renewable and alternative gathering capacity, including wind, solar, and geothermal projects. When the energy people invest in life meets the energy we fuel it with, beautiful things happen. For more information on our essential role in transporting, distributing, and generating energy, visit www.enbridge.com
Fanshawe College St. Thomas/Elgin Regional Campus
The St. Thomas/Elgin Regional Campus is home to approximately 650 full-time students and 800 part-time students. Located in southeast St. Thomas near rolling farmland and recreational facilities, the campus offers certificate and diploma programs, academic upgrading, apprenticeships, continuing education and corporate training solutions.