---
Enbridge supports Sanford Health Foundation
September 05, 2017
BEMIDJI, Minnesota (September 5, 2017)—Enbridge recently made a donation to the Sanford Health Foundation of Northern Minnesota in support of its cardiology program.
The Sanford Health Foundation is a 501(c)(3) nonprofit organization dedicated to supporting the enhancement and expansion of health care services, state-of-the-art technology and facilities to provide health and healing for our region.
Anyone interested in supporting the Foundation may do so by contacting the Sanford Health Foundation at (218) 333-5515. Partnering with the Foundation not only supports new services and technology, but also helps care for individuals within the community.
For more than 65 years, Enbridge has played an essential role in connecting people to the energy they need to live their lives to the fullest. Enbridge is North America's premier energy infrastructure company with strategic business platforms that include an extensive network of crude oil, liquids and natural gas pipelines, regulated natural gas distribution utilities and renewable power generation.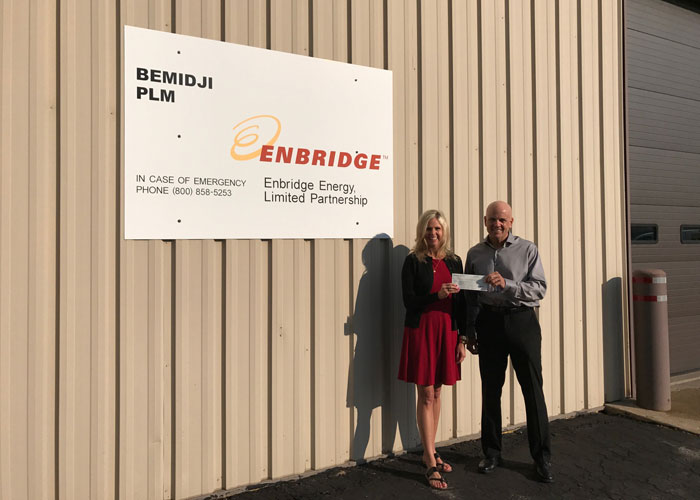 Pictured in the photo are (l-r): Penny Echternach – Foundation Director and Tim Pollock – Manager of Pipeline Services, Enbridge.
About Sanford Health
Sanford Health is an integrated health system headquartered in the Dakotas. It is one of the largest health systems in the nation with 45 hospitals and nearly 300 clinics in nine states and four countries. Sanford Health's 28,000 employees, including more than 1,300 physicians, make it the largest employer in the Dakotas. Nearly $1 billion in gifts from philanthropist Denny Sanford have allowed for several initiatives, including global children's clinics, genomic medicine and specialized centers researching cures for type 1 diabetes, breast cancer and other diseases. For more information, visit sanfordhealth.org.