---
Raue Center Receives Donation from Enbridge for Arts Education Outreach Program
November 23, 2016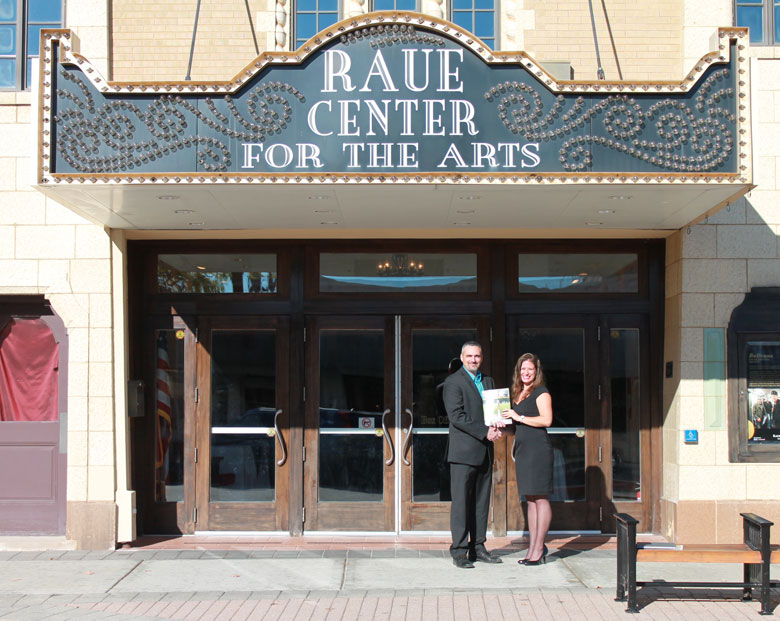 Dave Bareham, Enbridge's Griffith area manager, and Kate Wilford, general manager of the Raue Center for the Arts.
CRYSTAL LAKE, IL (Nov. 23, 2016) — Raue Center For The Arts is proud to announce they have received a generous donation from Enbridge, Inc. to benefit Raue Center's Mission Imagination arts education outreach program.
Over the past 65 years, Enbridge has become a leader in the safe and reliable delivery of energy across North America. Enbridge operates the world's longest, most sophisticated crude oil and liquids transportation system across the U.S. and Canada. Enbridge also has a growing presence in the natural gas transmission and midstream businesses as well as an increasing involvement in power transmission.
Enbridge is dedicated to helping fuel quality of life within communities where they work and operate by partnering with and investing in organizations that champion solutions for safety, environmental and social issues.
The funds donated by Enbridge are to go toward Raue Center's Mission Imagination program.
Mission Imagination is an arts education outreach program for school age children offered by Raue Center. Raue Center is committed to presenting the finest arts education programming through Mission Imagination education outreach performances - at the theater and in the schools - for area school children.
Mission Imagination offers a variety of popular, kid-friendly shows each year and has served over 400,000 students. This season's Mission Imagination shows include "Biscuit," "Monster Who Ate My Peas," an original work entitled "Art in the Machine" and more! For more information and a full lineup of shows, please visit rauecenter.org/mission-imagination.
About Raue Center For The Arts
Raue Center is a 501(c)3 non-profit organization dedicated to enriching the lives of all through the arts. For 15 years, they have provided quality programming - striving to make it pertinent, available and affordable to all. As a painstakingly restored, 1920s regional Showcase Theatre named for its benefactor-Lucile Raue-Raue Center has attracted the finest stars, Broadway shows, musicians and artists. Named on the League of Historic American Theatres, Raue Center is one of the finest examples of restored art and decor in the nation. The 750-seat theatre, located in historic, downtown Crystal Lake, is a gathering place for our region's citizens and has become a true destination. For additional information, visit rauecenter.org, facebook.com/RaueCenter and twitter.com/RaueCenter.