---
Enbridge taps into Rider Pride at historic Maryfield Theatre
October 18, 2018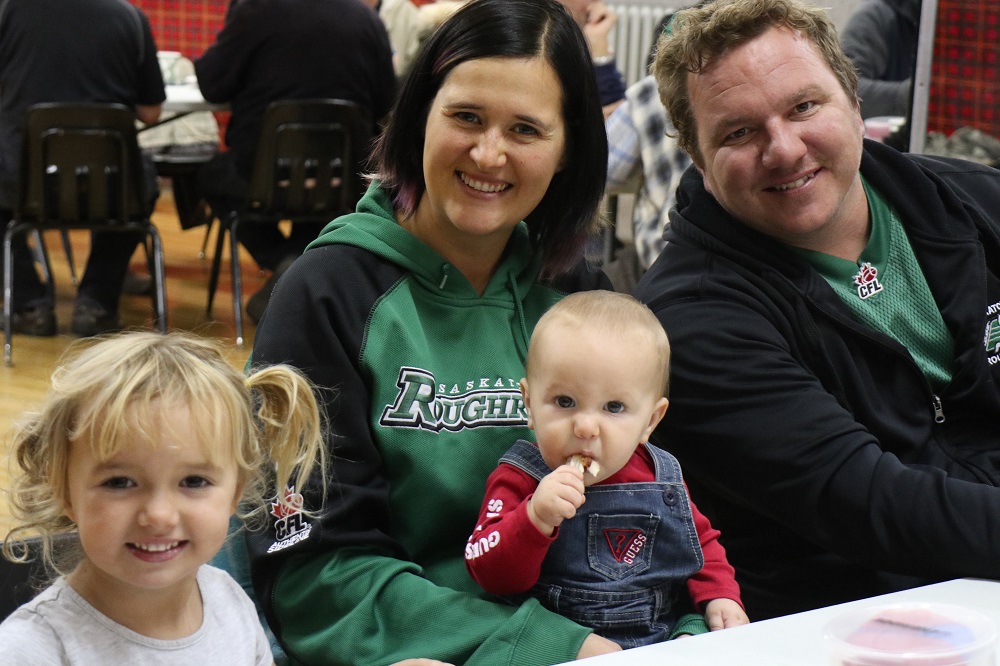 Families in the Marysfield, SK area enjoy a barbecue lunch while sporting Saskatchewan Roughrider colors on Oct. 13, 2018.
Province's passion for football leads to unique Line 3 engagement opportunity
MARYSFIELD, Saskatchewan (Oct. 18, 2018)—Everybody knows what to do "when in Rome."
When in Saskatchewan—and the goal is engaging the community, and creating awareness of upcoming pipeline construction—there's probably no better strategy than tapping into the passion of what's come to be known as Rider Nation.
That was the thinking behind Enbridge renting out a historic theatre in the southeastern Saskatchewan village of Maryfield (pop. 370) near the Manitoba border on Saturday, Oct. 13.
More than 100 local residents enjoyed a free, Enbridge-hosted community barbecue lunch with burgers, chicken wings, hot dogs, pop and water in the spacious theatre basement. Upstairs was the main attraction—an afternoon Canadian Football League game between prairie archrivals Saskatchewan Roughriders and Winnipeg Blue Bombers on the giant movie screen.
Enbridge is no stranger the Maryfield Theatre, having contributed $20,000 in recent years toward upkeep of the digital projector, roof and kitchen.
"With Line 3 pipeline replacement construction gearing up in the Maryfield area, we were looking for an opportunity to engage the local community and create awareness about the project and the heavy equipment and additional traffic that will be on the roads as a result," explains Joanne Bradbury, Community Engagement Strategist with Enbridge.
"Our local construction manager came up with the idea of showing the Riders game in the theatre. We knew a lot of folks would be watching the game anyway, so why not tap into that passion and bring them out with a free lunch and a few door prizes?"
Those prizes included Riders merchandise and a grand prize of a Humboldt Broncos hockey sweater, for which 100% of the proceeds go to the Humboldt Strong Community Foundation that benefits all those affected by the tragic bus-truck accident that killed 16 and injured 13 in April.
And while it did not turn out be a good day for the Riders—they were blanked 31-0 by Winnipeg—it was much better for Maryfield resident Terry Friesen, an unashamed Bombers fan who wound up winning the Broncos jersey.
"He enjoyed the game and then the (NHL's Winnipeg) Jets won, so it was a pretty good sports weekend for him," says Terry's wife Caroline.