---
Superior Terminal
Enbridge's Superior Terminal has come a long, long way since it was first built in 1950. The 550-acre terminal, located in Superior, WI, has become a crucial hub for safe, reliable crude oil distribution across the United States. About 20% of all daily U.S. crude imports pass through the facility, which has a shell capacity of 13 million barrels.
The Superior Terminal serves as a control point and transportation hub for Enbridge's pipelines, and the crude oil and liquids they carry. Enbridge transports and temporarily stores these products en route to various refining destinations in the U.S. and Canada. The Superior Terminal serves 10 pipelines—five inbound lines, four outbound lines and one line that passes through the terminal moving diluent from Illinois to Edmonton, Alberta.
Safe and reliable operations are the foundation of Enbridge's business. We focus heavily on prevention work—including regular inspections, 24/7 monitoring of all our pipeline systems, and a robust maintenance program—to keep our pipelines and facilities healthy and fit for service.
Enbridge's Superior Terminal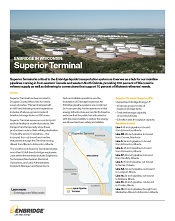 ---
Learn more about Enbridge in Wisconsin.
Wisconsin history and operations
Today, Enbridge operates approximately 1,552 miles of liquids pipelines in Wisconsin and meets 100 percent of the state's refinery capacity needs.