---
St. Clair River HDD Installation
Enbridge's agreement with the State of Michigan, signed in November 2017, lays out a path forward in addressing the future of Line 5—and establishes greater collaboration between Enbridge and the State in moving toward a long-term solution.
One of the seven key actions, as part of this agreement, is a commitment by Enbridge to replace the existing Line 5 St. Clair River crossing segment, located between Marysville, Michigan and Froomfield, Ontario (see map below).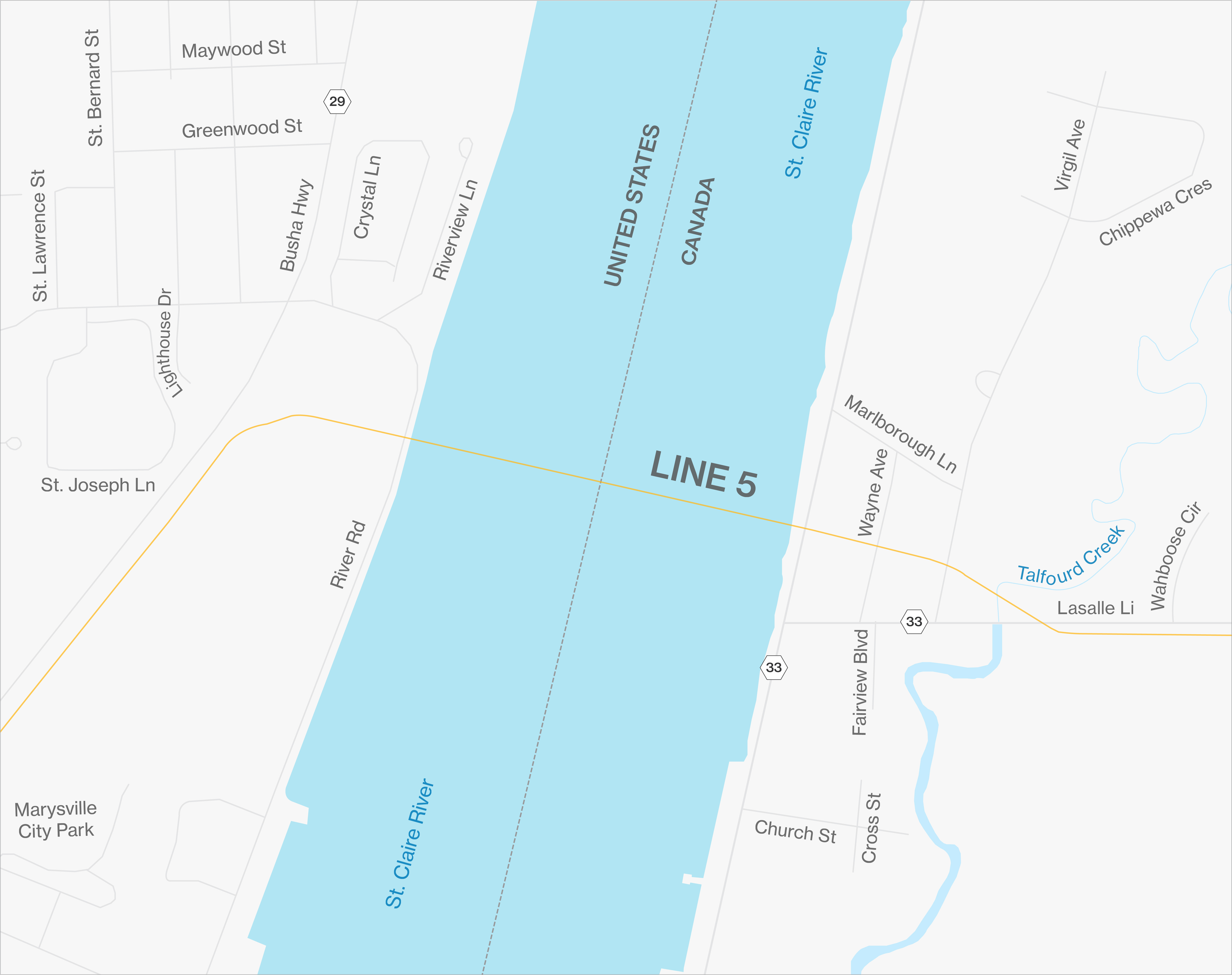 Click on the image above for a larger version of the Line 5 St. Clair River crossing location.
---
The new segment of pipe will be installed underneath the riverbed using horizontal directional drill (HDD) technology.
In the case of large rivers or certain sensitive crossings, Enbridge uses HDD technology when possible to install underground pipelines. HDD projects can be completed in a way that minimizes environmental and stakeholder impact, even in sensitive areas.
Construction schedule
Enbridge will begin work to replace the Line 5 St. Clair River crossing in early 2020. Following pre-construction site preparation in January and February, project construction (drilling and pipe assembly) will begin the week of March 1, 2020, weather permitting.
Pre-construction work will involve delivery and placement of wooden construction mats to serve as ground cover and support for arriving heavy equipment, work trailers and the replacement pipe, which will be stored onsite. Some limited tree trimming and clearing will also be performed.
Work to prepare the new pipe segment, measuring a total of 858 metres (2,814 feet), will begin on or around Feb. 15. The pipe will be strung out along the south side of LaSalle Line (on Shell property) and welded together. Once fully assembled, the new segment will be hydrostatically tested with water to ensure safety and quality assurance standards are met.
Enbridge aims to begin horizontal directional drilling beneath the river around March 1, 2020 weather pending. Two drilling rigs will be used, one on each side of the river. Noise permits have been obtained and Enbridge will install noise mitigation structures and use other noise mitigation techniques to minimize impact on the surrounding properties.
Once the new river crossing is drilled, the new pipe string will be pulled from the Canadian side back to the U.S. side of the river on or around April 27. Following the "pull-back", a second hydrostatic test will be performed with the pipe in place.
Commissioning work on the new pipe segment and decommissioning the old segment is scheduled for May. This work involves cleaning, purging and capping the decommissioned pipe as well as installing electrical systems and new pumps on both sides of the river.
The new Line 5 St. Clair River crossing is anticipated to enter service in June 2020, and site remediation work will occur in June and July 2020.
.
---
Seven ways to protect Michigan's water
November 2017 agreement between Enbridge and Michigan outlines seven actions to protect State's water.
---
How to contact us
If you have questions about the St. Clair River HDD installation, please contact us via:
Telephone: 1-888-263-3654 (toll free)
E-mail: projects@enbridge.com
We will reply promptly to calls and e-mails.