---
Boomerang 'Yooper' keeps Line 5 safe, reliable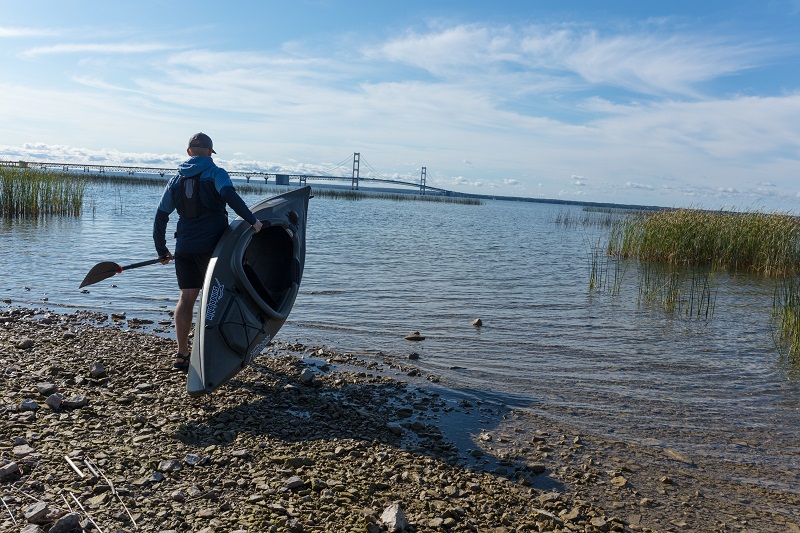 Bob Lehto, who grew up in the Upper Peninsula, takes his kayak for a spin in the Straits of Mackinac.
Blends environmental experience with love of Michigan
April 6, 2022
A love of the outdoors and environment, honed working as an environmental specialist for the Sault Ste. Marie Tribe of Chippewa Indians after graduating from Lake Superior State University, inspired one boomerang "Yooper" to head to the University of Michigan in Ann Arbor to continue his education.
Raised in the eastern Upper Peninsula's village of Newberry, Bob Lehto studied environmental health sciences, industrial hygiene and hazardous substances at the University of Michigan. His career in the petroleum industry led him from Michigan for a few years before he returned home, where he now works as Enbridge's Operations Manager for Northern Michigan.
The self-described boomerang "Yooper" provides a steady and experienced hand when it comes to Line 5 operations.
"I'm thrilled to be back in the U.P., living in Escanaba and overseeing Enbridge's safe and reliable operations in northern Michigan and the Great Lakes region," says Lehto. "That's one of the great things about Enbridge. Due to the nature of our business, we provide employment opportunities throughout the State, even in the outer regions."
Keeping Line 5 operating is vital for Michigan
Lehto is instrumental to Enbridge's Line 5 operations in the Straits of Mackinac. Line 5 transports light and synthetic crude oil, along with natural gas liquids. It supplies 65% of the propane demand in the Upper Peninsula, and 55% statewide.
Featured in the March/April 2022 edition in the member spotlight section of the Michigan Manufacturers Association MiMfg Magazine, and given his role with Line 5, it's only fitting that Lehto responded without hesitation when asked to name one thing he needs to live.
"Life takes energy, and the energy our company provides makes nearly everything in modern life possible," Lehto shared proudly.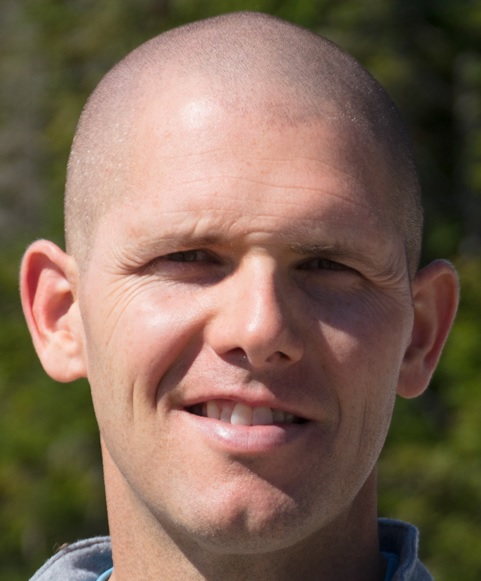 "I hope my colleagues, and everyone I work with, see me as genuine and steady. This is particularly important to me as I work to embody Enbridge's culture of safety, integrity, respect and inclusion—values I try my best to model at work and outside of work"
—Bob Lehto, asked by MiMfg Magazine how people describe him
"Petrochemicals become the feedstock needed for more than 6,000 products—everything from cars to deodorant, dishwashing liquid, crayons, tires, kayaks, phones, computers and medical equipment."
Expounding upon Enbridge Line 5's role in Michigan, Lehto reiterated Line 5 is the backbone to supplying vital fuels throughout the State. "Industries, processes and products—the uses are nearly endless—rely on fuels that Line 5 transports safely every day," he shared.
Strong connections with Michigan communities
Throughout the State and Line 5's operational area, Lehto also shares that Enbridge and its employees have a strong commitment to their communities. Through grants and volunteer resources, Enbridge supports a variety of organizations and programs that help strengthen communities.
Lehto says his personal favorite cause among Enbridge's community involvement is 906 Adventure Team, which incorporates after-school mountain bike clubs and family rides that help children throughout the Upper Peninsula grow to love bikes and nature.
"We get kids out in the outdoors, exercising and, most importantly, away from their screens," says Lehto. "Enbridge's value is in keeping families, businesses and communities moving forward—strong, safe and secure."
(Portions of this article first appeared in the March/April 2022 edition of the Michigan Manufacturers Association MiMfg Magazine.)