---
Community energized for Konnect with the Kazoo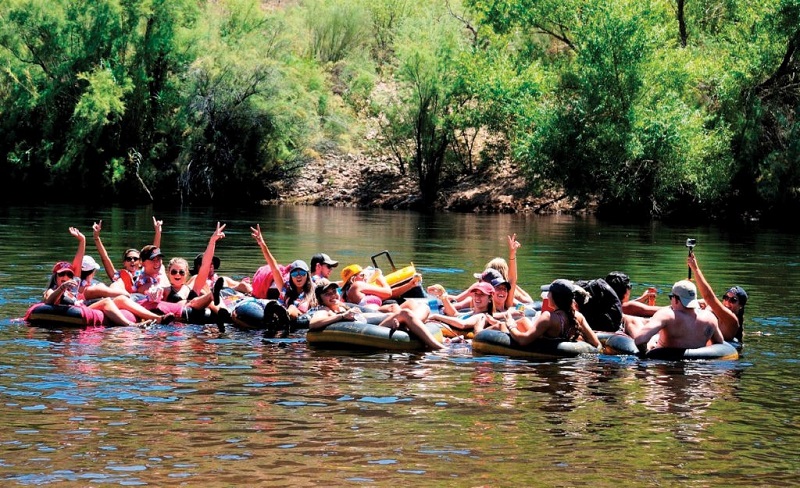 Second annual event underway, supporting a thriving Kalamazoo River
July 21, 2021
If you're ready for summertime fun on the water, the Kalamazoo River awaits you.
From kayaking to biking to sightseeing, Michiganders and visitors alike are enjoying the second annual Konnect with the Kazoo, hosted by the Kalamazoo Watershed Council. Open to all ages, the family friendly event kicked off June 1 and extends through the end of August.
"This event helps raise awareness of the beauty of our waterways, specifically the Kalamazoo River," said Cheryl Vosburg, coordinator, Kalamazoo Watershed Council.
"It provides opportunity for outdoor enthusiasts and newcomers alike to enjoy the vibrancy of the Kalamazoo River, win prizes and make a difference in preserving our waterways."
The semi-virtual event enables participants to enjoy the river at a time—and pace—of their choosing. They then are encouraged to share their experience by either posting photos on the Kalamazoo Watershed Council's social media channels or sending them to the organization through email.
Konnect with the Kazoo showcases the Kalamazoo River, heralded in 2017 as a recreational gem by The Drake, a magazine for outdoor enthusiasts, seven years after a Marshall oil release.
"We forever will remember Marshall," said Bob Lehto, Enbridge area operations manager for Northern Michigan. "It defines the responsive company we are today, driving our unwavering efforts to deliver on safety and protection of the environment."
In addition to fully cleaning the spill, Enbridge built boat ramps and kayak launches, enabling the public to leverage easily the recreational enjoyment of the Kalamazoo River.
"We have fulfilled our promise to the people of Michigan to restore this river," said Lehto.
"We encourage everyone to participate in Konnect with the Kazoo to experience for themselves the river is not only clean, it's also a thriving center of enjoyment for boaters, fishermen and anyone who enjoys a river environment. This is a real treasure for the community and the state!"
In addition to prizes and automatic registration in a Sept. 10 grand prize drawing, participants will receive a Konnect with the Kazoo t-shirt and a gift bag. Registration is $35 and supports the Kalamazoo Watershed Council and local water quality efforts.
Enbridge is a sponsor of Konnect with the Kazoo.
Visit the Konnect with the Kazoo website for additional details and registration.