---
Did you know? Line 5 remains crucial to Michigan manufacturing
Oct. 28, 2020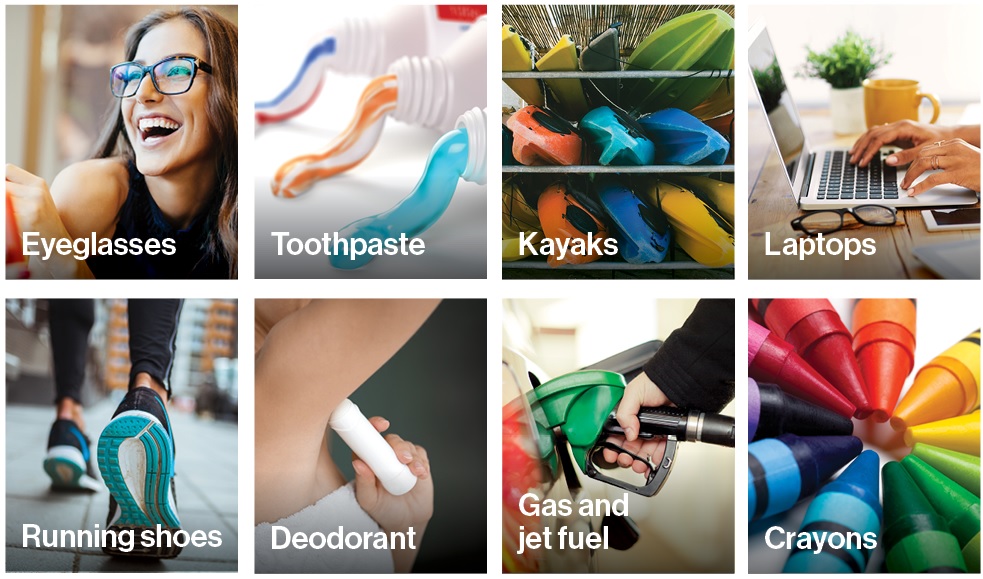 These are just a few of the thousands of everyday household items made from the products carried on Enbridge's Line 5. Click on the image above to directly download a larger version of this illustration.
Line 5 helps create more than 6,000 everyday products for consumers across America
October may be synonymous with pumpkins, crisp air and falling leaves, but it also celebrates a vital part of Michigan's fabric—manufacturing.
Michigan remains central to the automobile industry; however, rarely do most people consider what goes into making the vehicles they ride in, let alone the flat-panel televisions they watch, the phones they use, eyeglasses or contacts they wear, or lifesaving medical equipment and computers used every day. While the specifics of manufacturing vary greatly, they have a few things in common, including the need for reliable energy.
"Line 5 provides much more than the propane essential to heating homes," says Mike Moeller, Enbridge's director of the Great Lakes Region.
"Area refineries and manufacturers also rely on Line 5 to help create more than 6,000 everyday products on which this region not only depends, but consumers around the country," says Moeller. "It's a long list that includes everything from deodorant to dishwashing liquid, cars, crayons, tires, toothpaste, and the gasoline that fuels our vehicles."
With emphasis, Moeller says: "We are very proud that Line 5 continues to have a pivotal role in manufacturing in Michigan and the region."
Michigan manufacturers are able to help drive the State's economy to the tune of $52.67 billion in manufactured goods. The industry also serves as a major source of employment, accounting for approximately 15% of Michigan's workforce and slightly above 19% of the state's total output. In 2018 alone, total output from Michigan manufacturing topped $102 billion, according to the National Association of Manufacturers.
"On multiple levels, our Line 5 is essential to the manufacturing that helps sustain Michigan's economic growth," said Moeller. "It is a role we responsibly fill, which is why we are committed to constructing the Great Lakes Tunnel Project."
The Great Lakes Tunnel will house a replacement section of Line 5 in the Straits. The concrete tunnel placed deep under the lakebed virtually will eliminate the chance of a spill in Straits while providing the region a safe and reliable source of energy, according to Enbridge.