---
Did you know? Pipeline at the center of unofficial start to summer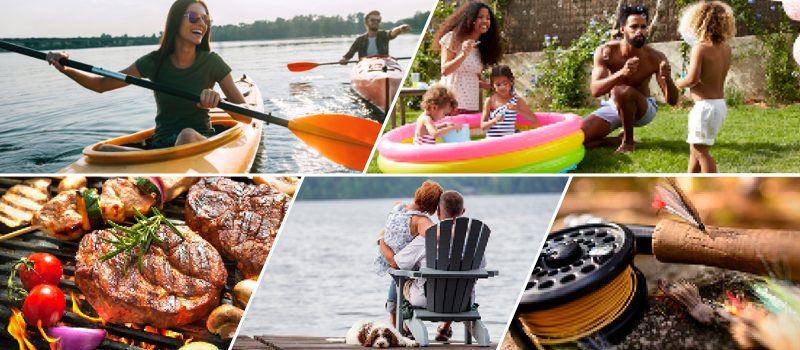 Enbridge's Line 5 plays pivotal role
May 18, 2022
The countdown has begun.
Soon, red poppies and American flags will abound.
Planned tributes, remembrances and parades in small towns and big cities alike.
Family gatherings centered on cookouts, barbecues and picnics—often ending around fire pits and campfires.
All are sure signs Memorial Day is nearing, and along with it, the unofficial start of summer.
Families and friends eagerly preparing to welcome summer provides an ideal time to highlight a generally unnoticed key component of summertime activities and events.
Whether bike riding, boating, swimming, or sitting in a resin chair pondering life, product transported from Enbridge Line 5 in the Straits of Mackinac is there.
"Only a portion of it is visible, so it is hard to think about how a pipeline adds to the enjoyment of summertime," says Mike Moeller Enbridge's director of the Great Lakes Region.
"The reality is that for more than six decades, the region has relied on product transported safely from Line 5 for many of the things we embrace, especially throughout the spring and summer."
Line 5 delivers energy for multiple uses
Along with propane to fuel grills, Moeller mentioned product from Line 5 provides fuel for the planes that will transport millions to their vacation destinations and the boats that will dot Michigan's lakes. He also explained that Line 5 is essential to the manufacture of fishing and camping gear, including tents, sleeping bags and chairs.
Oh, and that long-awaited painting project?
With a slight chuckle as to how some might view painting as a chore rather than enjoyable, Moeller nevertheless explains: "Line 5 also is integral to the manufacture of paint, paint brushes, stains, and related accessories. It supports many things, including gardening, home improvement projects and hobbies."
In a nod to Enbridge's commitment to safety, Moeller noted Line 5 is critical to the manufacture of sunscreen, sunglasses, mosquito repellant, bandages, hot/cold packs, and life vests.
Commitment to safety
"We want people to enjoy safely all that the region offers," said Moeller.
"It reflects our commitment to community, as well as continuing to invest in the safe operation of Line 5."
With that in mind, Moeller emphasized construction of the Great Lakes Tunnel is the next logical step to the continued safe operation of Line 5.
To date, Enbridge has invested approximately $100 million to construct the Great Lakes Tunnel. The critical utility infrastructure modernization project will encase in concrete a replacement section of Enbridge's Line 5 below the lakebed in the Straits. The Tunnel will eliminate the chance of an anchor strike and reduce the chance of a release to nearly zero.
"In my book, that's a win-win situation," said Moeller.