---
Enbridge Informational Center opens in St. Ignace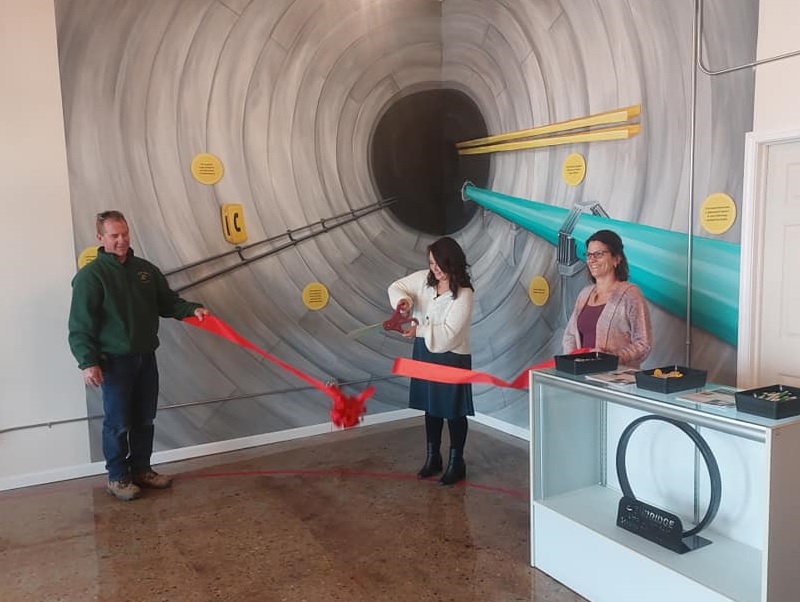 Enbridge community engagement advisor Emma Cook, flanked by building owner Jeff Dorenbush and Michigan communities ambassador Rene Halberg, cuts the ribbon Nov. 1 at the official opening of the Enbridge Informational Center in St. Ignace, MI.
Center highlights geology of Straits, history of Line 5
Nov. 17, 2021
As St. Ignace residents and visitors travel along State Street, they likely will notice a new, yet familiar, neighbor.
With the Nov. 1 opening of the Enbridge Informational Center, the community now has another resource from which to receive insights about the storied history of the Straits and Line 5. Guests can walk through the Enbridge Informational Center at their own pace and ask questions of the staff on site.
"We are eager to welcome residents and other guests to the new informational center, which complements our virtual open houses, meetings and digital resources," said Paul Meneghini, Enbridge's community engagement manager. "Our Informational Center not only reflects Enbridge's long-time commitment to this community, but also highlights in an engaging manner much of what makes the Straits unique and how Line 5 fits into that."
In addition to a rock display showing the geological formation of the Straits, the Enbridge Informational Center features several installations containing historical photos, as well as those focused on the future.
In particular, a large mural of the Great Lakes Tunnel decorates the back corner, offering a dimensional view of the tunnel. No matter where guests stand in the Enbridge Informational Center, they have a view as if they are looking through the center of the Tunnel.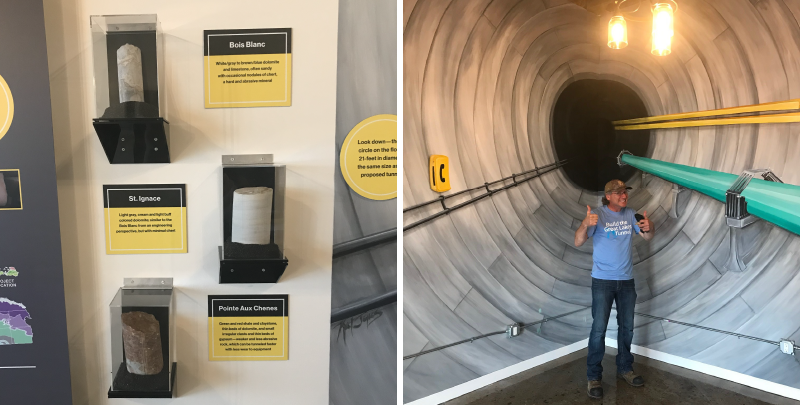 Left, core samples from the Straits of Mackinac as part of Great Lakes Tunnel preparation work. Right, Enbridge's Joe Calcaterra gives two thumbs up in front of a tunnel mural.
"The mural is one of the highlights for guests," said Meneghini. "In a distinctive way, it helps them to visualize the tunnel and how it will encase a replacement section of Line 5 to deliver additional safety and environmental measures in the Straits. We have learned quickly that it also provides an ideal backdrop for selfies."
Additionally, the Enbridge Informational Center focuses on the critical role Line 5 plays in delivering a reliable source of energy, as well as highlighting various items among more than 6,000 that Line 5 helps make possible. Enbridge will rotate the display items to reflect various seasons, showcase the additional water safety measures in place in the Straits, and provide construction updates of the Great Lakes Tunnel Project.
Over the next several months and in accordance with health and safety guidelines, the Enbridge Informational Center will introduce interactive exhibits.
The Enbridge Informational Center is at 214 N. State St. in St. Ignace. It is open from 10 a.m. to 2 p.m. Monday through Friday.