---
Labor Day celebrates long history of achievements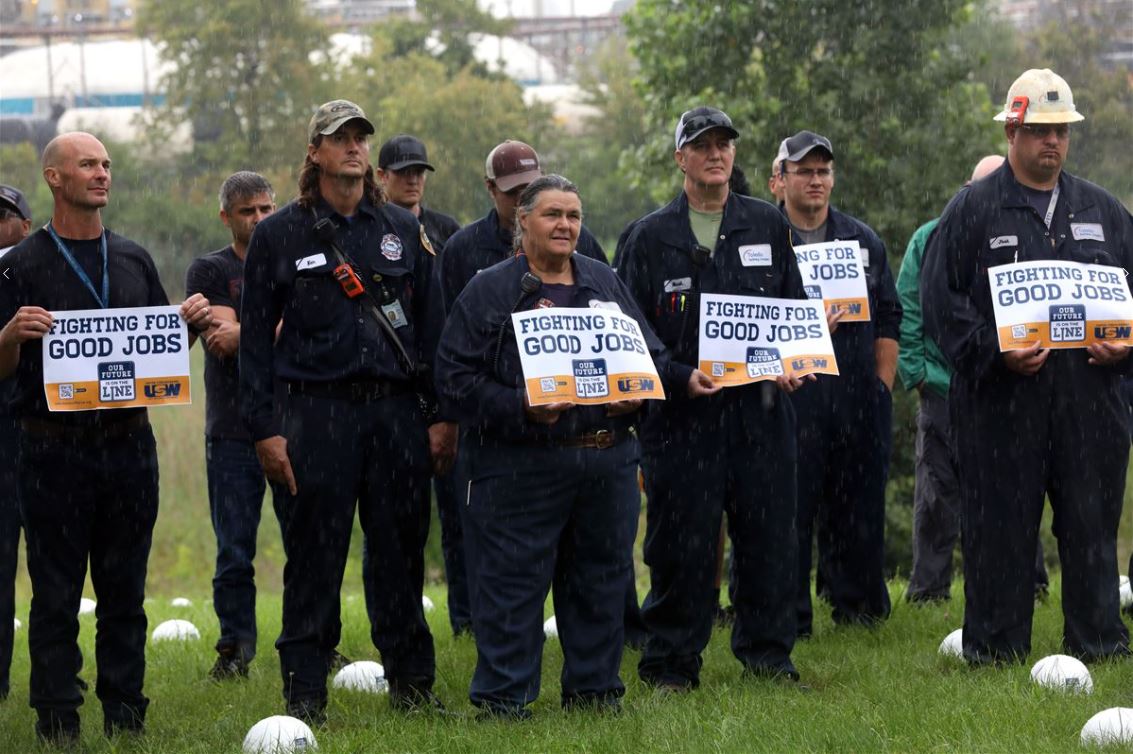 Members of the United Steelworkers (USW) Local 912 gather in July 2021 at Toledo, OH in support of Enbridge's Line 5 pipeline. "Line 5 is an essential part of our economic and environmental future," said USW Local 912 President Justin Donley at the rally. "On behalf of thousands of workers and business owners in Michigan and Ohio, and people throughout the region, we thank our leaders in Ohio for their support and call on Gov. Whitmer to reverse her decision." Photo courtesy Toledo Blade.
Workers behind the building of America also built Line 5
Sept. 1, 2021
Along with millions of others across the U.S., Michiganders will celebrate the Labor Day weekend in any number of ways—crossing the Mighty Mac, driving along I-75 to visit family and friends, or staying home and firing up the grill.
As people undertake activities that mark the unofficial close of summer, few will stop to think about how construction of the bridges, roadways and tunnels essential to travel or the pipelines that transport propane for grills, fuel and the energy that shapes every aspect of daily life, come to being.
Labor Day, which recognizes those who help build America, has roots that date almost 140 years ago, to Sept. 5, 1882, at the height of the Industrial Revolution.
According to historical accounts, an estimated 10,000 workers marched from New York City Hall to Union Square, holding the first Labor Day parade, celebrating accomplishments while pointing out working conditions and wages.
"Unequivocally, Labor Day has steep roots in the trade unions and labor movement," said Bob Lehto, Enbridge's operations manager for the northern Michigan. "What started as a parade and protest largely emerged as a way of celebrating the achievements of a workforce that serves as the backbone of the U.S."
The first Labor Day came a little more than two decades after the August 1859 founding of the first oil well, when Col. Edwin Drake struck oil in Titusville, PA.
"Col. Drake helped spur the energy industry and revolutionize manufacturing and other industries," said Lehto.
"In many ways, he helped forge the energy industry that to this day employs tens of thousands across the U.S. These workers drill wells and build the wind and solar farms, pipelines and other energy infrastructure, including Enbridge Line 5 in the Straits, which provide our necessities, as well as conveniences."
Enbridge anticipates the construction of the Great Lakes Tunnel to encase a replacement section of Line 5 in the Straits will require approximately 2,000,000 worker hours.The company is investing $500 million to construct the Tunnel, which will enhance safety and environmental measures by eliminating the chance of an anchor strike to Line 5 in the Straits.
Following 1894 legislation recognizing Labor Day as a holiday, the U.S. commemorates it on the first Monday in September. This year, Labor Day is Sept. 6.