---
Making a difference, one Michigan family at a time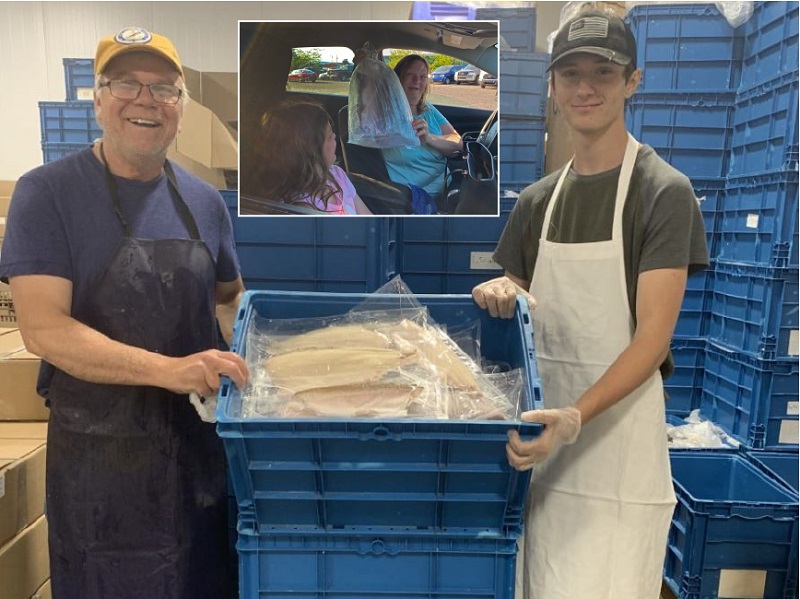 Massey Fish Co. workers show some of the 2,000 pounds of free frozen whitefish fillets they gave away June 10 in St. Ignace, MI, during an event co-sponsored by Enbridge. Inset, one of the recipients shows off her catch.
Massey Fish Co., Enbridge sponsor second annual fish giveaway in St. Ignace
June 17, 2021
Time and time again, Michiganders prove they are generous and willing to help their neighbors, even if they don't know them personally. Look what took place recently at the Saint Ignace Community Action Agency.
For more than four hours on June 10, approximately 400 people received complimentary whitefish fillets for the second consecutive year. The Massey Fish Company, which has six generations of commercial fishing experience on the Great Lakes, hosted last year's event, and Enbridge co-hosted the event this year. Gordon Food Service provided the freezer truck to keep the fish on ice.
Together, they all distributed approximately 2,000 pounds of fish to individuals 65 and older in the St. Ignace community.
"Enbridge has a long-standing commitment working within our communities," said Emma Cook, Enbridge senior community engagement analyst.
"Being able to partner with Massey Fish to benefit many St. Ignace residents makes the event doubly worthwhile."
In addition to St. Ignace, Enbridge supports through volunteerism, grants and sponsorships a variety of events and initiatives throughout the region. In 2020, Enbridge invested more than $19 million in community-strengthening initiatives across the U.S. and Canada through its Enbridge Fueling Futures program.