---
Michigan counties pass resolutions in favor of Great Lakes Tunnel Project
Oct. 21, 2020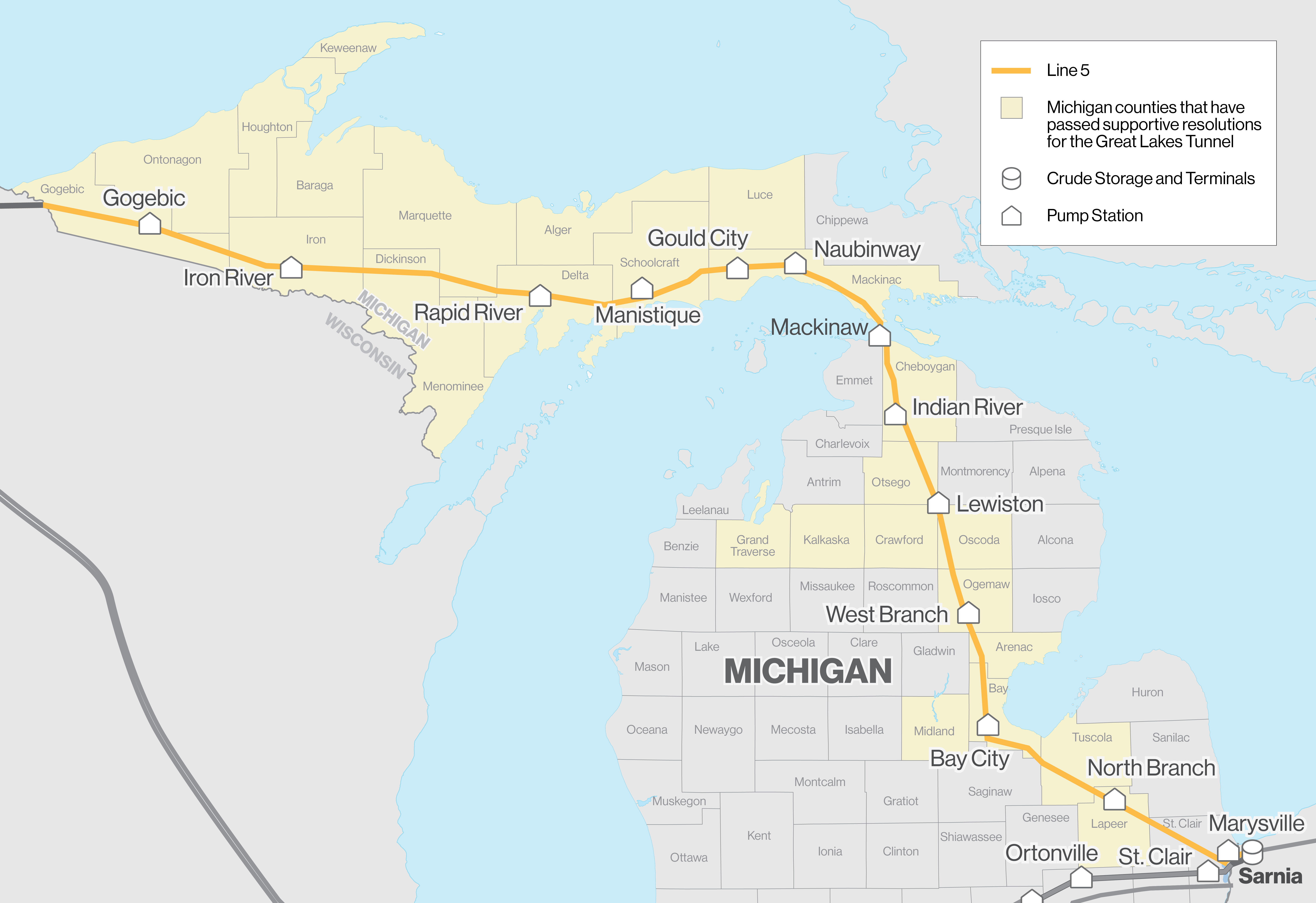 Counties with lighter shading indicate those counties have passed resolutions in favor of building the Great Lakes Tunnel Project. Click on the image above to directly download a larger version of this map.
Resolutions gain momentum, echo support of most Michiganders
Reflecting the views of the majority of Michiganders, 26 counties—including 14 of 15 in the Upper Peninsula—have passed resolutions in favor of constructing Enbridge's Great Lakes Tunnel Project that will increase environmental safeguards in the Straits, reported Enbridge today.
In general, the resolutions call for construction of the Tunnel with continued operation of Line 5 during construction to help ensure Michiganders receive uninterrupted supply of energy. Upon completion, the Tunnel will house a replacement segment of Line 5.
"Communities that realize protection of the Great Lakes and natural resources are of utmost importance to Michiganders passed these resolutions," said Candice Braddock, senior community engagement advisor for Enbridge. "They understand there is nothing partisan about the Great Lakes Tunnel Project, which is why Democrats and Republicans support it. These communities want significant infrastructure investments that don't cost taxpayers a dime, and they recognize construction of the Great Lakes Tunnel Project will create good jobs with competitive wages while protecting the Great Lakes."
In recent polls by TargetPoint Consulting and Enbridge, respectively, more than 60 percent of Michiganders across the political spectrum consistently support construction of the Great Lakes Tunnel as a viable option for the continued long-term operation of Line 5. Michiganders rely on Line 5 for propane and other fuels, as well as light crude oil and natural gas liquids used in the manufacture of more than 6,000 everyday items.
"The Great Lakes Tunnel is about reducing long-term environmental and operational risk without compromising the safe delivery of propane and other product on which the region depends," said Amber Pastoor, project director. Great Lakes Tunnel. "By removing the dual pipelines from the water of the Straits, this project addresses everyone's concerns. It is the right thing for Michigan—providing environmental protection while creating Michigan jobs and supplying essential energy for the region."
The Great Lakes Tunnel will house a replacement section of Line 5 in the Straits. Placed deep under the lakebed, the tunnel virtually will eliminate the chance of a spill and prevent an anchor strike to Line 5, Pastoor explained.
In addition to collaborating with geologists, engineers and other experts in the water tunneling industry, Enbridge is partnering with world-class contractors with vast experience building utility tunnels in conditions similar to those of the Straits.
"We spent more than a year studying the geology under the Straits," said Pastoor. "We are confident conditions are favorable to build this engineering marvel and share the opinion of most Michiganders that the Great Lakes Tunnel will be a long-term solution for environmental protection and our energy security."
To date, counties passing resolutions in support of constructing the Great Lakes Tunnel include: Alger; Arenac; Baraga; Bay; Cheboygan; Crawford; Delta; Dickinson; Gogebic; Grand Traverse; Houghton; Iron; Kalkaska; Keweenaw; Lapeer; Luce; Mackinac; Marquette; Menominee; Midland; Ogemaw; Ontonagon; Oscoda; Otsego; Schoolcraft; and Tuscola.