---
Michiganders caught in the crosshairs of Governor Whitmer's actions
Dec. 9, 2020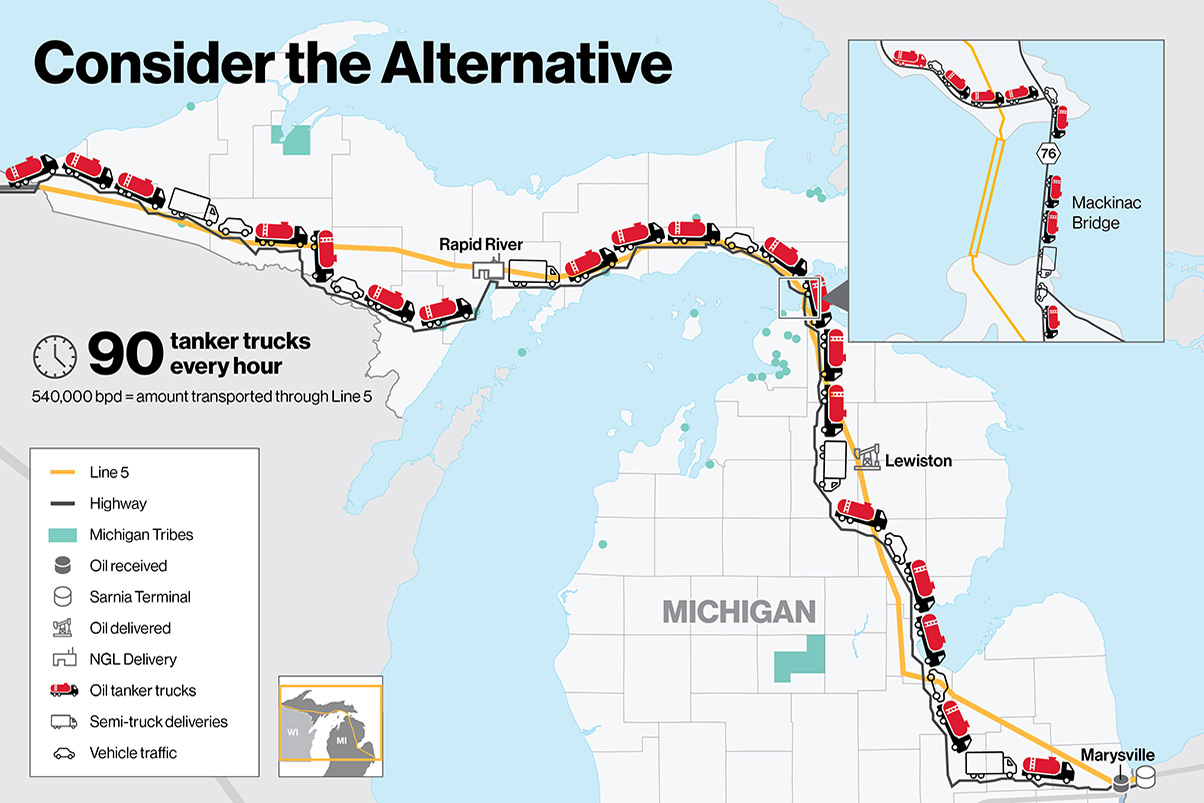 To help preserve energy supply to Michigan, Enbridge files legal action
By the Governor's recent actions, one would think the propane that more than half of Michigan relies on, or the gasoline that fuels vehicles, is expendable—let alone the phones and laptops most Michiganders use daily.
Michigan Gov. Whitmer filed action Nov. 13 to revoke the 1953 easement agreement between the State and Enbridge, whose Line 5 dual pipelines cross the Straits of Mackinac. Each day, the pipelines supply millions of gallons of refined product (gas, diesel and jet fuel) and 756,000 gallons of propane.
The dual pipelines also supply the majority of jet fuel at Detroit Metro Airport, which is a major driver of Michigan's economy. Product from Line 5 also is essential in the manufacture of phones, laptops, televisions, cleaning products, cars and trucks, and more than 6,000 other everyday consumer products.
According to Enbridge, the Whitmer Administration used outdated, inaccurate and incomplete information to bolster its case for halting the dual pipelines.
"It pointedly omits Enbridge's successful implementation of numerous safety measures put in place during the last several years, including the Enbridge Straits Maritime Operations Center that monitors ship traffic in the Straits," shared Mike Koby, Enbridge vice president of U.S. operations.
Koby reiterated that the Pipeline and Hazardous Materials Safety Administration (PHMSA), not the state, is the regulatory authority for interstate pipelines throughout the U.S., and that PHMSA has declared the dual pipelines are safe and fit for service.
He shared that the state's attempt to "usurp PHMSA's regulatory role by issuing a notice to terminate the easement under the guise of safety is unlawful, improper and has far-reaching ramifications."
Line 5 spans five states, as well as Canada's two largest provinces (Ontario and Quebec), and the entire region could feel the repercussions of energy shortages that would be triggered by the shutdown, as well as the increased fuel prices that come with them—especially in a post-pandemic economy.
"If the Administration's efforts are successful and Line 5 is shut down, it could exacerbate economic challenges faced by lower-income families and people on fixed incomes," Koby said, "as well as put economic pressures on businesses and municipalities."
In response to Gov. Whitmer's actions, Enbridge on Dec. 4 provided notice to the Court of its intent to file a motion to dismiss the Whitmer Administration's attempt to revoke Line 5's easement to operate in the Straits of Mackinac. The Court requires the filing in order to consider whether to allow Enbridge to seek a dismissal.
"The Administration's actions interfere with the comprehensive federal regulation of pipeline safety," said Koby, "and burden interstate and foreign commerce in clear violation of the U.S. Constitution and federal law. This step is a notice of our intent to file a motion to dismiss and is the first step before filing the motion itself."