---
New study confirms safety measures in the Straits are effective
Nov. 4, 2020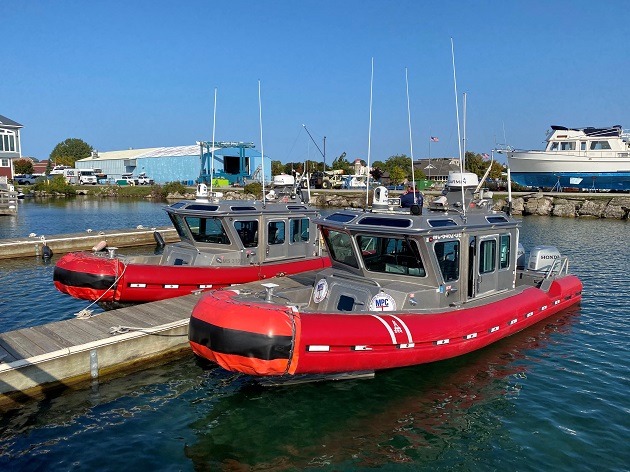 Enbridge positions at least one patrol boat over the Line 5 dual pipelines 24 hours a day, seven days a week, weather permitting, in addition to the patrol boats that perform on-water observations of large vessels that could pose a risk to the dual pipelines.
Great Lakes Tunnel is next step
An independent, comprehensive study examining the effectiveness of Enbridge's safety measures in the Straits shows that Enbridge's enhanced safety measures have reduced to near zero the chance of an anchor strike to Line 5.
According to the study by C-FER Technologies, Enbridge has reduced the possibility of an incident in the Straits by 99.5 percent through the use of its combined safety measures. Key to those efforts is the Enbridge Straits Maritime Operations Center (ESMOC) that opened fully in the Summer 2020.
ESMOC is the "nerve center" for activity in the Straits near Line 5. A team staffs ESMOC 24/7, monitoring and coordinating the numerous safety measures Enbridge has put in place, including:
Operating 24/7, weather permitting, at least one patrol boat directly over Line 5 to monitor vessels in proximity to Line 5 in order to identify potential anchor strike risk
Transmitting electronic messages through the Guardian:protect system to notify vessels of the location of Line 5 and to inform them that they are entering a "no anchor zone," which is regulated by the U.S. Coast Guard
Communicating directly with vessel staff to confirm the vessel's anchors are secured before the vessel crosses Line 5
The Guardian:protect system also digitally marks the location of Line 5. As such, the location appears on a ship's navigation system. If an issue arises with a vessel, Enbridge crews immediately can halt pipeline operations, as well as attempt to notify the vessel directly and contact the proper authorities as warranted.
"The C-FER study confirms our measures in the Straits to reduce significantly anchor strike risks are working," says Enbridge's regional operations director Mike Moeller. "The next logical step to enhance these safety measures is construction of the Great Lakes Tunnel Project to house a replacement segment of Line 5 in the Straits. We look forward to engaging local workers to construct this engineering marvel that will serve generations of Michiganders."
The most recent study is the second from C-FER pertaining to Enbridge's safety measures. In a 2018 study, C-FER analyzed risk prior to Enbridge implementing the coordinated safety measures.
"We felt it important to commission a second study to assess the measures we put in place," explains Moeller. "We hope Michigan residents find reassurance knowing the safety measures are working to keep the community and the Straits safe."
Enbridge has submitted to the U.S. Environmental Protection Agency the results of the study, "Evaluation of the Anchor Strike Risk Reduction System for the Line 5 Crossing of the Mackinac Straits."
The full report is available for review here.