---
Waterway safety is key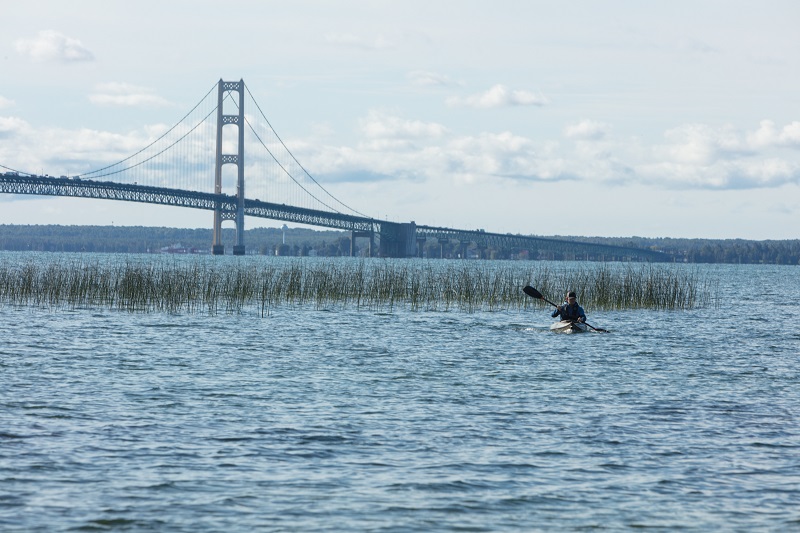 May is National Water Safety Month
May 11, 2022
Did you know where the name Michigan comes from? Some people say it's a variant of an Ojibwe word meaning "large water" or "large lake."
The cool, clear water of the Great Lakes pulls many Michiganders to Lake Michigan and Lake Huron.
Second only to Alaska, Michigan has the second longest shoreline (3,200 miles, 4,100 counting the islands) in the United States.
With warm temperatures on the horizon, Michiganders are getting ready to grab their fishing rods and reels, boats, and kayaks and hit the lakes, rivers, ponds and streams.
As they prepare to enjoy the many recreational opportunities Michigan's waterways offer, comes the reminder to do it safely.
"May is National Water Safety Month," said Bob Lehto, Enbridge's operations manager for the northern Michigan area. "We want everyone to enjoy Michigan's beautiful waters while keeping safety at the forefront, as we do with operating Line 5 in the Straits of Mackinac."
The World Waterpark Association, the National Recreation & Park Association, the American Red Cross, and the Association of Pool & Spa Professionals created National Water Safety Month. To help promote waterway safety, below are some reminders and tips:
Follow facility and recreational venue rules, including staying in designated areas.
Understand noodles, floatables and loungers do not replace a life vest.
Provide adult supervision of children ─ even if they know how to swim ─ around water.
Do not play "breath-holding" games.
Learn to perform CPR on children and adults.
Achieve water competency by avoiding common dangers, developing fundamental water-safety skills and knowing how to prevent and respond to drowning emergencies.
In addition to oceans, lakes and other large bodies of water, waterway safety also applies to ponds, creeks, streams, spas, and swimming pools.
Keeping the Straits safe 24/7
Enbridge is doing its part to keep the Straits of Mackinac safe for people who use this important waterway.
The company created the Enbridge Straits Maritime Operations Center (ESMOC) to protect the Straits. Staffed around the clock, the ESMOC is staffed by a team that monitors and coordinates multiple Enbridge safety measures designed to prevent an anchor strike on Line 5's dual pipelines, which are anchored to the lakebed. These measures include:
The Guardian Protect system, which identifies approaching vessels at the Straits and issues a safety notification of the "no anchor zone."
Radio contact to vessels to confirm anchor position, as needed.
High-definition cameras installed at both ends of the Straits.
Weather monitoring tools for tracking wind speed and wave heights in the Straits.
"Never leave safety to chance," said Lehto.
"It is a priority that requires planning and diligence and increases the chances that everyone truly can enjoy the many activities Michigan's waterways offer."
Visit the Red Cross website for additional information on water safety.