---
Apprentice welders from 11 states test skills in Madison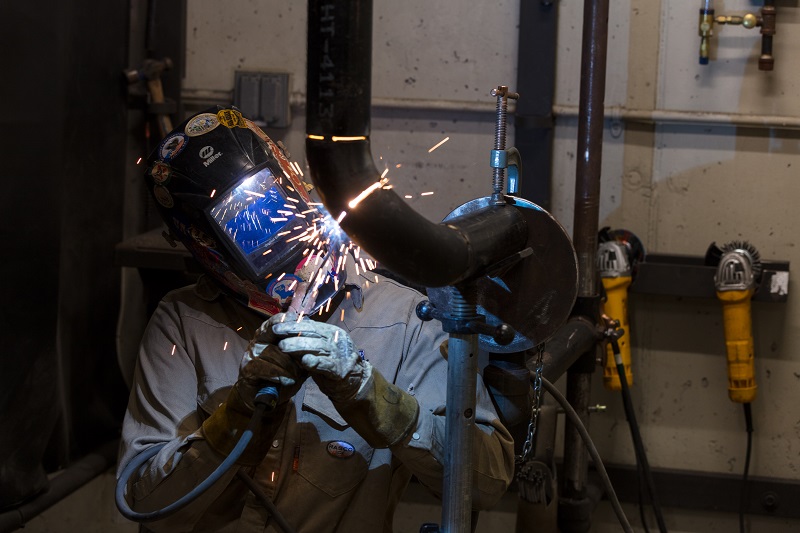 Apprentice welder competing at Steamfitters Local 601 Training Center Madison, Wisconsin.
Welding competition draws the best of the best
June 21, 2022
"At this year's competition, we have 32 contestants representing five different welding crafts," explained Steve Breitlow Vice President of UA 4th District adding that apprentice competitors came from eleven states to participate in the June 9 event. "It's very exciting. A lot of people here are very proud to represent their local. It's just a tremendous opportunity to show off our training and our skills that all our locals do throughout the region."
"The caliber of people who are here are the best in their home local, and now they're coming here to compete against other states of the best people in their locals," explained Erik Oleren President of competition host Steamfitters Local 601 in Madison. "The winners of these five competitions will end up going to a national contest in Ann Arbor in August, and they'll compete on an international scale with Australia, Ireland, Canada and all the United States."
Steamfitters 601 is just one of the locals preparing to help build the Line 5 Segment Relocation Project in northern Wisconsin. This competition is a testament to the level of skill demanded of union welders.
"At the start of the event they hand us a sheet . . . and it's a pretty big-time crunch. You have to figure things out quick. Do your math right away and get the ball rolling," said competitor Jarod Maes Steamfitter apprentice for Local 400.
"It's a very competitive environment, and the pressure's on," added Oleren. "They are strictly scored, skill by skill."
Karin Dahlin, an apprentice from Minneapolis's Local 539, was one of the day's winners. "It's a huge honor . . . I am the first-generation pipefitter in my family, and it's a second career for me. So, it's not too late. I would love to see more women get into the trade."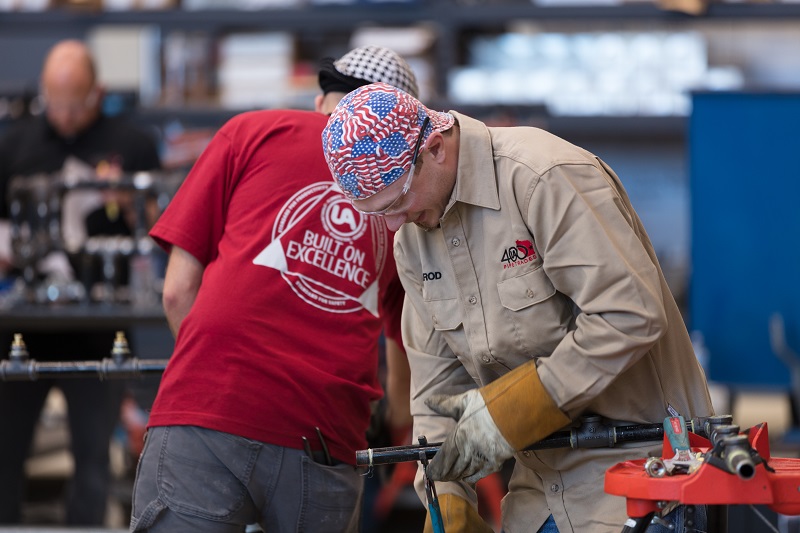 Apprentice welders compete at the Steamfitters Local 601 Training Center Madison, Wisconsin.
The future looks bright
"The contest is great but we're really about creating lifelong careers for these young folks," said Breitlow 4th District Vice President of the United Association of Journeymen and Apprentices of the Plumbing and Pipefitting Industry of the US and Canada.
A project labor agreement signed for the Line 5 Segment Relocation Project ensures it will be built by a trained union workforce creating 700 family-supporting construction jobs and pumping millions of dollars in project-related spending into local communities.
Enbridge is seeking necessary permits for the project.
The Bad River Band of the Lake Superior Tribe of Chippewa filed a federal lawsuit in 2019 seeking to shut down Line 5 and remove it from the Reservation. The proposed re-route would move the pipeline off the Reservation while allowing it to continue to provide propane and other energy supplies for the Upper Midwest.
Line 5 supplies ten regional refineries in Ontario, Quebec, Michigan, Ohio, and Pennsylvania, producing transportation fuels and countless consumer goods. Millions of people rely on Line 5 for energy every day.
"Infrastructure is crucial to all the crafts here. If we don't have solid infrastructure and opportunities for fuel and energy in this country, none of us have jobs, none of us go to work, none of us enjoy the comforts that we all experience every day," said Breitlow.
He added, "These young people are performing like champions…and if today's contest is any indication, our future is looking bright."