Operations
Safety is the very foundation of our business. At Enbridge, we believe that all pipeline incidents can be prevented.
We back up that belief with an aggressive prevention program to maintain the fitness of our systems. We also back up that belief with vigilance, hard work and an abundance of caution.
Explore our commitment to pipeline safety, on land and water, through this interactive experience.
PLEASE NOTE: The objects and terrain presented in this experience may not be to scale.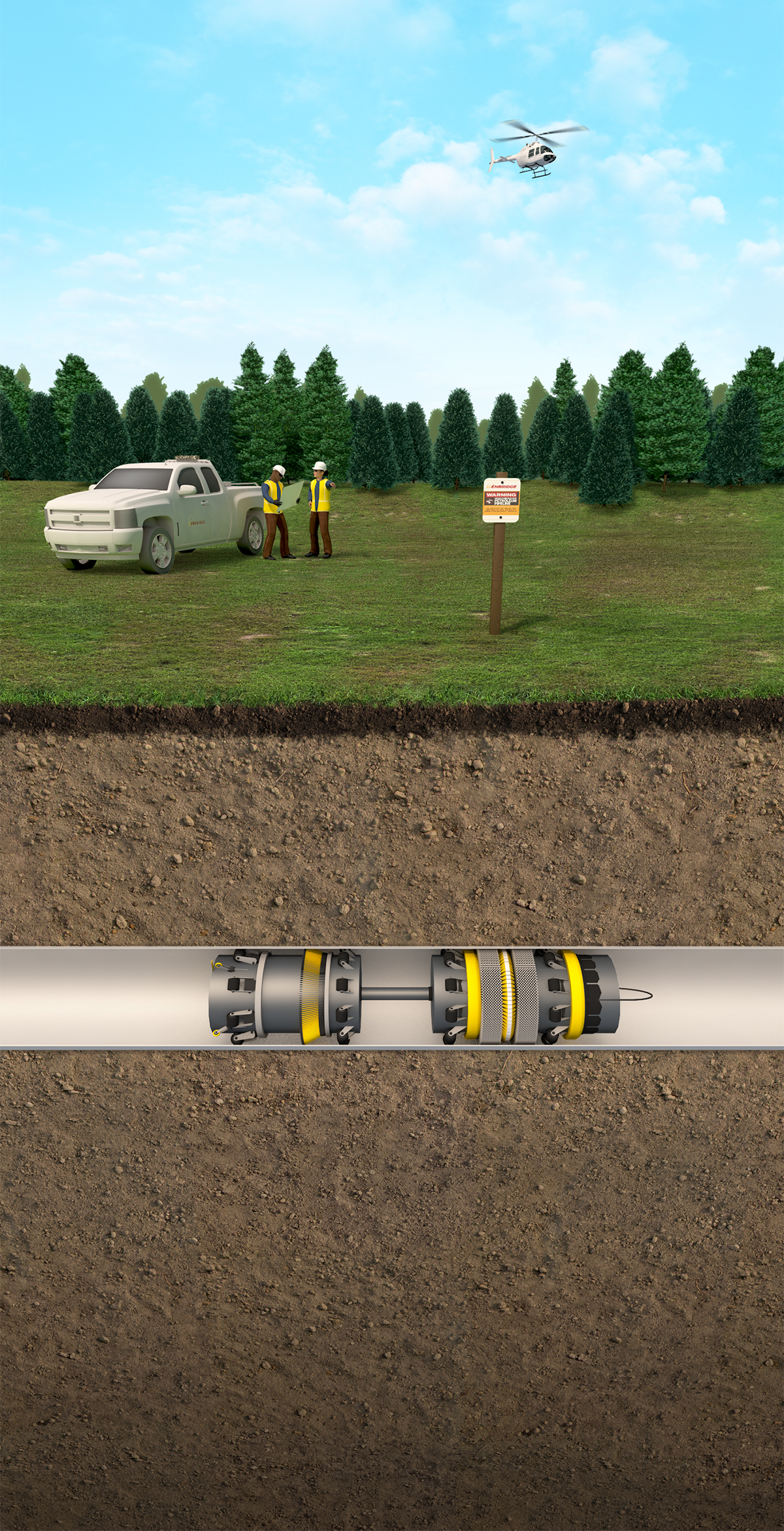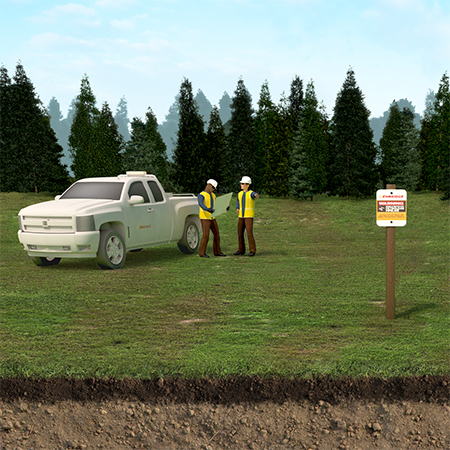 While our new enbridge.com website is almost universally mobile-friendly, this particular interactive experience is best experienced in a desktop or laptop environment. Enjoy!
Safety: The very foundation of our business.
When it comes to fueling the quality of people's lives, safety and reliability are built in to our energy infrastructure.
We invest heavily in an aggressive prevention program, which invested more than US$900 million (nearly C$1.2 billion) in 2018 on programs that help us maintain the fitness of our systems and detect leaks across our operations.
Take a by-the-numbers look at our performance on pipeline and facility integrity in 2018.
---
Safe Systems 24/7/365
An overview of our approach to pipeline safety.
DOWNLOAD THE PDF
Eyes in the sky.
Regular aerial patrols
We regularly fly all of our 27,000 km (17,000 miles) of crude oil and liquids pipelines—watching out for potential issues, including excavation or third-party activity near our pipelines that might pose a risk to safety.
Meticulous selection of pipeline routes
We plan all routes in consultation with landowners, First Nations, Metis and Native Americans, neighboring communities, environmental groups and regulators. We propose routes chosen to minimize the impact on the land, the environment and wildlife.
Preventing third-party damage
We communicate regularly with our neighbors about our systems, projects and operations, to make sure they know how to stay safe around our facilities, pipelines and distribution systems. This helps to reduce third-party damage, one of the leading causes of pipeline leaks.
Boots on the ground.
Regular ground patrols
We regularly patrol pipeline rights-of-way, continuously monitor our emergency hotlines, and respond to any potential problems along our rights-of-way.
Call/Click Before You Dig programs
Buried utilities deliver important services we all rely on—such as electricity, water, cable and data, as well as oil and gas transportation and distribution. To protect public safety, and the systems that deliver these key services, one-call and online programs exist across the United States and Canada for anyone planning to dig, whether it's construction excavation or landscaping activities like planting trees or building fences and decks.
Pipeline monitoring
We monitor our entire pipeline network around the clock, 365 days a year, from our dedicated pipeline control center.
Specially trained staff, working with sophisticated computer monitoring systems,
keep a close watch over the operation of our pipeline network to keep it running safely and reliably.
Learn more
Monitoring round the clock
Enbridge's entire crude oil and liquids pipeline network is monitored 24/7/365 by a dedicated team of specially trained Enbridge staff members at our Pipeline Control Center in Edmonton, Canada. These controllers undergo a comprehensive six- to nine-month training program before they are qualified to operate consoles independently.
All system alarms generated by our automated leak detection equipment, and relayed to our control center staff, are assumed to be leaks until they are conclusively proven otherwise.
We monitor our pipelines for possible leaks using multiple computerized systems, each with a different focus and each using different technology, resources, and timing. Together, these methods provide overlapping and layered leak detection capabilities. Learn more about leak detection and prevention systems for our crude oil network here.
Keeping a watchful eye
Our gas transmission pipeline network is also monitored 24/7. Trained staff at Enbridge's Gas Control Center in Houston keep watch over Enbridge's vast network of transmission pipelines as we safely and reliably transport natural gas from various supply sources to key delivery markets across the United States.
It's their job to keep the pipelines operating safely, monitor all our facilities and prevent incidents from occurring. Learn more.
From the outside in
Enbridge is testing promising new external leak detection systems to add to our toolkit. These include sophisticated devices that use sensitive acoustic sensing to "listen" for leaks. We've led industry partnerships to test innovative leak detection methods, including vapor-sensing tubes, fiber optic cables, and hydrocarbon-sensing cables.
Data, Detection and Diligence (Part 1): A 'hands-on' leak detection method
Data, Detection and Diligence (Part 2): 'Blind tests' that help keep eyes wide open
Data, Detection and Diligence (Part 3): Keeping watch with a 'defense in depth' philosophy
Data, Detection and Diligence (Part 4): Practice makes perfect with world-class training tools
A commitment true as steel.
The gold standard in pipelines
The safety of our pipelines starts with the best steel and the best-made pipe—the gold standard when it comes to pipelines.
Our pipe steel itself is made of 96% recycled metal. This alloy is not only a greener product, but also represents excellent chemistry for line pipe.
Weld quality in the pipe mill is examined by the manufacturer using automated ultrasonic devices, and Enbridge inspectors audit those results.
Adapting and harnessing technology.
Better, safer pipelines
Delivering energy safely is a science that's becoming increasingly sophisticated.
We engage leading experts in the field to advance and refine inline inspection technology. This includes supporting the research, development and testing of new tools and technologies.
Explore our Innovation section
Using welding's innovative "arc."
Harnessing decades of welding innovation.
Our pipeline projects now benefit from more than 50 years of welding engineering and pipe design innovation.
In the pipe mill, Enbridge's supplier uses a Double Submerged Arc Welding (DSAW) process to create strong seam weld joints on either helical seams or straight seams.
In the field, crews working on major projects join together segments of pipe with girth welds, using the Gas Metal Arc Welding (GMAW) process. Qualified welders operate automated welding units—one that performs an initial weld from the interior, another that completes the work from the exterior.
Out on the pipeline right-of-way, an independent third party tests all welds, primarily using ultrasonic technology, with Enbridge auditors reviewing all of the scans as a second pair of eyes on the initial evaluations.
Learn more about the welding component of Enbridge's major projects.
The 'pig-and-dig' approach
Preventative pipeline maintenance
Healthy and fit for purpose.
Healthy pipelines
Maintaining the fitness of our pipes is key to ensuring a safe network. We've never experienced an internal corrosion failure on our mainline network, and we employ multiple measures to ensure pipeline fitness, including:
Robust pipeline coatings, consisting of fusion-bonded epoxy, to curb corrosion
Regular monitoring and inspections
Cathodic protection—applying a low electrical current to the steel in the pipeline—to protect against corrosion
Enforcing stringent quality standards—for viscosity, density, temperature and other factors—for every batch of oil entering our pipeline network
Injecting chemicals into the oil in our lines to neutralize corrosion
Regular inline cleaning with specialized tools
Technology from the inside out.
Focused on prevention
We are focused on preventing incidents before they occur, and ongoing pipeline inspections play a key role in our prevention strategy.
We complete hundreds of in-line inspections annually on our pipeline and distribution systems. These inspections allow us to monitor the physical condition of the pipelines from the inside out, using sophisticated tools to gather the information we need to keep our systems healthy and in excellent condition.
Hydrotesting: An extra fitness check.
Hydrostatic testing
We hydrostatically test all new pipelines prior to putting them into service.
Each pipe section is filled with water and subjected to 1.25 to 1.5 times the maximum allowable operating pressure to ensure the strength and structural integrity of the pipe, welded joints, valves and fittings.
As with all our activities, we conduct hydrostatic testing with a focus on protecting the safety of our neighbors and the public, our employees and the environment.
Learn more about our hydrostatic testing procedure.
Cracking the code
Enbridge and NDT Global, a leading ultrasonic pipeline inspection firm, continue to advance a multi-year project to develop a next-generation in-line inspection (ILI) tool—or robot, in NDT Global's lexicon—that will advance crack assessment prowess in crude oil pipelines.
LEARN MORE
JEREMY'S STORY
Jeremy Ward's phone rang at 10:37 p.m. on Friday, April 17, 2015. One of Enbridge's pipeline inspection providers, Pure Technologies, was calling.
That afternoon a local Enbridge pipeline maintenance crew and a team from the inspection company had retrieved a SmartBall tool from Line 21, which carries crude oil from Norman Wells in Canada's Northwest Territories to Alberta. The tool had traveled inside a segment of the pipeline over the previous number of days, its acoustic sensors listening for any telltale sounds that could indicate a tiny leak.
"It's never going to be good news when you get a late-night call after you've pulled an inspection tool," says Jeremy, who is a member of the team that manages and monitors the health of Enbridge's pipelines. "Whenever we retrieve a tool, the vendor takes a quick look at the data, to see if there's anything that jumps out as needing urgent attention. That's why they were calling. They had found what looked like signs of a leak."
Within minutes, Jeremy had informed his boss and then contacted the Control Centre Operations in Edmonton, and by 10:47 p.m., ten minutes after the call from Pure Technologies, Enbridge had shut the line down.
What followed over the next few days was a race against time involving nearly two dozen people to determine the exact location where the SmartBall had heard something and to get a team on the ground to investigate.
By Saturday morning the team had identified a 2 km (1.2 mile) stretch of pipeline about 415 km (260 miles) south of Norman Wells. A crew flew to the location and did an aerial and ground search. They found no signs of a leak.
"At the same time other members of the team were back at the office, reviewing data from previous inline inspections, including from a different tool we'd pulled from the line on the same day, to see if they could find any other evidence to help us refine our search," says Jeremy.
Over the weekend, based on more detailed analysis of the data, the ground team searched six specific nearby locations along the pipeline. Still no evidence of a leak.
"While this was all happening, the controllers in Edmonton were watching the pressure in the pipeline," Jeremy says. "It held steady, which is a good sign that there are no leaks and the system is intact."
Even with this positive news, Enbridge proceeded with caution. For three more days, as the investigation progressed, it kept the line shut down. On Wednesday, April 22, Enbridge safely restarted Line 21.
"At the end of it, after we'd gone through all the procedures, it turned out to be a false alarm," Jeremy says. "Some people might look at that and say it was a waste of effort, but I don't think so. That's our approach to safety. We weren't going to restart that line until we'd run down every lead and considered every possibility to confirm it was safe."
Jeremy Ward
Program Manager, Pipeline Integrity
Smart pigs, safe pipes
Since 1998, Baker Hughes, a GE company, has performed more than 400 pipeline inspections across Enbridge's pipeline network, producing more than 70,000 kilometers' worth of inspection data.
Read our Smart Pigs, Safe Pipes blog series to find out how in-line inspections are advancing safety in the pipeline industry.
LEARN MORE
WALTER'S STORY
In 2014 we completed 205 in-line inspections across all our systems, sending sophisticated tools through our pipelines to check on their condition from the inside. But what does an inline inspection involve?
"On our crude oil pipeline systems the process of doing an inline inspection involves dozens of people," Walter says. "From field personnel and our control center operators to the extended teams who oversee the health of our pipelines and the external partners we work with to continually refine and improve the sensitivity and accuracy of the tools we use to ensure our systems are in top shape."
While each in-line inspection is unique, a typical one is planned months in advance. Before we run our inspection tools through a section of pipeline, we must first run other tools to clean and prepare the pipe so it is ready to be scanned from the inside out.
Only then can an in-line inspection take place. The tools, which use ultrasound or a technology similar to that found in a medical MRI scanner, is introduced to the pipe and is propelled along by the oil flowing through the system.
"The oil on our systems moves at between 2.5 and 5 miles (4 and 8 km) per hour, about as fast as a person walks, so it can take days or even weeks for an in-line inspection tool to travel along the pipeline. All the while it is scanning the pipe from the inside, collecting and storing a huge amount of information about the condition of the pipeline on a millimeter by millimeter basis," Walter says.
"Further down the line we retrieve the tool and download the inspection data. Our expert engineers and external specialists then pore over this data, completing a preliminary review within hours to quickly identify anything that requires immediate action, followed up by a deeper analysis over the following weeks and months, to identify and locate features within the pipeline that require closer attention over the longer term."
All told, Walter says, a typical inspection, from when we first start planning to when we have completed the run through the pipe, analyzed the data and passed along our findings to the pipeline maintenance teams, costs millions of dollars and takes approximately 12 months.
Each in-line inspection is a big, complex job involving many people and lots of resources," says Walter. "Across Enbridge we've done nearly 700 of them in the last three years because it's an important part of how we keep our pipelines in great shape and operating safely.
Walter Kresic
Vice President of Pipeline Integrity
Emergency response readiness
While our primary focus is on preventing incidents from occurring, it's also important to be prepared. We hope we never have to respond to a pipeline leak—but if we do, we're ready.
LEARN MORE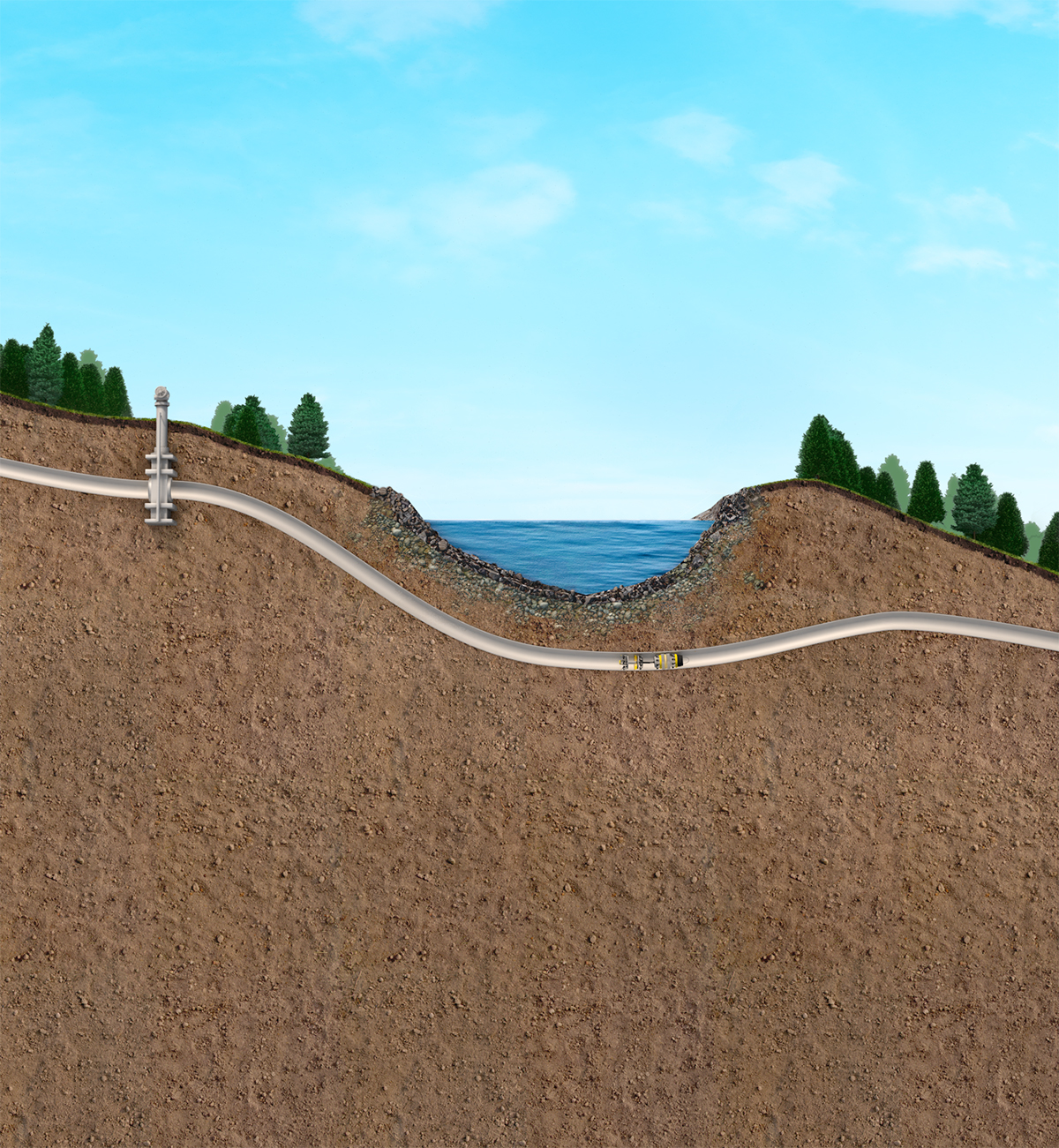 Ready and willing in the depths of winter.
Responding quickly and effectively—in any season
WATERCOURSE CROSSINGS
Water is a treasured resource for all of us. Enbridge takes special precautions
to protect the environment where our pipelines cross waterways or other sensitive areas.
Intelligent, remotely controlled valves
Isolation valves, which control or stop the flow of crude oil, are a key piece of pipeline safety equipment. We monitor our pipeline system 24/7/365, and we can remotely close a valve immediately on detection of a potential problem—with full closure within three minutes of activation.
Right valves, right locations.
Intelligent Valve Placement
See how we use isolation valves in a variety of situations to control the flow of crude oil and liquids in our pipelines.
Minimizing the impact with Horizontal Directional Drilling (HDD) technology.
Horizontal Directional Drilling
We use horizontal directional drilling to minimize disturbance and increase the safety of our systems when we lay pipelines beneath large rivers or sensitive crossings.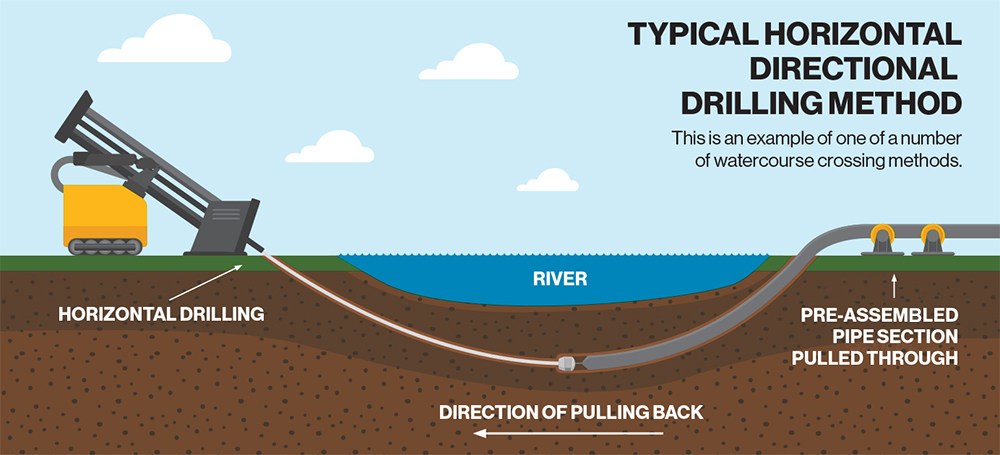 Going below the surface.
Underwater inspections
As with surface examinations, our high-tech in-line inspection tools examine the pipe inch by inch, from the inside out.
In special cases, like our Line 5 Straits of Mackinac underwater crossing in northern Michigan, we also use specially trained scuba divers and remotely operated submersibles to thoroughly examine the pipe's exterior and its immediate environment.
Water access in times of drought.
'You lose that water access ... that is devastation'
Find out how we worked with Saskatchewan irrigation farmers during our Line 3 pipeline replacement to ensure they had a vital supply of water for their crops.
You've seen how we build safety into our operations. Now, find out how Enbridge actively supports research and innovation as we adapt and harness technology to improve safety and reliability.