---
Ridgeline Expansion Project Opportunity
Enbridge is proud to be working with the Tennessee Valley Authority (TVA) on a project that would provide affordable and cleaner energy for the utility's customers.
We are proposing to design, construct and operate the Ridgeline Expansion Project (Ridgeline), an expansion of Enbridge's existing East Tennessee Natural Gas (ETNG) system.
The purpose of this proposed project is to provide natural gas to serve one of the power generation options that TVA is currently considering to replace the Kingston Fossil Plant. Replacing coal-fired generation at the Kingston Fossil Plant with natural gas would provide Tennesseans with a lower-carbon, cleaner-burning energy source as we transition toward the future.
The proposed scope includes the installation of approximately 117 miles of 30-inch pipeline looping, an approximately 8-mile 24-inch lateral and one electric-powered compressor station.
The majority of the route for the proposed pipeline would be located within the existing system's right-of-way where possible to minimize impacts to landowners and the environment.
Ridgeline Project Virtual Open House
Ridgeline is in the preliminary phase of project development. Should both Enbridge and TVA reach a positive final investment decision to move forward with the project, there will be many opportunities for public review and input during the multi-year regulatory review processes. Our focus is to engage with local stakeholders to discuss the details of the proposed project and work with landowners to identify the best route prior to engaging regulatory agencies.
All necessary regulatory authorizations from the Federal Energy Regulatory Commission (FERC) and other federal and state agencies are required before construction of the project can commence. Pending a positive final investment decision and the approval and receipt of all necessary permits, construction would begin in 2025 with a target in-service date of fall 2026.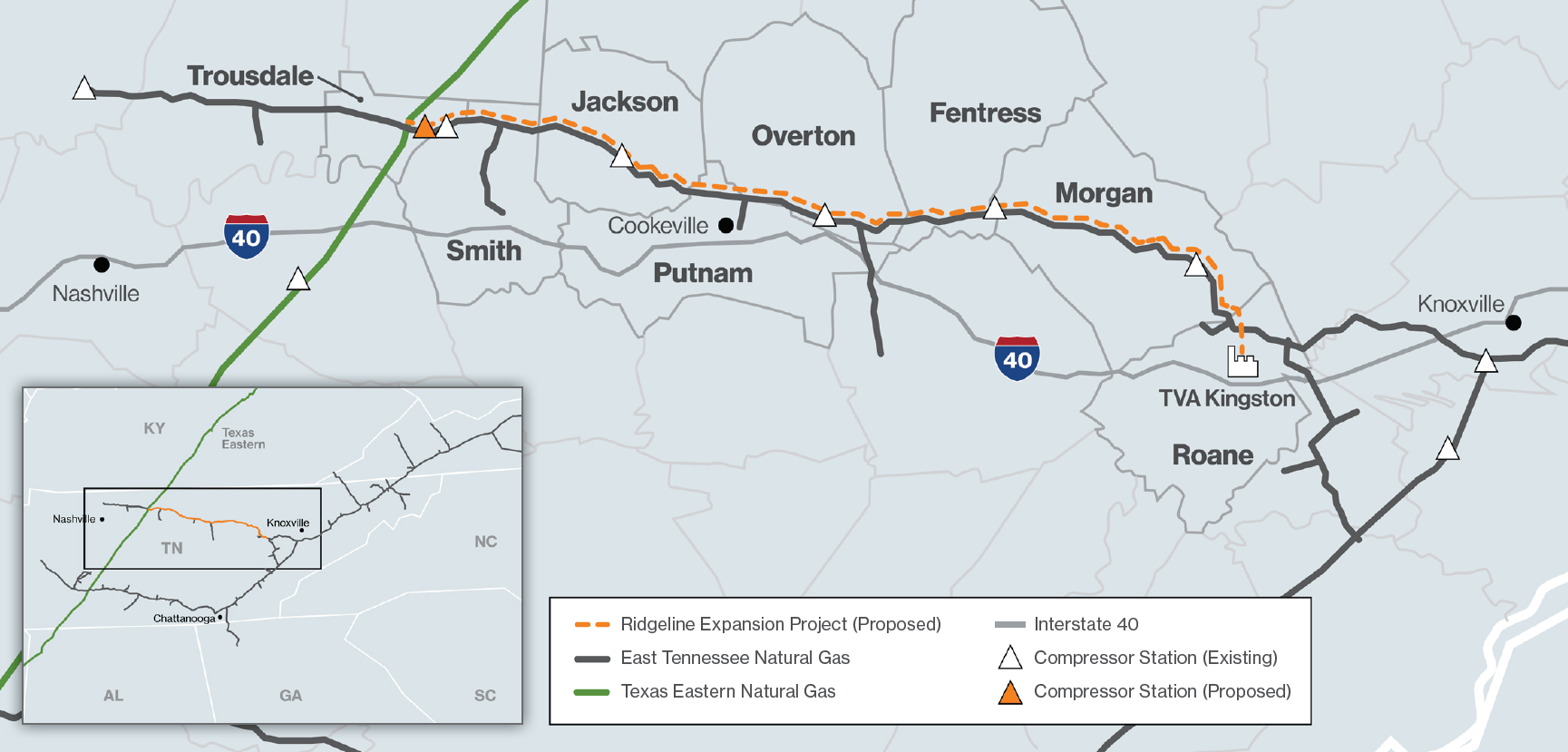 Click image to enlarge
Project overview:
Type: Natural gas pipeline
Status: Under review
Expected to transport: Natural gas
In-service target date: Fall 2026
Ownership: Enbridge Inc. (100%)
---
Project Information:
Project Timeline

TVA
June 2021
TVA files Notice of Intent
TVA public scoping meeting
Summer/Fall 2022
TVA draft Environmental Impact Statement
TVA public comment period
Spring/Summer 2023
TVA final Environmental Impact Statement
TVA Record of Decision
Enbridge
Fall 2021:
Enbridge held landowner open houses
Spring/Summer 2022
Enbridge begins FERC pre-filing process
Enbridge holds community open houses
Spring/Summer 2023
Enbridge begins FERC application process (depending on TVA decision)
FERC public comment period
Fall 2025: Construction begins
Fall 2026: Project completion