---
Manhattan and Flanagan Terminals
Both the Flanagan Terminal and the Manhattan Terminal are both vital components of Enbridge's crude oil and liquids operations in the U.S. They are both important hubs on Enbridge's cross-continent pipeline network that delivers Canadian crude to U.S. refineries, meeting North America's energy needs and fueling quality of life.
Manhattan Terminal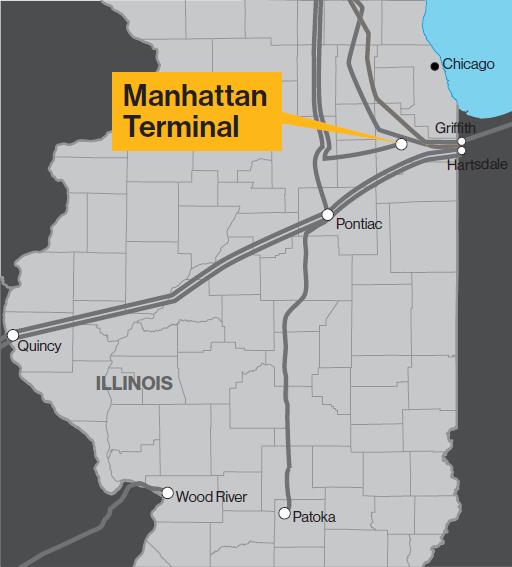 In 2010 Enbridge built a new storage terminal for light hydrocarbons to support the transportation of diluent from the Chicago region to Western Canada. This terminal is located outside Manhattan, IL, west of Chicago. It covers more than 30.8 acres, with an additional 31.7 acres of adjacent property outside of the terminal site in Will County.
Manhattan Terminal contains three above-ground light hydrocarbon storage tanks, with a shell capacity of about 1 million barrels. Four inbound pipelines connect to Manhattan Terminal, as does Enbridge's Line 13 (Southern Lights) Pipeline, a 20-inch-diameter line that travels nearly 1,600 miles to Edmonton, AB, Canada to deliver about 180,000 barrels of diluent a day.
Find out how diluent helps move heavy crude oil via pipeline.
Flanagan Terminal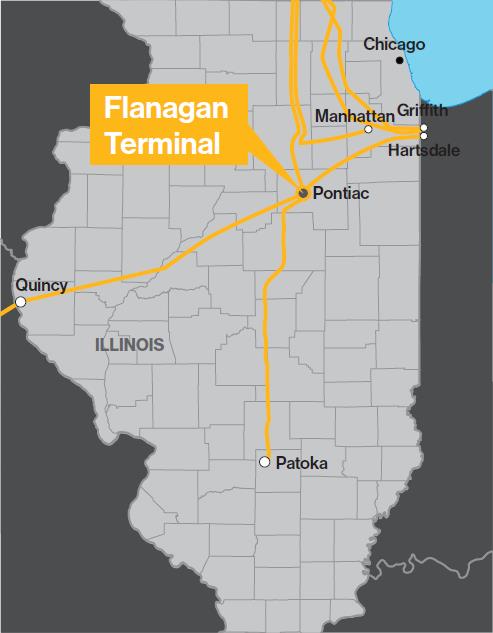 In 2005 Enbridge acquired Flanagan Terminal, located in central Illinois near Pontiac, IL. The terminal now covers more than 400 acres in Livingston County, with 16 above-ground crude oil storage tanks (plus one more under construction) and a shell capacity of about 4.9 million barrels.
Flanagan Terminal is a lynchpin of Enbridge's North American liquids pipeline network, connecting Canadian crude oil production to refining centers in the U.S. Midwest and Gulf Coast. The terminal connects to one inbound pipeline and five outbound lines.
Flanagan Terminal: Connecting pipelines
Line 61
Line 55
Line 59
Inbound from Superior, WI (42-inch pipeline)
Outbound to Cushing, OK (22-inch pipeline)
Outbound to Cushing, OK (36-inch pipeline)
Line 62
Line 63
Line 78
Outbound to Schererville, IN (22-inch pipeline)
Outbound to Patoka, IL (24-inch pipeline)
Outbound to Griffith, IN (36-inch pipeline)