---
Agencies, Enbridge partner for waterway safety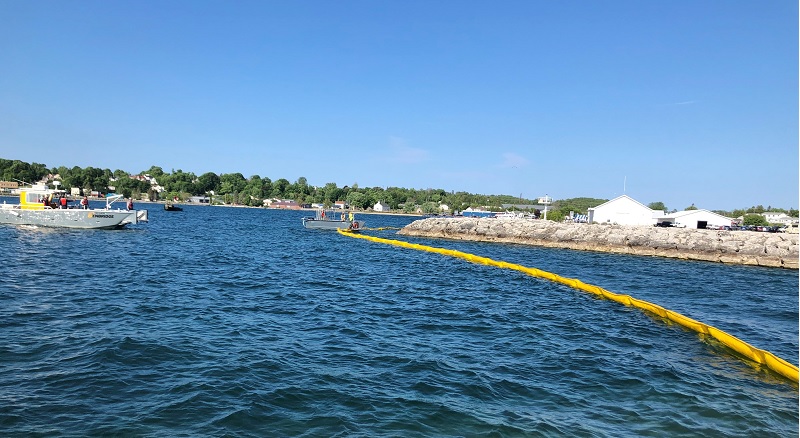 Containment boom is deployed during a multi-agency waterway emergency response exercise at St. Ignace, MI on June 10. Enbridge participates in exercises like these across North America every year to test and sharpen our emergency preparedeness.
St. Ignace waterway preparedness exercise draws dozens of first responders
June 30, 2021
Helicopters, boats and a lot of action were in play all in the name of safety.
Mackinac County Emergency Management organized and hosted a comprehensive, multi-agency waterway response preparedness training in St. Ignace earlier this month.
The June 10 training exercises drew dozens of local first responders, including the U.S. Coast Guard Station St. Ignace and the Michigan Army National Guard 1437 Multi-Role Bridge Company, as well as Star Line Mackinac Island Ferry and Enbridge.
"This training provided a wonderful opportunity to build collaboration and understand roles among first responders," said Emma Cook, Enbridge senior community engagement analyst. "Equally important we were able to combine resources to test how equipment would be able to manage a release that could occur from a multitude of incidents, including those involving tanker trucks or other vehicle accidents on the Mackinac Bridge that could spill oil into the water."
Prevention is a critical component of pipeline safety, and we focus on prevention at Enbridge before issues arise. While our ultimate goal is to prevent all spills and releases, we're also committed, as a responsible pipeline operator, to providing a comprehensive incident response at any point along our pipeline network.
In 2020, Enbridge was involved in 186 drills, simulation exercises and equipment deployment events, in all North American regions where we operate, to test and sharpen our emergency preparedness.
During the June 10 exercise at St. Ignace, Enbridge activated its CurrentBuster boom—specialized equipment used to collect and remove oil from water and tailored . . .
Enbridge activated its CurrentBuster boom—specialized equipment used to collect and remove oil from water and tailored to fast-moving waters. As part of the exercises, the booms moved in various configurations to test collective effectiveness.
Based in St. Ignace, Enbridge's 34-foot fast response boat joined National Guard vessels to tow the booms, with the two different types of boats working in tandem.
National Guard helicopters also streamed aerial video to first responders on the ground. The footage provided perspective to help participants assess what coordinated next steps might be required to address the response.
"This training fits well with our efforts to enhance emergency response preparedness and reflects our strong commitment to safety and environmental protection here at the Straits and at all water crossings," said Cook.
As part of that commitment, Enbridge is focusing on constructing the Great Lakes Tunnel Project.
Approximately 70% of Michiganders recently surveyed favor construction of the Great Lakes Tunnel Project, which will encase a replacement section of Line 5 deep below the lakebed and essentially eliminate the risk of an anchor strike or spill from Line 5 to nearly zero.