---
Ohio Senate shows strong bipartisan support of Enbridge's Line 5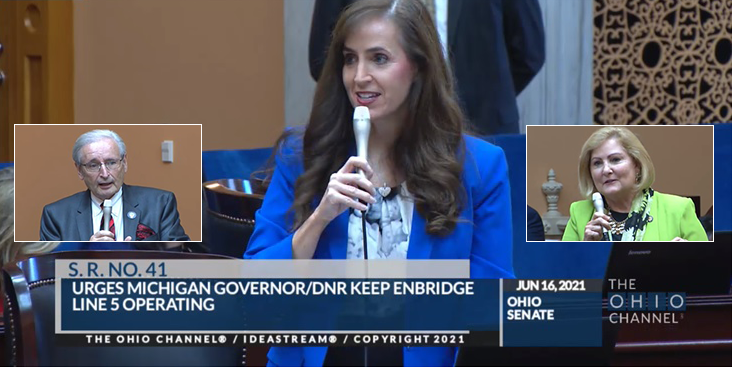 Sen. Theresa Gavarone (R-Bowling Green), above, and Sen. Kenny Yuko (D-Richmond Heights), left inset, co-sponsored Senate Resolution 41 supporting Line 5. Sen. Teresa Fodor (D-Toledo), right inset, has also spoken in defense of the pipeline and its importance to Ohio.
Unanimously passes resolution, recognizes pipeline's importance to Ohio
June 23, 2021
The Ohio Senate recently sent a strong, bi-partisan message imploring Michigan Gov. Gretchen Whitmer to evolve her administration's approach on Line 5 and the Great Lakes Tunnel project to align with regional environmental protection and energy need priorities.
On June 16, the Ohio Senate unanimously approved a resolution supporting the continued safe operation of Enbridge Line 5, recognizing it is vital to Ohio and the region. The vote comes on the heels of the Ohio House passing a similar resolution with bipartisan support; House Resolution 13 passed by a 73-10 margin. Taken together, the measures mean Line 5 and the Tunnel project are supported by the entire Ohio General Assembly.
Sen. Kenny Yuko (D-Richmond Heights) and Theresa Gavarone (R- Bowling Green) co-sponsored Senate Resolution 41, which passed in a 33-0 vote, a stark reminder that Gov. Whitmer's actions have spurred an issue that extends beyond Michigan and across the political aisle.
"Line 5 is critically important to our state, region, and international region with Canada," Sen. Gavarone said. "We need to send a message to Michigan's governor not to mess with Ohio, and I believe this resolution does just that."
The resolution is in response to Gov. Whitmer's attempts to shutdown energy infrastructure vital to necessities, manufacturing and jobs throughout Michigan, Ohio, several other states and Canada's two largest provinces.
The resolution is influential in sending a unified message regarding the significance of Line 5. It also mirrors the support that transcends political affiliation in which 70 percent of Michiganders recently surveyed favor construction of the Great Lakes Tunnel Project in the Straits of Mackinac.
While acknowledging that pipelines are not without inherent risk, Sen. Yuko testified, "The proposed project to build a tunnel deep beneath the Straits and replacement line in the tunnel will protect both the environment and high-wage, family sustaining jobs."
"A premature shutdown of Line 5 would threaten the livelihoods of our workers and their families, as there are no feasible alternatives to supply the crude products needed for these refineries in Toledo," said Yuko.
Additionally, Sen. Yuko testimony's cited that "the move to close Line 5 has been met with bipartisan opposition in Ohio," including Republicans Gov. Mike DeWine and Lt. Governor Jon Husted, as well as Toledo Mayor Wade Kapszukiewicz, a Democrat.
Businesses support Line 5
In addition to support across the political spectrum, l labor, business and trade groups provided testimony to support the Senate passing the resolution to encourage Gov. Whitmer to work with the region's leaders to secure the energy resources delivered by Line 5 while aggressively pressing Enbridge to complete the tunnel infrastructure project in Northern Michigan.
"This vital pipeline ships oil directly to multiple Ohio oil refineries, which provide resources for countless manufacturers in Ohio and throughout the United States," wrote Rob Brundrett, managing director of the Ohio Manufacturers' Association. "Shutting down the pipeline—as threatened by Michigan's governor—would cause serious economic damage to Ohio refineries and would create a disruptive ripple effect throughout Ohio's economy."
In a joint letter of support, Chris Buschur, chair of Ohio Propane Gas Association (OPGA) and Alex Boehnke, OPGA legislative director, shared "OPGA takes great pride in being a clean, environmentally friendly fuel, and the OPGA supports policies that improve the reduction of greenhouse gases. Shutting down Line 5 would cause for more transport of propane via rail or trucks—far less environmentally friendly solutions—than a safe pipeline within a tunnel."
Driving home many of the concerns, Scott Hayes, manager of Health, Safety, Environmental and Government Affairs at the Toledo Refining Company, testified at a March Ohio Senate Energy Committee Hearing that "Line 5 is a vital energy artery for the Midwest, supplying reliable, North American sources of crude oil to refineries in Michigan, Ohio, Pennsylvania and Canada. The jobs and regional economic impact of just our facility alone cannot be understated."
Shutting down line 5 could cause 'regional price shocks'
Hayes shared that the Toledo Refinery alone employs more than 550 people full time, with another 500 to 1,200 contractors. He also estimated that the refinery contributes $5.2 billion annually in total direct and indirect economic benefit to Northwest Ohio.
"Shutting down Line 5 would not only be devastating to Ohio and Michigan's economy, but it would also negatively affect the economy from a regional perspective," testified Stephanie Kromer, director of Energy and Environmental Policy for the Ohio Chamber of Commerce.
"The interconnectivity of the petroleum market means that small events can create regional price shocks, and larger events can quickly cascade into a national crisis requiring federal action and assistance. All refineries in the region could experience reduced crude oil supply and would not be able to meet product demand, thus, resulting in high prices for consumers."
"Strong bipartisan support of the Ohio Senate continues to affirm we have opportunities to work together with the Whitmer administration and the region's leaders to strengthen energy, economic and environmental priorities," said Mike Moeller, Enbridge's director of operations for the Great Lakes region.
"We are listening, and trust Gov. Whitmer is, too, so that we can truly work together to complete the Great Lakes Tunnel. Let's get the tunnel built!"
Click here for more on Ohio Senate Resolution 41.