---
USW, local officials hold demonstration in support of Line 5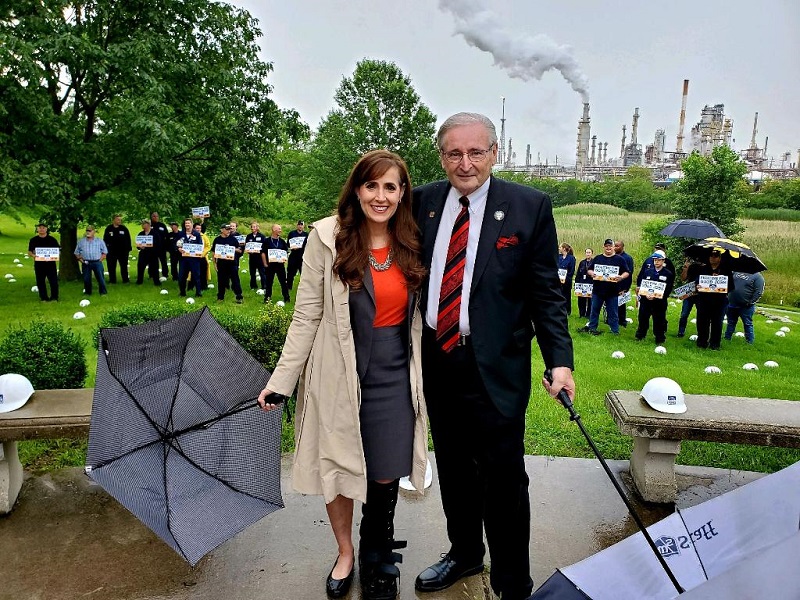 Ohio State Sen. Theresa Gavarone (R-Bowling Green) and Ohio State Senate Minority Leader Kenny Yuko (D-New Richmond) attend a July 23 rally alongside United Steelworkers (USW) Local 912 workers in support of Enbridge's Line 5 pipeline. USW members placed 1,000 hardhats on the grounds of Navarre Park to demonstrate the number of jobs that would be lost if Line 5 is shut down.
Rally occurs near Toledo refinery that depends on pipeline
July 23, 2021
Wearing suits and hardhats alike, the United Steelworkers (USW) union and its allies gathered Friday, July 23 in Toledo, Ohio to send a clear message to Michigan Gov. Gretchen Whitmer: Keep Enbridge Line 5 operating!
The Toledo rally highlighted the far-reaching consequences of Gov. Whitmer's actions to idle Enbridge's Line 5. The pipeline in the Straits of Mackinac transports light crude oil and natural gas liquids to Michigan, Ohio and three other states, as well as Canada's two largest provinces.
More than 150 people gathered at a park near the Toledo Refining Company, which employs more than 300 members of the USW and supports thousands of other jobs in the surrounding community; the continued operation of Line 5 is crucial to the future of the refinery.
"Line 5 is an essential part of our economic and environmental future," said USW Local 912 President Justin Donley. "On behalf of thousands of workers and business owners in Michigan and Ohio, and people throughout the region, we thank our leaders in Ohio for their support and call on Gov. Whitmer to reverse her decision."
Added Mike Moeller, Enbridge's director of the Great Lakes region: "We appreciate efforts of the USW and Ohio legislators to underscore how essential Line 5 is on multiple levels. For more than 65 years, Line 5 safely has transported propane, as well as the light crude oil necessary to manufacture thousands of other everyday products. Job loss and spikes in propane costs are two of the most immediate impacts the region will experience if the State prevails in its attempt to revoke the easement agreement."
The Ohio State House and Senate recently passed resolutions calling for the continued operation of Line 5. More than 50 percent of Michiganders recently surveyed also support the continued operation of Line 5.
While the State and Enbridge are in mediation over Line 5, Enbridge remains focused on construction of the Great Lakes Tunnel Project. Constructed deep under the lakebed in the Straits, the Great Lakes Tunnel will encase a replacement section of Line 5, eliminating the chance of an anchor strike and essentially eliminating the risk of a spill in the Straits.
Enbridge is investing more than $500 million to construct the Great Lakes Tunnel, which 70 percent of Michiganders support for its enhanced safety and environmental protections.