---
Click/Call Before You Dig (Canada)
The Click Before You Dig website represents Canada's first national "one-window" approach for requesting the locations of buried utilities prior to ground disturbance activities.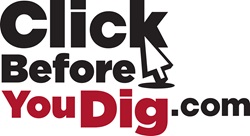 When submitting a web-based locate request through ClickBeforeYouDig.com, homeowners, contractors, and others will receive an e-mail containing a ticket number and a list of utility owners that have been notified on their behalf. A minimum of three full working days is required in advance for all utilities to be located and marked via the ClickBeforeYouDig.com process, so please be sure to plan ahead.
Across Canada, there are also numerous telephone-based options to make a locate request, as per the information below.
If you're planning to construct a facility across, on, along or under a pipeline, or engage in an activity that causes a ground disturbance, you must first call your local one-call service number or use the Click Before You Dig website. Either way, local representatives will notify all utilities — including power, phone, gas, cable and pipeline companies — who will mark the location of their underground utilities, free of charge.
Damage prevention is a shared responsibility, so always remember to dig with CARE:
C -- Call or Click Before You Dig
A -- Allow required time for marking
R -- Respect and protect the marks
E -- Excavate carefully
Canadian One-Call Numbers
---