---
Click or call before you dig
---
---
For your safety and the safety of others, always have underground utilities located by using clickbeforeyoudig.com or calling 811, the national "Call Before You Dig" telephone number, prior to every excavation made in the United States. Making this call will result in a damage-free excavation 99 percent of the time, according to industry studies.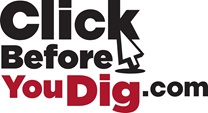 What is clickbeforeyoudig.com?
Clickbeforeyoudig.com is a North American one-window portal for requesting location of buried utilities prior to ground disturbance. Excavators can visit the online portal to access their state one call center online.
What is 811?
811 is a free, nationwide number designed to keep you safe when digging or excavating.* Calling 811 is a simple process and is always the safest option anytime you are moving dirt. You can visit clickbeforeyoudig.com to find out if online locate requests can be made for the state where you will be working.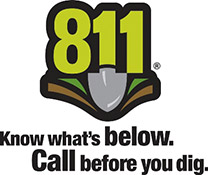 Two to three business days before excavating (depending on state laws), simply make a call to 811 with important details about your project, including:
The type of work you will be doing, including type of equipment and depth you will excavate
The type of work you will be doing and a detailed description of the excavation area
The date and time when excavation will begin
Your worksite's street address, the road on which it is located and the nearest intersection
Driving directions or GPS coordinates
Professional locators will mark underground utilities with flags or paint so that you can conduct your work around them, saving yourself from potential injury or property damage.
Did you know? Clickbeforeyoudig.com and 811 are free services, paid for by pipeline and utility operators to protect you.
Why should I use clickbeforeyoudig.com or call 811?
Using clickbeforeyoudig.com or calling 811 to have pipelines and utilities located is an important step in protecting yourself and those around you. There is always a risk of striking a pipeline or other underground utility, even if you think you know or can identify what might be buried in the area of excavation.
Did you know? It's never safe to assume the depth of pipelines
Pipeline depth can vary or change due to erosion, previous digging projects and other factors
Some pipelines and related facilities may be located above the ground
Did you know? Striking a pipeline while digging can harm more than your bank account
If a product is released from the pipeline, it could damage your property
You may also be eligible for fines and repair costs
If the product released comes into contact with you or ignites, it could cause injuries or even death
When should I use clickbeforeyoudig.com or call 811?
Although the regulations for digging and one call, or excavation notification differ slightly, each state does require one call notification two to three business days prior to the start of digging or other soil-disturbing activity.
Did you know? Clickbeforeyoudig.com and 811 aren't just for digging projects—call 811 before any soil-disturbing activities. These activities include, but are not limited to, planting trees, installing fence posts or constructing sidewalks, decks, steps, roads, parking lots, driveways, ditches, utilities, buildings, or operating heavy machinery over the right-of-way.
Always dig with CARE
Click or Call 811 before you dig
Allow required time for markings
Respect the marks
Excavate carefully
* Calling 811 is free, but locates may be subject to fees in some states and situations, such as locating private utilities.