---
About Line 5
Energizing Michigan since 1953.
As it travels under the Straits of Mackinac, Line 5 diverges into two, 20-inch-diameter, parallel pipelines. This is why people sometimes call the pipeline system the "dual" or "twin" pipelines. They start underground onshore, taper deep underwater and cross the Straits for 4.5 miles.
Line 5 has operated without incident at the Straits of Mackinac for more than 65 years
The products moved on Line 5 heat homes and businesses, fuel vehicles, and power industry in the state of Michigan.
Line 5 supplies 65% of propane demand in the Upper Peninsula, and 55% of Michigan's statewide propane needs. Overall, Line 5 transports up to 540,000 barrels per day (bpd) of light crude oil, light synthetic crude, and natural gas liquids (NGLs), which are refined into propane.
Line 5 delivers 65% of the propane that heats Upper Peninsula homes, and 55% of Michigan's propane needs.
Built in 1953 by the Bechtel Corporation to meet extraordinary design and construction standards, the Line 5 Straits of Mackinac crossing remains in excellent condition, and has never experienced a leak in more than 65 years of operation. The Line 5 crossing features an exceptional and incredibly durable enamel coating, and pipe walls that are three times as thick—a minimum of 0.812 inches—as those of a typical pipeline. What's more, the Bechtel Corporation—renowned for the iconic Hoover Dam—designed and built Line 5 in an area of the Straits that would minimize potential corrosion due to lack of oxygen and the cold water temperature. This setting contributes to preserving the integrity of Line 5, which has enabled it to serve the region safely and reliably for more than six decades.
We're working hard to keep it that way. We monitor the Line 5 Straits crossing 24/7, using both specially trained staff and sophisticated computer monitoring systems. We also carry out regular inspections of the line, using inline tools, expert divers, and remote operating vehicles (ROVs), going above and beyond regulatory requirements.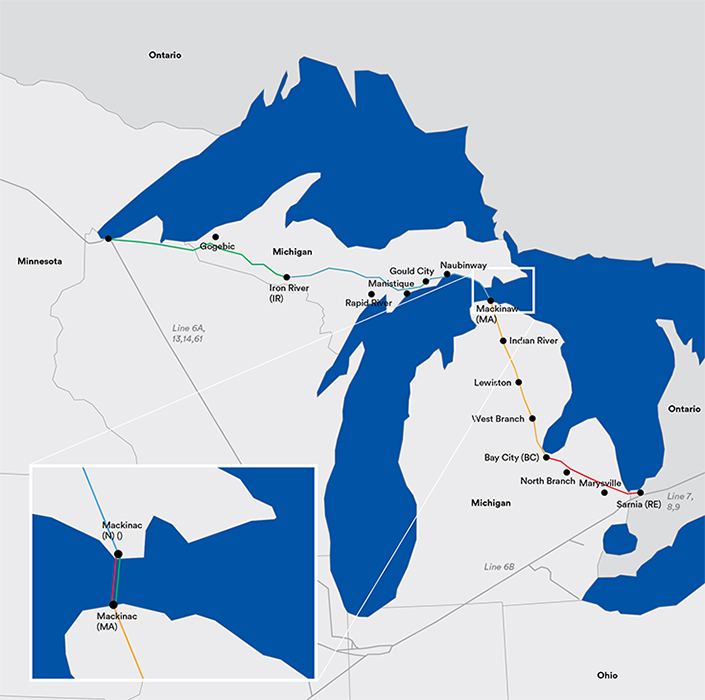 ---